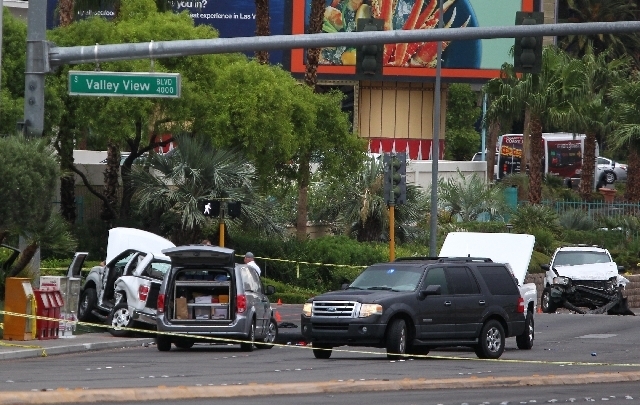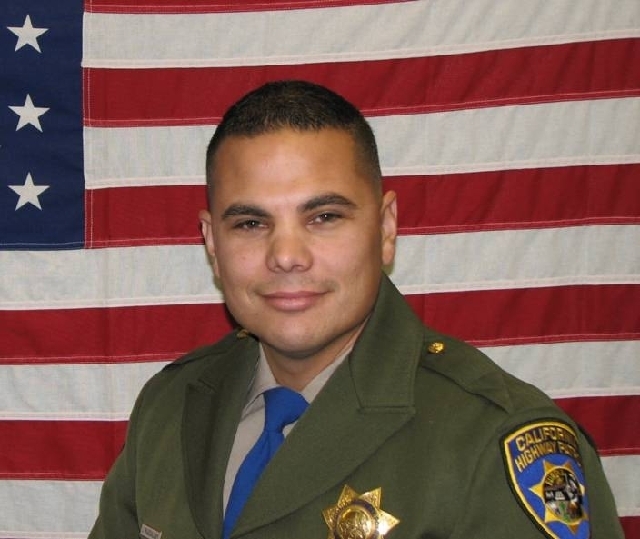 A California highway patrolman in Las Vegas for his bachelor party died after being thrown from his pickup during a carjacking Sunday morning.
The patrolman was the second off-duty officer to be carjacked at a Strip hotel valet in a week.
But Sunday's incident ended in the death of Jesus Manuel Magdaleno Jr., a 33-year-old officer with eight years experience at the California Highway Patrol, the last three years at the Visalia, Calif., office as a graveyard shift patrol officer, according to fellow Visalia officer Scott Harris.
Magdaleno was in town with friends and family to celebrate his upcoming September wedding.
Magdaleno and his friend Felix Brandon Cruz, 31, were loading luggage into the back of a 2009 Ford pickup at the Flamingo Las Vegas valet area about at 11 a.m. The keys were in the ignition and the truck was running when James Robert Montgomery, 29, got in and drove away with Cruz in the bed, according to Las Vegas police.
Magdaleno chased the truck on foot, identified himself as an officer and jumped in as it slowed, according to an arrest report.
A witness from the 17th floor of Bally's casino told police she heard Magdaleno and Cruz screaming for help as she saw the truck moving at a high rate of speed.
Montgomery headed west on Flamingo Road and ran three red lights before crashing into an SUV at the entrance of the Rio hotel, according to police. Cruz and Magdaleno were both thrown from the bed of the truck.
Magdaleno was pronounced dead at the scene. Cruz was taken to University Medical Center in critical condition. He is not expected to survive his injuries, according to medical personnel.
"Flamingo extends its deepest sympathies to the families and friends of Flamingo guests who were in the vehicle," Caesars Entertainment spokesman Gary Thompson said in a statement. "We are assisting affected guests and their families, and providing support to the Las Vegas Metropolitan Police Department with its investigation."
Montgomery, who suffered injuries and was hospitalized, told police he had no recollection of anything except walking around the Flamingo and being involved in a crash, according to the arrest report.
He said he did not know why he was at the Flamingo.
Three people in the SUV suffered minor injuries in the crash.
Montgomery was booked in absentia and faces charges of murder, kidnapping, robbery, battery with substantial bodily harm and grand larceny auto.
It was the second high-profile incident in a week.
On Aug. 11, off-duty police detective Bernard Plaskett shot a would-be car thief who tried to steal his car at the Excalibur valet area.
Saul Villegas, 27, of Bellflower, Calif., was charged with one count of attempted grand larceny Wednesday and booked into the Clark County Detention Center.
Plaskett and his wife were in a loading zone near the valet area of the Excalibur about 9 p.m. when Villegas got into the driver's side of Plaskett's vehicle, police said. The couple were unloading packages from their vehicle to deliver to friends staying at the medieval-themed resort, police said.
Plaskett ordered Villegas out of the vehicle; he refused and lowered his hands into his waist, police said. Then the detective shot him.
Plaskett was placed on paid leave.