Campaign aims to free woman who killed homeless man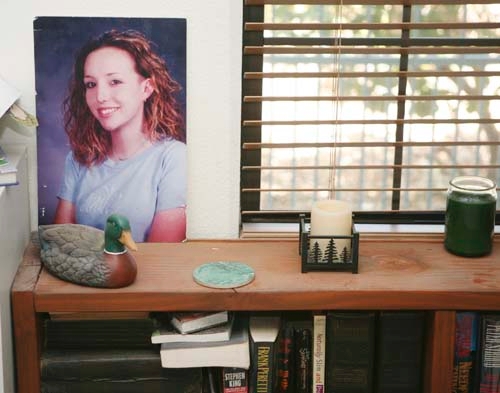 CARSON CITY – A friend of a young woman sent to prison for killing a Las Vegas homeless man and cutting off his penis is leading the charge to prove her innocence.
But Michelle Ravell's support for inmate Kirstin "Blaise" Lobato isn't coming just from local residents interested in justice for a pretty woman. It's also coming from more than 127,000 people worldwide who have responded to websites created by Ravell and others who assert Lobato is innocent.
Like Justin Bieber and Rebecca Black, singers who rose to fame by first posting videos on YouTube, Lobato has become an Internet celebrity.
The signatures will be presented to Clark County District Attorney Steve Wolfson today . The signers want Wolfson not to challenge an appeal submitted to the state Supreme Court by Lobato's lawyer that would allow new DNA testing, which they say could lead to her release.
But the Lobato supporters won't be happy with Wolfson's coming response. Chief Deputy District Attorney Steve Owens intends to file a strongly negative response to the appeal by Lobato's lawyer, Travis Barrick, to allow the DNA testing.
"She confessed to the crime," said Owens, referring to statements made by Lobato when confronted in her home by police detectives about three weeks after the slaying of Duran Bailey nearly 11 years ago.
"The Dumpster (where Bailey's body was found) could have been used by hundreds of people. The judge said a year ago that there was no reasonable expectation that DNA could exonerate her. This has been played out in court already. We don't act on the basis of petitions and a media blitz," he said.
LOBATO CONVICTED TWICE
Lobato, now 29, was twice convicted by juries of killing and cutting off the penis of the homeless man on July 8, 2001, in the midst of a methamphetamine rage. Initially she was convicted of first-degree murder and penetration of a dead body. The state Supreme Court threw out those convictions, but in 2006 she was retried and convicted on manslaughter and penetration of a dead body charges. She's not expected to be paroled on those charges before the mid-2020s.
"She is a good person who could not have committed this crime," said Ravell, a Las Vegas woman who has been on a voluntary mission to win Lobato's release. "She was in Panaca at the time of the murder. She stopped doing drugs by the time it happened."
Ravell has maintained the justice4kirstin.com website in an effort to win public support for moves to reverse Lobato's conviction.
And now six national organizations, including the Innocence Project, are demanding that Wolfson not object to DNA testing of 13 pieces of evidence, including the bloody, size 9 footprint left near the Nevada State Bank trash enclosure where Bailey's body was found. Lobato wears size 6½ shoes, according to Ravell, whose son once dated her.
By Thursday , the district attorney's office must file its response with the state Supreme Court to briefs prepared by Barrick.
He is appealing a July 26, 2011, decision by District Judge Valorie Vega preventing any additional DNA testing. Barrick wants to test items like the plastic in which Bailey's body was wrapped, semen in his rectum, cigarette butts and the blood in the shoe prints. If the blood is Bailey's, then they figure Lobato could not have killed him.
But in her order, Vega noted that the Dumpster enclosure where Bailey's body was found could have been accessed by anyone and consequently was not a "pristine environment." Consequently, Vega added, the "value of the hypothetic DNA" would be "highly suspect." She also pointed out Lobato made "incriminating statements" about her guilt to police.
Lobato is doing all right in the Florence McClure Women's Correctional Center in North Las Vegas, but has lost faith in the criminal justice system, Barrick said.
Owens said Lobato confessed to killing Bailey. That confession was a major reason why she twice was convicted.
"I didn't think anyone would miss him," Lobato said about a man whose penis she admitted she tried to cut off during a rape attack in Las Vegas in 2001.
She made the statement while being questioned by Las Vegas detectives in her home in Las Vegas a couple of weeks after Bailey's body was found.
Then, when her mother came home and saw her with the detectives, Lobato said, "Mom, I did it, now I have to do what I have to do."
But Lobato later maintained that she was referring to a man who tried to rape her near Sam's Town about six weeks before Bailey's death.
Police, however, checked all hospitals and found no male ever seeking any medical help for a penis that had been at least partially severed. Judges refused to allow jurors to hear about the earlier alleged rape.
Instead jurors were told that Lobato killed Bailey and severed his penis with a double-edged pocket knife after refusing his attempts to trade sex for drugs. Lobato had been repeatedly sexually abused at age 6 and raped at least twice as a teenager, and jurors were told she hated men as a result. She never filed a police report of the Sam's Town rape.
At her first trial, a former cellmate at the Clark County jail testified Lobato had bragged about killing and severing Bailey's penis. Her supporters claim the cellmate is a habitual liar who prosecutors decided not to call to testify at the second trial.
The Review-Journal reported before her first trial in 2002 that Lobato had been offered a deal to take a three-year prison sentence and the other charges would go away. She refused.
CONFESSION CONTESTED
Barrick said the statements given by Lobato to detectives were not a confession. He called it "bizarre" that prosecutors still claim she confessed when she was talking about the assault she suffered earlier, not the Bailey slaying.
Police heard about Lobato when a Panaca probation officer called them. The woman said Lobato's former teacher told her that the then-18-year-old spoke about cutting off a penis.
Police jumped at a chance to interrogate Lobato because they had not previously told the news media that Bailey's penis had been severed. Here was a girl talking about cutting off a penis.
Once police talked to Lobato, Barrick said they dropped their investigation of other suspects.
"All the leads pointed at two Hispanic males committing the crime, but once detectives talked to Lobato, either through laziness or an ulterior motive, they decided to drop the investigation into the most likely suspects and pursue low-hanging fruit," said Barrick, the Republican candidate for attorney general in 2010.
On the day detectives discovered Bailey's body in the trash enclosure, a woman named Diann Parker, 35, who lived nearby, walked up to the crime scene and told police she had been raped by Bailey about a week earlier.
She admitted she had exchanged sex for drugs with Bailey in the past and he had beaten her. When Bailey came to her apartment earlier that July, Parker said two male Hispanic friends warned him to leave her alone.
But Bailey returned to her apartment that night and raped her, according to Parker, who is now deceased. She told police the two men may have killed Bailey.
Barrick said a man, not a woman, clearly killed Bailey, who had been sodomized. Semen had been left in his cut-up rectum. Jurors were not allowed to hear about two suspects, Barrick said.
He expects the state Supreme Court will reject his appeal. Ultimately he hopes to bring the case into federal court where he might have a better chance of prevailing.
"The question is, whose semen was it?" Barrick said. "She couldn't have committed the crime. There were highly credible suspects who were not pursued."
Even if the state Supreme Court rejects the appeal, Ravell said she won't be done campaigning for Lobato.
"She had no criminal record," Ravell said. "She graduated at the top of her (high school) class. She was an average teenager who came to Las Vegas and got in with the wrong crowd. She went home to Panaca to get clean. They tried to pin a murder on her when she was 170 miles away. The best years of her life were taken from her."
"This is a male-on-male crime, and whoever killed is still out there," she said.
Contact Capital Bureau Chief Ed Vogel at evogel@reviewjournal.com or 775-687-3901.