Candidate filing period opens for Nevada Supreme Court
Updated January 3, 2018 - 6:21 am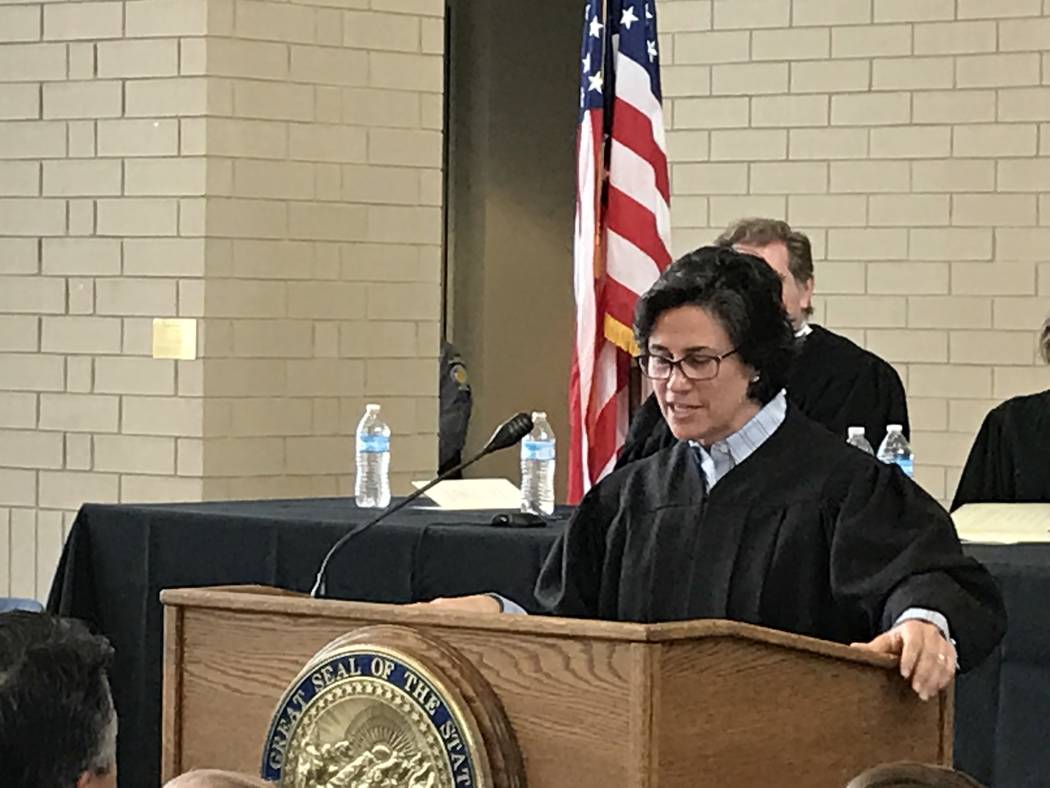 Three people formally filed to run for the Nevada Supreme Court on Tuesday, the first day judicial candidates were allowed to file.
Incumbent Supreme Court Justice Lidia Stiglich filed for re-election for Seat G. She was appointed to the bench by Gov. Brian Sandoval in November of 2016 after Justice Nancy Saitta retired, becoming the first openly gay justice in Nevada history.
Before joining the Supreme Court, Stiglich served as a judge in Washoe County District Court.
The other two candidates, Abbi Silver and Elissa Cadish, are running to replace justices Michael Cherry and Michael Douglass, who in December said they will retire.
Cadish, who is running for the Seat C that Cherry is vacating, is a judge in Clark County District Court, where she was appointed in 2007 by then-Gov. Jim Gibbons.
Notably, Cadish was nominated by President Barack Obama in 2012 to fill a vacancy in the federal court in Nevada. But her nomination was blocked by Sen. Dean Heller over comments Cadish made in 2008 about gun control.
Silver, who is running for the Seat F that Douglas is vacating, was appointed by Sandoval to the Nevada Court of Appeals, where she has served since 2014. Before that, she had won elections for the Las Vegas Municipal and Justice Courts and later on in Clark County District Court.
So far, Stiglich, Silver and Cadish are the only ones to file for their respective races.
In 2016, all five statewide judicial races, which included two Supreme Court seats and three on the Court of Appeals, saw no challengers.
The filing period for judicial races closes Jan. 12.
Contact Colton Lochhead at clochhead@reviewjournal.com or 702-383-4638. Follow @ColtonLochhead on Twitter.
Judicial candidates
These are the 24 candidates who filed paperwork Tuesday to run in local judicial races across Clark County this year. (* denotes incumbent)
Clark County District Court
*Tierra Jones – Department 10
*Mark Bailus – Department 18
*David M. Jones – Department 29
Justice of the Peace
Boulder City
Robert Martin
*Victor Lee Miller
Bunkerville
*Darryll B. Dodenbier
Goodsprings
Amber Carter
Gregory Cortese
Charles Lee
Larry Shupe
Henderson
*Sam Bateman – Department 1
Las Vegas
James Dean Leavitt – Department 1
*Joseph S. Sciscento – Department 2
*Cynthia Cruz – Department 5
*Ann E. Zimmerman – Department 8
*Melanie Andress -Tobiasson – Department 10
Melisa De La Garza – Department 15
Jeff Rogan – Department 15
Mesquite
*Ryan W. Toone
Moapa
*Ruth Kolhoss
Moapa Valley
Kyle Waite
North Las Vegas
*Kalani Hoo – Department 1
*Natalie Tyrrell – Department 2
Searchlight
*Richard Hill