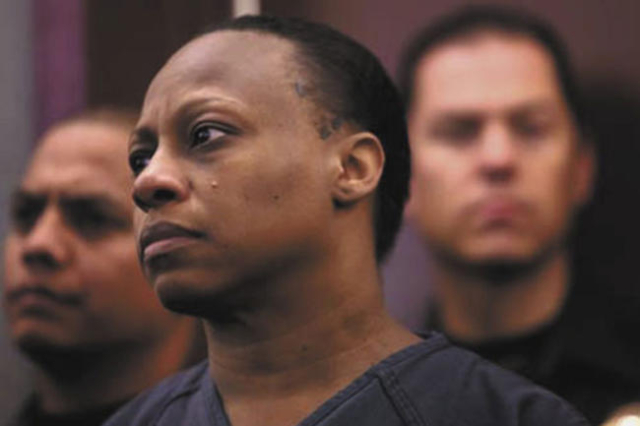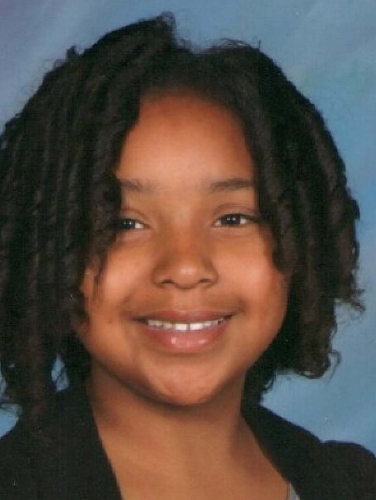 Brenda Stokes stood stoically as a prosecutor called her a killer and a judge raised her bail Friday.
She avoided the gaze of the enraged family sitting behind her in the courtroom, but that won't last forever, said the mother of 10-year-old Jade Morris.
"I will be here every time she's in court," Tejuana Reeves, 41, said. "Eventually, she'll look into my eyes."
Jade's body was found Thursday afternoon in a desert area of an undeveloped North Las Vegas neighborhood near Deer Springs Way and North Fifth Street by a person walking a dog.
Stokes, the fiancee of Jade's father, was the last known person to see her alive.
Las Vegas Justice of the Peace Joe Bonaventure raised Stokes' bail from $60,000 to $600,000 on Friday.
She had been jailed for a week on charges unrelated to the child's disappearance.
Prosecutor Robert Daskas said DNA found in Stokes' car and home was being analyzed. Bloody clothes were found in her home, and blood was found on the door handle and steering wheel of her car, he said.
"It's no secret this defendant is a suspect in a murder of 10-year-old Jade Morris," Daskas said.
DEATH RULED HOMICIDE
The Clark County coroner's office on Friday afternoon ruled the girl's death a homicide from multiple stab wounds. Coroner Mike Murphy said Jade was identified by facial recognition, her clothing and dental records. A DNA analysis is pending.
Stokes was rebooked on murder and kidnapping charges late Friday in addition to the previous charges. Formal charges will be filed in court next week.
Jade had been missing since Dec. 21, when Stokes, 50, picked her up from Reeves' home, saying they were going Christmas shopping. Stokes was engaged to Jade's father, Philip Morris, and had a close relationship with the girl in the past several years.
But just a few hours later, authorities say, Stokes approached a Bellagio blackjack table and began slashing the face of a dealer, 44-year-old Joyce Rhone.
Rhone survived the attack, and Stokes was arrested, but Jade was nowhere to be found.
Jade's family suspected that a love triangle involving Stokes, Rhone and Morris had imploded and Stokes harmed Jade to retaliate against her fiance.
Reeves was incredulous that Stokes would harm Jade, who thought of her as a stepmother.
"She knows my child loved her. We thought she (Stokes) loved her too," Reeves said outside the courtroom Friday. "I guess not."
Stokes had been held on $60,000 bail for the three charges related to the attack of Rhone at the Bellagio.
Prosecutors said Stokes was a flight risk with a low bail amount. Daskas was concerned she could be released from jail before murder charges were filed.
Stokes' lawyer argued against the bail increase because she had not been formally charged with murder, but Bonaventure disagreed.
As Bonaventure announced the new bail, there were whispers of "Yes" from about a dozen of Jade's relatives in court.
Outside the courtroom, Jade's paternal grandmother, Brenda Morris, fell into a chair, sobbing and trembling.
"She killed her," Morris cried. "How could she do that to a little baby? She's deranged."
Stokes has not cooperated with police. According to a police report from the Bellagio attack, she had been feeling "like she wanted to hurt someone" and recently had seen her doctor.
She was carrying razor blades in both hands when she began slashing Rhone's face about 9:30 p.m. on Dec. 21, the report said. Both Stokes and Rhone worked at the resort.
She hadn't been taking her Xanax prescription, the report said.
Rhone was hospitalized with deep cuts to her face, including a gash from her ear to the edge of her mouth. She had three or four smaller cuts around her right eye.
After the slashing, Stokes told police she would have killed Rhone if casino security hadn't stopped her. "Hell, yeah," Stokes told detectives.
"I would have whooped that ass. I would have killed her," Stokes said, according to the report. "I should have killed her."
'I JUST WANTED TO KILL HER'
Jade's grandmother felt a similar rage on Friday.
Brenda Morris said she wanted to attack Stokes, who was surrounded by Las Vegas jail guards. "I just wanted to kill her," Morris said.
Her son and Jade's father, Philip Morris, did not attend Friday's hearing. He was thrown out of court on Wednesday after he screamed at Stokes to reveal what happened to Jade.
Philip Tucker, Jade's paternal grandfather, said he was relieved her body was found the next day.
Tucker had been unable to sleep the past five days but slept soundly Thursday night, he said. He wanted to thank the person who stumbled upon Jade's body.
"He was that needle in a haystack we needed," Tucker said. "At least I know where she's at."
Staff writer Francis McCabe contributed to this report. Contact reporter Mike Blasky at mblasky@reviewjournal.com or 702-383-0283.