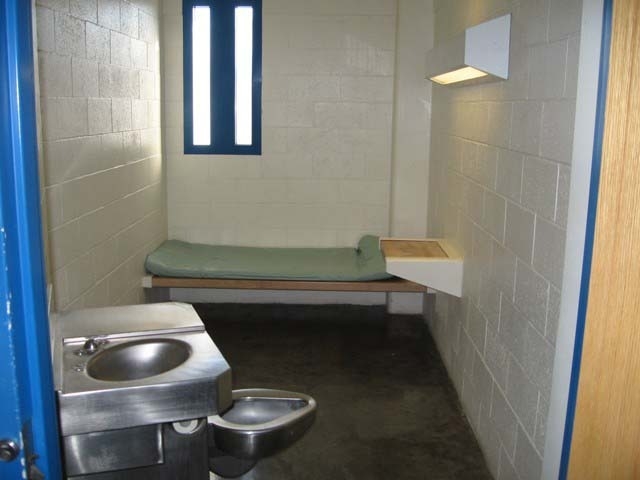 Clark County commissioners on Tuesday approved a contract for renovation of the Clark County Detention Center's north tower.
The $88 million design-build agreement with Sletten Construction of Nevada sets the tower's renovation, which includes an extensive revamp of mechanical, plumbing and electrical systems.
The design work will take four to six months and then the renovation will start, said Tony Ewalt, a Sletten vice president.
The 4-year project will require displacing and relocating 350 inmates at a time to the North Valley Complex, near Range Road and Las Vegas Boulevard.
The county extended the project time line due to a rise in the inmate population. Originally, officials anticipated sending as many as 750 inmates at a time to the North Valley Complex over a 33-month construction time period.
The extended construction time line increases the project's costs by $10.5 million.
The detention center has more than 3,000 inmates on any given day. Bookings have decreased by 5.5 percent since January 2013, while the inmate population grew by 11 percent, according to jail statistics.
State Division of Parole and Probation officials also are falling behind in completing pre-sentencing reports within the 45 days prescribed by the law after a conviction, county officials said. That factor is playing a role in driving up the length of inmate stays in the detention center after sentencing.
The average daily population of inmates in that group was 389 offenders in July, compared to 215 inmates in January 2012, according to county data.
That group of inmates costs the county about $17.3 million annually, and played a role in the need to stretch out the renovation's timeline.
In an initial phase, the county renovated the basement, kitchen and laundry areas of the detention center at a cost of $23.4 million, finishing in May.
The county did an assessment of the facility between August 2009 and October 2010. During that time, in November 2009, condenser water lines failed, requiring an emergency repair that showed the wear of the 1982 building.
Contact reporter Ben Botkin at bbotkin@reviewjournal.com or 702-405-9781. Follow him on Twitter @BenBotkin1.