Cooney's son challenges justice's accusation
October 10, 2012 - 6:00 pm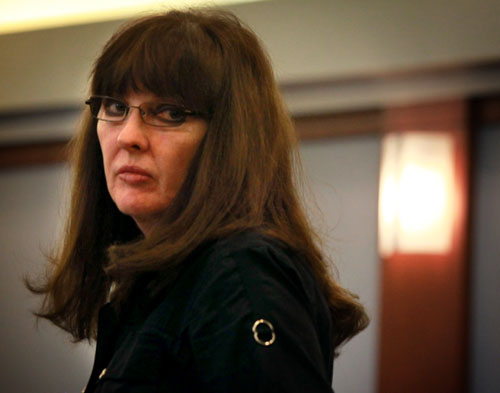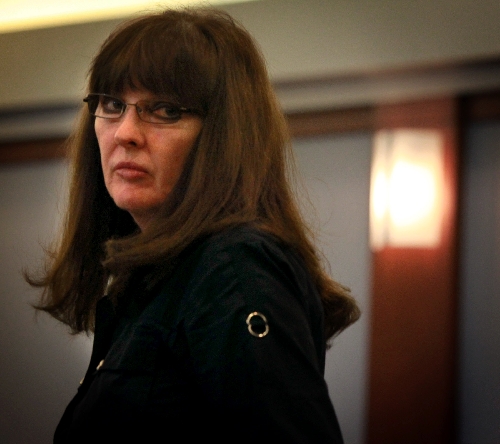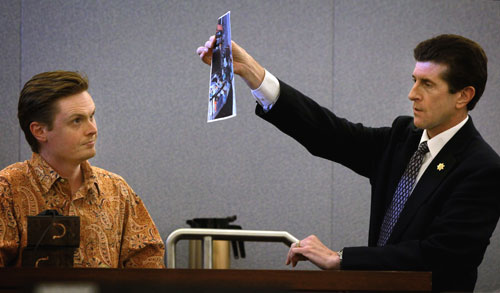 Las Vegas police officer Chris Cooney insisted he was telling the truth Wednesday afternoon about the morning authorities say his mother shot his brother.
Justice of the Peace William Jansen told the police officer he was "hee-hawing around" and not telling "the whole truth" during a contentious preliminary hearing in Linda Cooney's attempted murder case.
On a recording presented during testimony last week, Chris Cooney told a 911 operator that his mother said she "was attacked by my older brother and that she shot him."
On Wednesday, Chris Cooney said to the best of his recollection his mother did not tell him she shot her other son, Kevin Cooney.
"I believe she made mention that Kevin had attacked her," he recalled.
He also said he spoke to his brother via phone as he raced to his Summerlin home after learning of the shooting. He said his brother told him, "I came at mom."
Chris Cooney said he inferred from those comments that his mother shot his brother. But, he said, no one told him that is what happened.
Jansen said Wednesday he wasn't calling Chris Cooney a liar, but "I think he knows more than he's testified to."
After squabbling between the prosecutor and defense attorney died down, Chris Cooney said, "I've come here and I said at the start that I would not invoke Fifth Amendment rights because I hoped to give truthful testimony and be treated fairly. And again to have the court tell me I'm not giving truthful testimony and hee-hawing. I feel like I should invoke my Fifth Amendment rights or seek my legal counsel. I feel I'm not being given a fair shake. … It's impugning my integrity. It's affecting my career. This has real consequences for me when I'm accused of such things wrongly"
Chris Cooney then told prosecutor Michael Staudaher, " I'm going through an emotional trauma as these things are going on, and you're asking me to quantify minute-by-minute statements. Some of these things I can't do, and that's not me being distruthful."
Jansen halted testimony until Monday so Chris Cooney's lawyer, Pete Christiansen, could attend the hearing. Staudaher said he planned to grant Chris Cooney immunity from prosecution. Jansen said he would rule on that issue Monday.
Chris Cooney, who is a patrol officer based at the Convention Center Area Command, testified last week that his older brother had a history of physical and verbal abuse toward him and his mother before the June 2011 shooting that left Kevin Cooney partially paralyzed.
Kevin Cooney told medical staff his mother shot him, but he has not cooperated with authorities.
Linda Cooney, 64, faces charges of attempted murder, battery with use of a deadly weapon, intimidating a witness and stalking.
Testimony and court documents show Kevin Cooney and his mother were feuding over his ex-girlfriend. Prosecutors say Linda Cooney was trying to sabotage her son's relationship by sending text messages to an employer saying the woman was "an evil whore."
After the preliminary hearing, Jansen will decide whether prosecutors have enough evidence to take the case to trial.
A grand jury indicted Linda Cooney earlier this year, but the indictment was tossed out in August after a judge ruled prosecutors presented prejudicial evidence of a previous domestic violence incident between her and Kevin Cooney.
Authorities said the gun Linda Cooney used to shoot her son was the same one she used to kill his father 21 years ago in Florida.
She was acquitted by jurors because, in part, of testimony from Kevin Cooney, who witnessed the shooting.
Linda Cooney's lawyers have said she "continues to steadfastly maintain her innocence."
Contact reporter Francis McCabe at fmccabe@reviewjournal.com or 702-380-1039.