Coroner: foster baby died of antihistamine overdose
December 18, 2014 - 7:37 pm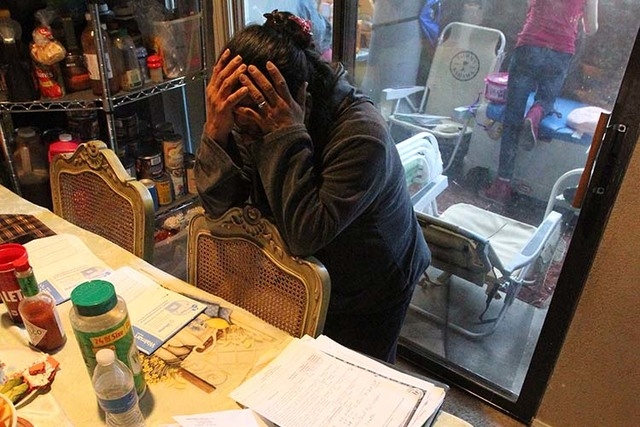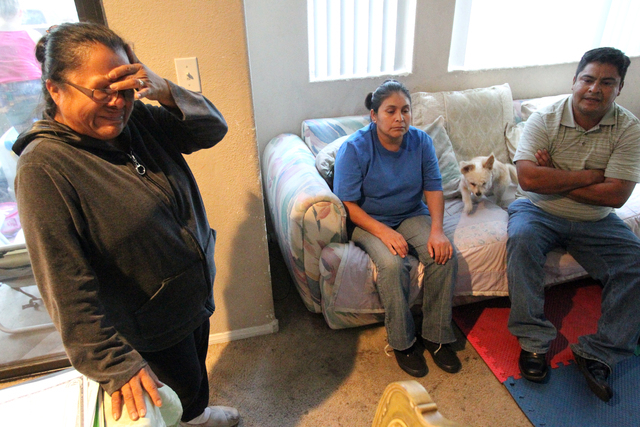 The foster toddler who was found dead in her crib the morning of Oct. 12 died of an antihistamine overdose, according to the Clark County coroner's office. The manner of her death was ruled a homicide.
Michell Momox-Caselis, the 16-month-old foster daughter of Joaquin Juarez-Paez, 37, was found dead in an apartment near North Jones Boulevard and Vegas Drive shortly after 8 a.m., according to police.
Police believe Juarez-Paez was responsible for the toddler's death. The foster father was found dead earlier that morning in his car in front of the complex. Juarez-Paez committed suicide through a hydrocodone overdose, the coroner said. Hydrocodone is a narcotic found in pain medication.
An expert hired by the county to review the case concluded that there were no signs that brought into question Juarez-Paez's mental health and functioning. The expert's finding was released Thursday.
Clark County Manager Don Burnette on Thursday said he believed it was important to have an independent, third-party review performed on the Clark County Department of Family Services' handling of the case.
The county retained Wayne Holder, a national expert in the field, to conduct the review. Holder is a senior associate with Action for Child Protection, a child welfare consulting organization.
"It is clear now that this case was a horrible tragedy on many levels, but in the opinion of Mr. Holder, DFS's licensing process and decision making were justifiable and the case management contact, level of effort and oversight were reasonable and appropriate," Burnette said in a statement.
But Donna Coleman, a longtime child advocate, said family services should not have given two children under the age of 2 years old to Juarez-Paez and his wife.
A second foster child, a 9-month-old baby, was also placed with the couple, but was found unharmed. The infant was not related to Michell.
"If these people had a track record for a few years and they did very well, I could see adding another child," she said.
The county hadn't previously publicly revealed it had hired an expert to review the case. The amount Holder was paid to complete the review wasn't available Thursday, according to a county spokesman.
Holder sent a letter to Family Services Director Lisa Ruiz-Lee on Thursday with his findings. He examined case record documentation to determine whether there was any indication during Juarez-Paez's licensing process or during case management that he was unstable, dangerous or in any way a threat to a child's safety.
Holder couldn't be reached for comment late Thursday.
The record review included all documentation associated with the licensing process and approval and case notes between June 4 and Oct. 15, according to his letter.
"The documentation reviewed demonstrated that the licensing process and decision making were justifiable and the case management contact, level of effort and oversight were reasonable and appropriate," he wrote.
Following the review, Holder said there was nothing that brought Juarez-Paez's performance as a foster parent into question.
"The record contains no indication or evidence of poor judgment, instability, undue stress, use of substance or any other influence that affected Juarez-Paez's performance of his role and responsibilities as a foster parent," he wrote.
The state hired Mike Capello, a child welfare expert and former director of the Washoe County Social Services Department, to investigate the case. He will also review other child fatalities and near fatalities across Nevada. Capello's reviews will be confidential.
As of early this month, 17 of 35 Clark County child fatalities or near fatalities this year involved children who had contact with Child Protective Services. They had either been involved in an open investigation or were the subject of a closed investigation with unsubstantiated allegations for abuse or neglect. The fatality disclosures, required by law to be made public, do not list the cause of death.
Two of those 17 cases involved children in Clark County foster care, including 16-month-old Michell.
Contact Kimber Laux at klaux@reviewjournal.com or 702-383-0381. Find her on Twitter: @lauxkimber. Contact Yesenia Amaro at yamaro@reviewjournal.com or 702-383-0440. Find her on Twitter: @YeseniaAmaro.
RELATED:
Parents of murdered foster child call for justice
Family says foster home concerns brushed off before toddler's death
Las Vegas toddler memorialized as questions about her death continue