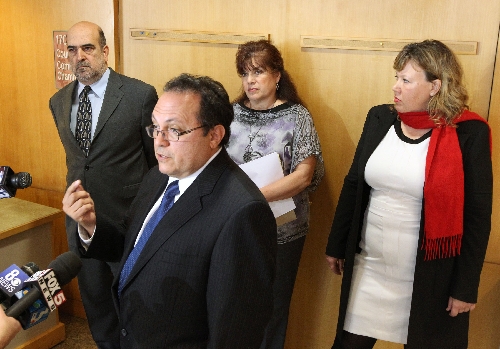 Commissioner Steve Sisolak said Monday he wants to introduce an alternative to the inquest process later this month, in time for a key vote by one of his counterparts who wants to revive the controversial hearings.
What the procedure would be, he doesn't know. Sisolak said it would be some sort of public forum for the airing of public facts surrounding a death at the hands of police.
That sounds like the current coroner's inquest process, but Sisolak said he wouldn't call it an inquest.
"I think we need to get away from that," he said. "We need to start fresh."
Over the past few weeks, Sisolak and Commissioner Larry Brown have had discussions with Sheriff Doug Gillespie and Chris Collins, the head of the Las Vegas Police Protective Association, the state's largest police union. The two commissioners serve on the Fiscal Affairs committee, which oversees the Police Department's budget.
Collins has vowed that his officers will not participate in future inquests after commissioners in 2011 overhauled the process to include adding a lawyer, representing the family of the deceased, to ask questions of police and witnesses alongside a prosecutor. Juries were also eliminated, with their findings of justified, excusable and criminal.
Sisolak believes he can introduce some kind of proposal that would be palatable enough for officers to participate.
"They want to be part of the solution," Sisolak said of the Police Protective Association. "They do not want to be an impediment in this process, and I'm hopeful we can find enough common ground for a procedure or a review closer to where we want to get. We're not going to get exactly where we want to go."
Commissioners today are scheduled to discuss tweaking the county's inquest code to comply with an October court ruling and resume a process that has been stalled for two years. They will vote on it at a meeting later this month.
Sisolak thinks that some sort of process with officer participation is better than a process without it. And if the new process doesn't work out, commissioners could change it, he said.
"I will contend forever, this is not going to work unless the police tell their version," Sisolak said.
Commissioner Chris Giunchigliani is the only commissioner openly wanting to reboot inquests, and she was critical of coming up with something new.
"Anything else that comes forward is just going to be a watered-down version that will not be an inquest," Giunchigliani said. "As a citizen, I demand that we implement that ordinance, and see what works."
Sisolak's proposal would face a significant hurdle, however. In addition to deciding not to speak at future inquests, Las Vegas cops have stopped talking with their department's own criminal investigators about the incidents.
The commissioner said that would be an issue that would have to be addressed with the new proposal. Collins has said his officers would be willing to cooperate with the investigators, with special protections, but Gillespie has rejected that deal.
Advocacy groups Monday morning urged county commissioners to resume the process.
"The community, the Latino community, needs answers as to what's happening," said Jose Solorio, chairman of the Latino Democratic Caucus. "We need to have confidence in our police officers."
The American Civil Liberties Union of Nevada and a member of the panel that changed the inquest process two years ago asked the public to attend today's meeting.
"We urge the public to come out and support this because ultimately it is the public that will benefit," ACLU of Nevada general counsel Allen Lichtenstein said.
The changes prompted police to file lawsuits contending the inquests violated their due process rights. There hasn't been a hearing since.
But the Nevada Supreme Court recently disagreed with the officers' position. With a slight change, inquests could go on, justices wrote.
District Attorney Steve Wolfson has said he wants some sort of public hearing so the public can learn how and why officers used deadly force.
Maggie McLetchie, a lawyer who served on the panel that drafted the new changes, said it's time to try the amended process.
"The public has a right to an open and transparent process," she said. "It's a simple housekeeping measure and it's time to move it forward."
Solorio said the Hispanic community has a direct interest in resuming the public hearings.
While Hispanics are typically not shot at by police at a higher-than-average rate, a Las Vegas Review-Journal investigation found, last year saw a spike. Of the 18 shootings by Metropolitan Police Department officers, 10 were at Hispanics. Seven of those shootings were fatal.
"Our community needs to feel safe out there," Solorio said.
Contact reporter Lawrence Mower at lmower@reviewjournal.com or 702-405-9781.
Deadly Force: When Las Vegas Police Shoot, and Kill
Las Vegas Review-Journal investigative series