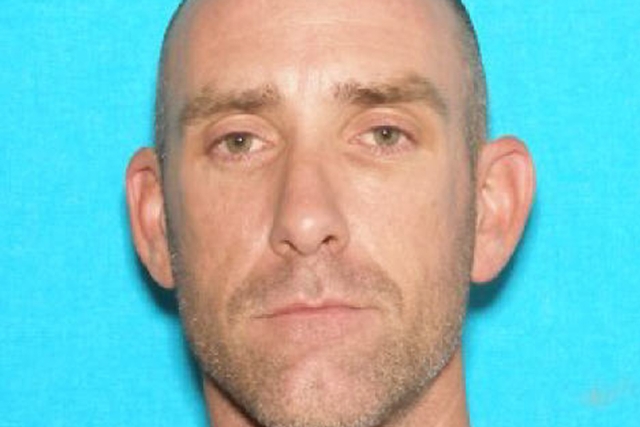 A Utah couple has been arrested and charged in connection with the shooting of a Mesquite police officer after a traffic stop at a major intersection in Mesquite on Thursday morning.
Daniel Wesley Runyon, 40, of Richfield, and Tina Cornell, 48, of St. George, were booked on an assortment of drug charges, Mesquite police said Friday.
Runyon, who was struck by a bullet in the shooting at 7:50 a.m. on Sandhill Boulevard near Interstate 15, was rushed to University Medical Center in Las Vegas. His condition is still unknown.
Mesquite officer Craig Empy, 43, who was shot in the leg, was treated and released at Mesa View Regional Hospital.
His partner, officer Gary Erickson, 44, was not injured but did open fire after Runyon got out of his 1996 Geo Metro with a gun and shot at them, Mesquite police said.
Cornell is being held in Clark County Detention Center on charges of trafficking and transporting methamphetamine, conspiracy and possession. Runyon is being charged with the same — in addition to assault on a police officer with a deadly weapon and an ex-felon in possession of a firearm.
Police also interviewed a woman in the back seat of the Geo at the time of the incident, but no word yet on whether she has been named a suspect or charged with anything, police said.
Mesquite police said Thursday's shooting was not the first time a Mesquite police officer has been involved in a shooting. Empy and Erickson were both placed on routine paid administrative leave during the investigation, which is being handled by Las Vegas police.
Contact reporter Tom Ragan at tragan@reviewjournal.com or 702-224-5512.