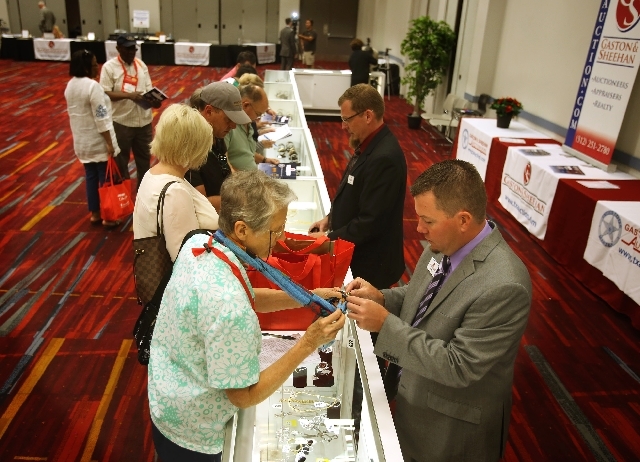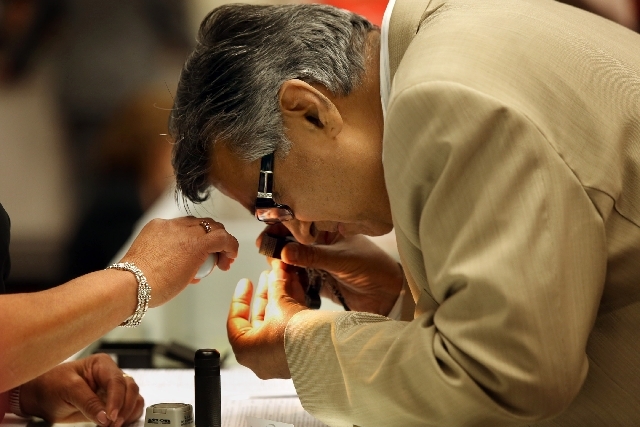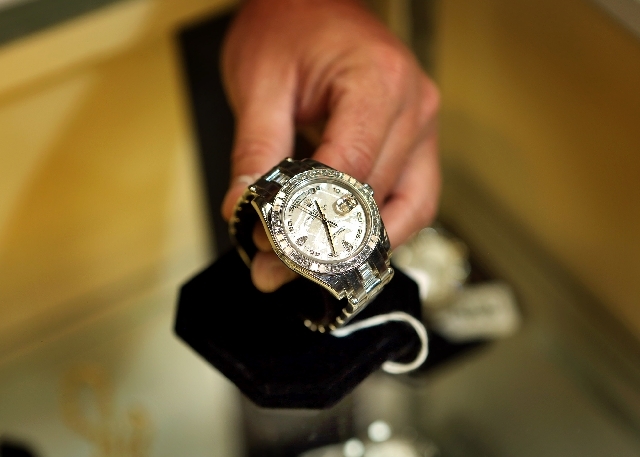 Robert Way mined for gold in Elko for 25 years. But Way, now retired, still gets excited when he sees the metallic luster gleam behind thick glass display cases.
"All them bars of gold, it's a lot of money laying there," Way said. "They'll sell it easy."
Up for auction today at the Las Vegas Convention Center are more than 300 lots of gold and silver bullion, coins, loose diamonds, fine jewelry and luxury watches confiscated during federal crime investigations.
The auction — a separate event from the JCK jewelry show at the same venue — begins at 10 a.m. and runs until the final item is sold. Bids can be made in person or on the Web through the auctioneer's website at www.txauction.com.
Some high-priced items include 6.6 pounds of tiny "gold pellets" starting at $120,000; a single 4.3-carat diamond earring that starts at $21,000; and a special-edition platinum Rolex expected to go for more than $160,000.
"Most of the items aren't going to bring retail price. But if you take a gold coin or a silver coin, it's going to bring whatever the market value is," said Jason Rzepniewski of Texas-based Gaston & Sheehan Auctioneers. "When you get into things like watches and items that you can go buy at the store, then yeah, there's deals to be had there."
Bidders could see discounts of at least 30 percent for some items,
Rzepniewski said.
But bidders often spend 10 percent to 30 percent more than the projected value, depending on how bidding unfolds the day of the auction, said U.S. Marshal Jason Martinez. He expects the auction will raise about $2.5 million.
Other items up for bid include: nine gold bars, each weighing one kilo, with a starting bid of $42,000; a "414" Wisconsin license plate pendant in gold with black and white diamonds at $3,200; and a necklace pendant reading "E-Z Money Ent" and showing a banker holding money bags encrusted in black, yellow, orange, green and white diamonds at $13,250.
The auction items were confiscated in various investigations nationwide.
That includes the largest Medicare fraud case ever at $163 million in bogus claims and a $100 million insurance fraud scheme that led to the conviction of five corporate executives.
Auction proceeds go toward compensating and reimbursing the victims of the related crimes.
Auctioneers said a good mix of jewelers looking to stock inventory and individuals hoping to score a good deal have registered to bid.
Philome Chavannes, 41, of Las Vegas, will go to the auction to find a loose diamond for his fiancé's ring. He said he didn't mind that the items once belonged to criminals.
"Why should it? Not everybody's got money to spend," Chavannes said. "The government needs money. People need investments. So it's a good deal."
After examining a single 2.5-carat diamond earring, Chavannes moved over to a row of shiny Rolexes to see if he wanted to pick up anything for himself.
"You can never have enough Rolexes," he said.
Contact Melissah Yang at myang@reviewjournal.com or 702-383-0491. Follow her @MelissahYang.
Register for the simulcast
here.