Desai faces competency tests at state mental hospital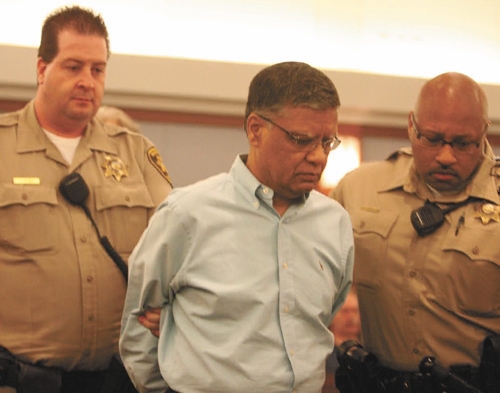 Dr. Dipak Desai, the central figure in the 2007 Las Vegas hepatitis C outbreak, was handcuffed and taken into custody at a court hearing Thursday to be transported to a state mental facility in Northern Nevada for evaluation.
District Judge Jackie Glass had ordered Desai to surrender to authorities after two court-appointed medical experts from Las Vegas, psychologist Shera D. Bradley and psychiatrist Michael S. Krelstein, found him incompetent to stand trial on criminal charges in light of two strokes in recent years.
Desai, 60, a gastroenterologist who gave up his medical license after news of the outbreak, walked into court flanked by his lawyers, wearing black dress pants and a light blue shirt open at the collar. His hands were clasped in front of him.
After Glass acknowledged his presence, she ordered him detained. Marshals then handcuffed Desai and escorted him out of the courtroom to the Clark County Detention Center across the street. Desai said nothing and looked straight ahead as he was led away.
State law mandates that Desai be sent for observation to Lakes Crossing in Sparks, the state's mental health hospital. His trial before District Judge Donald Mosley has been delayed until March 12, 2012.
Desai will undergo several days of medical tests in Las Vegas before being sent to Lakes Crossing. There, he will be evaluated by three physicians who will decide whether his competency can be established or restored.
Determining whether Desai can ever assist his lawyers could take more than a year. If Desai is deemed incompetent with no possibility of recovery, state law requires that charges be dismissed.
After Thursday's hearing, Chief Deputy District Attorney Mike Staudaher, who is prosecuting Desai, said he was pleased the physician was taken into custody.
"I think we're happy. He's where he belongs at this point," said Staudaher, who has previously questioned whether Desai was exaggerating the effects of his strokes to avoid standing trial.
Karen Morrow, a legal secretary who is one of the patients infected at Desai's clinics, said she also was pleased.
"I'm glad to see things are progressing," said Morrow, who has been attending the hearings in the criminal case. "Hopefully, this is the first step in making sure he's found competent to stand trial. There are a lot of people who have been hurt by this, including his family."
Desai's wife, Kusum, wept as she, the couple's daughter and Desai's lawyers waited by a 12th floor elevator to leave the courthouse. Lead defense attorney, Richard Wright, refused to comment.
Staudaher said he hopes Desai will be found competent to stand trial by next March with two of his former nurse anesthetists, Keith Mathahs and Ronald Lakeman.
All three defendants face several felony charges, including racketeering, insurance fraud and neglect of patients.
The charges revolve around seven people who authorities say were infected with the potentially deadly hepatitis C virus at Desai's Endoscopy Center of Southern Nevada.
The criminal investigation, which began shortly after health officials disclosed the hepatitis C outbreak in February 2008, was one of the largest by Las Vegas police.
Desai came under scrutiny after the Southern Nevada Health District linked cases of hepatitis C to the endoscopy center. Officials notified 40,000 former clinic patients about possible exposure to blood-borne diseases because of unsafe injection practices. More notifications followed for patients of a sister clinic, Desert Shadow Endoscopy Center.
As many as 250 former clinic patients infected with hepatitis have filed medical malpractice lawsuits. Thousands more have sued over the stress of having to be tested for hepatitis C.
Local health officials said the outbreak was caused by nurse anesthetists reusing vials of the sedative propofol that were contaminated by syringes used on patients with hepatitis C.
Contact Jeff German at jgerman@reviewjournal.com or 702-380-8135.