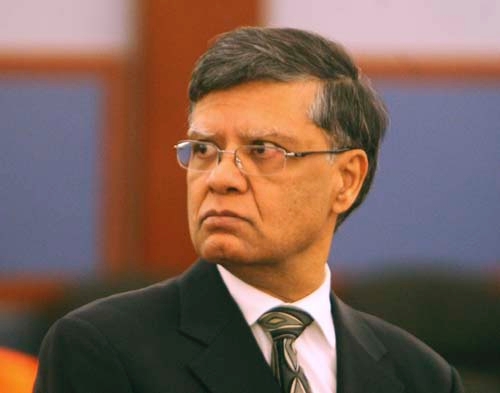 Defense lawyers on Thursday won a six-month delay in the criminal trial of Dr. Dipak Desai and two nurse anesthetists stemming from a hepatitis C outbreak.
District Judge Valerie Adair pushed back the long-awaited trial to April 22.
It is the third time the trial has been continued as the high-profile case has dragged through the court system for more than two years.
Adair said she felt "forced" to delay the trial, which was supposed to start Oct. 22, after defense lawyers argued they weren't prepared to move forward because of the massive amount of evidence that still needed to be reviewed.
"I'm continuing this reluctantly," Adair said from the bench. "I feel that at this point my hands are somewhat tied."
Adair got assurances from the lawyers that they will be prepared in six months, and she vowed, "There will be no more continuances."
The judge also ordered a separate murder case against Desai and the nurses consolidated under her supervision and tried at the same time next year. The trial is expected to last two months.
Desai, 62, and the two nurses, Keith Mathahs, 76, and Ronald Lakeman, 65, face a series of felony charges in the 2007 outbreak, including racketeering, patient neglect and insurance fraud.
They also face a second-degree murder charge in the death of Rodolfo Meana, a victim of the hepatitis C outbreak.
The trial delay probably will push back the Nov. 20 federal trial of Desai, who faces conspiracy and health care fraud charges tied to the hepatitis outbreak. Federal prosecutors have indicated they prefer to try Desai and his former office manager after the state charges against Desai are resolved.
The murder indictment accuses Desai and the nurse anesthetists of unlawfully "introducing the hepatitis C virus" into Meana's body while he underwent a colonoscopy in 2007.
Meana, 77, died in April of complications from hepatitis C in his native Philippines. His infection was among seven that health officials genetically linked to Desai's main clinic, the Endoscopy Center of Southern Nevada. Officials have said dozens more cases were "possibly linked" to the clinic.
Health officials concluded Meana and five other patients contracted hepatitis C through unsafe injection practices on Sept. 21, 2007. Another patient was infected on July 25, 2007.
A Clark County grand jury indicted Desai, Mathahs and Lakeman in the racketeering case in June 2010, but a month later, the case against the former gastroenterologist was put on hold while his competency to stand trial was evaluated.
Desai's lawyers contended his cognitive functions were damaged by two strokes.
The case stayed in limbo for 18 months until late January, when Desai was found competent to assist his lawyers at trial.
In the meantime, former District Judge Donald Mosley had continued the original March 2011 trial date a year until March 12 at the request of defense lawyers struggling to deal with the reams of evidence in the case.
But Mosley retired in February before the trial could start, making way for Adair to take over the case. She moved the trial to Oct. 22.
Adair pushed hard to make that date, even clearing her calendar the rest of the year. But defense lawyers this week again argued for more time to prepare.
Desai's lead lawyer, Richard Wright, told Adair on Tuesday in court that he could not "give effective assistance of counsel" to Desai going forward this month.
Chief Deputy District Attorney Mike Staudaher, the lead prosecutor, responded that Wright had uttered the "magic words," causing him to support another delay if a "drop dead" new trial date" was selected.
Staudaher told Adair that he didn't want to go through a trial and then have to deal with an issue on appeal of whether Desai got fair representation.
Contact reporter Jeff German at jgerman@reviewjournal.com or 702-380-8135.