District judge clears way for Henry Ruggs' preliminary hearing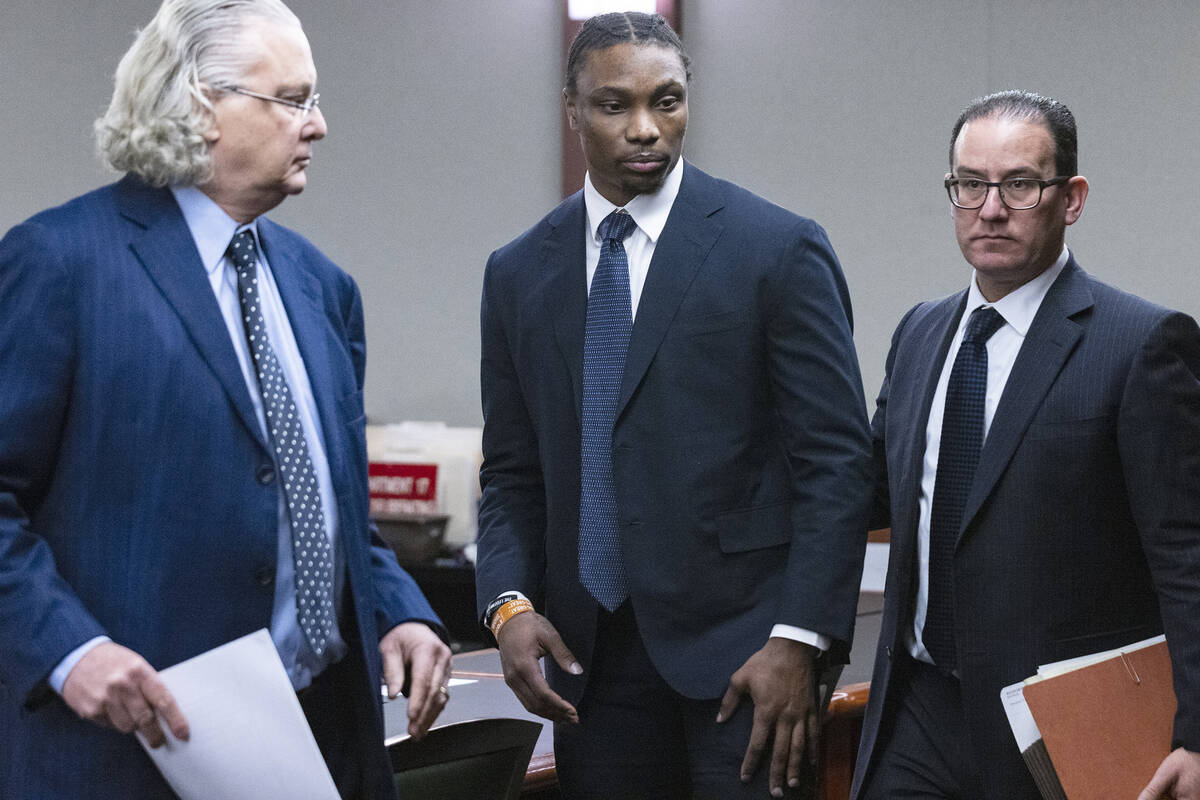 A district judge has ruled that former Raiders' player Henry Ruggs' criminal case should be handled by the Las Vegas Justice Court's DUI specialty court, paving the way for a preliminary hearing to move forward.
Last month, Ruggs' attorneys filed court documents alleging that Ruggs was not being treated the same as other defendants charged with DUI, after Justice of the Peace Ann Zimmerman moved to continue presiding over the case despite no longer overseeing the DUI specialty court.
Ruggs, 23, faces felony DUI charges in connection with a fiery crash on Nov. 2, 2021. He is accused of driving up to 156 mph just seconds before slamming into 23-year-old Tina Tintor's car, killing her and her dog.
District Judge Jennifer Schwartz filed an order Friday directing the lower court to move the case to Justice of the Peace Joe Bonaventure, who was appointed to oversee the specialty court in January.
The order also lifts a stay that Schwartz placed on the criminal proceedings last month that was preventing a preliminary hearing from moving forward.
"We are pleased that a court of higher jurisdiction granted us a stay, which enabled us to resolve the matter," attorneys David Chesnoff and Richard Schonfeld said in an emailed statement Friday.
Clark County District Attorney Steve Wolfson did not immediately return a request for comment.
Ruggs' attorneys wrote in court documents that Ruggs' case was the only DUI case Zimmerman requested to retain after Bonaventure took over the specialty DUI court during routine reassignments. Chesnoff and Schonfeld alleged that Zimmerman "singled out" Ruggs' case and violated an administrative order assigning all DUI cases not involving domestic violence to one judge.
Exhibits filed by Ruggs' attorneys in January included emails between the attorneys and Zimmerman, who wrote that she retained the case because she had previously made "some substantive rulings" and that there was "nothing nefarious" about her decision.
"It is not uncommon or extraordinary for a judge to retain a case to finish hearing it," she wrote in an email included with the exhibits.
Schwartz's order on Friday called for Bonaventure to reschedule a preliminary hearing in the case, which is anticipated to be set about two months from the first date Ruggs appears in Bonaventure's courtroom. A preliminary hearing is when a judge determines if there is enough evidence for a defendant to stand trial.
Ruggs has been charged with DUI resulting in death, DUI resulting in substantial bodily harm, two counts of reckless driving resulting in death or substantial bodily harm and a misdemeanor count of possession of a firearm while under the influence.
The preliminary hearing for Ruggs has been pushed back multiple times because of a delayed report from Metro and legal challenges, including a fight over the release of medical records related to Ruggs and his girlfriend, who police say was injured in the crash.
Contact Katelyn Newberg at knewberg@reviewjournal.com or 702-383-0240. Follow @k_newberg on Twitter.