Doctor accused of drugging, raping patients claims 'Sleeping Beauty fetish'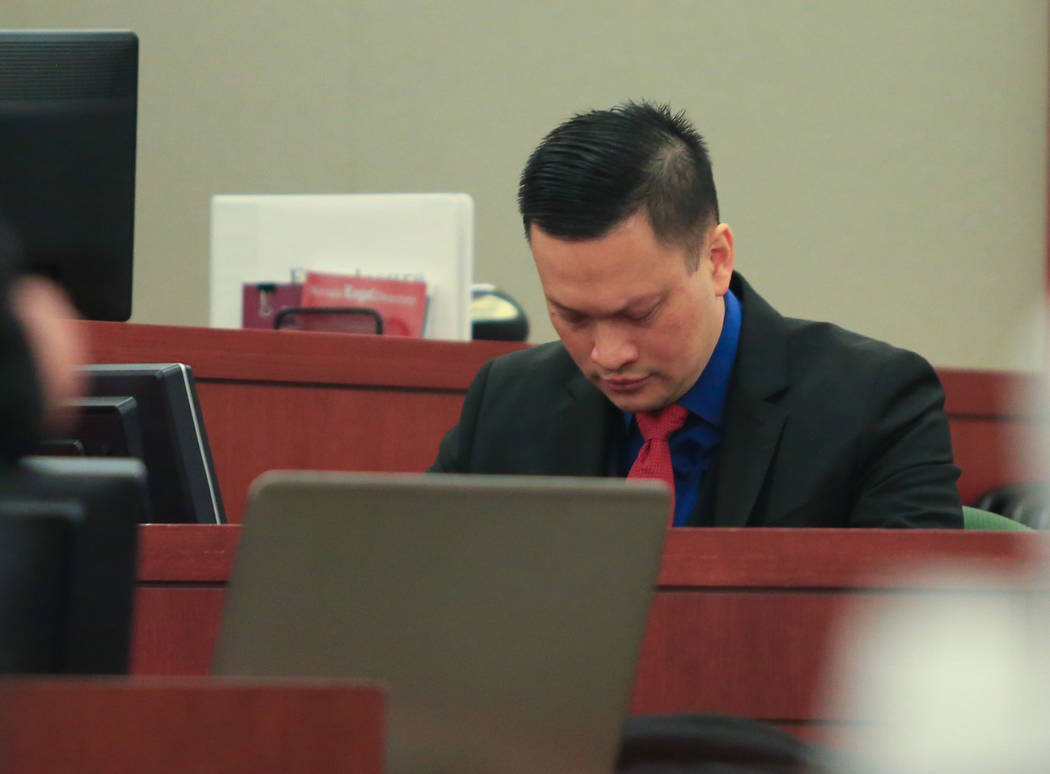 A suspended Las Vegas doctor accused of drugging and raping unconscious patients told jurors Thursday that he had a "Sleeping Beauty fetish," which he acted out and videotaped with a woman during an affair.
Throughout his more than four hours of sometimes confusing and contradictory testimony, Binh "Ben" Chung told jurors he had sex with the woman at her apartment, in his car and in his southwest valley office at Sundance Medical Center.
He acknowledged that she appeared unconscious in the recordings, but said the woman was actually awake and playing a role to act out his fantasy.
"Sleeping Beauty, kind of like a Disney movie, right?" prosecutor Alex Chen asked.
The doctor replied: "Sleeping Beauty meaning princess." He referred to what's known as somnophilia, which is defined as sexual arousal by another's unconsciousness.
"Is it like a blissful type thing?" the prosecutor continued. "She's sleeping like a princess and then you have sex with her?"
"Yes," Chung said.
His attorney, Christopher Oram, asked "This fetish, do you think it's weird?"
The doctor replied: "Not to me."
He said he enjoyed the fetish but felt "very ashamed and embarrassed to even talk about this."
Later, he told jurors that he no longer felt a desire for such an act, but "it's still erotic to me."
Jurors see video
The prosecutor played the video for jurors, with monitors pointed away from media and courtroom observers, and asked why the woman's body appeared limp as the doctor repositioned her.
Chung pointed to a moment when the woman's head rolled, and said that showed she was actually awake.
He denied visiting web sites that depicted assaults on sleeping women.
At one point, Chung told jurors he placed his hand upon a woman's vagina in one video, "asking" about her condition. But when the prosecutor pointed out that Chung could not be heard saying anything on the video, the doctor said he was "checking" on her condition.
The prosecutor asked why Chung wore one glove in another video. Initially, he said he also had a "doctor-patient fetish."
But he later testified that he "might have absentmindedly" forgotten to remove the glove after giving the woman, who appeared unconscious, a shot of B-12, an energy boosting vitamin.
Chung is also accused of drugging and molesting two other women and a teenage girl.
In an encounter with a second woman at his office, Chung recorded a procedure on video to document her treatment, he said, adding that the woman agreed to be videotaped. At first, Chung appeared to agree with the prosecutor that written consent would have been part of the woman's medical record. But he quickly pulled back and said she gave verbal consent to being videotaped.
Chen pointed out that the doctor had taken the videos on his personal cellphone. Chung told jurors he also used the phone for work.
"And then you don't put (the videos) in the patient record?" the prosecutor asked.
"No," Chung said.
The doctor claimed that the video prosecutors said depicted Chung having sex with a teenage girl actually portrayed the woman with whom he had an affair. Chung denied ever touching, kissing or molesting the girl.
The prosecutor said a time-stamp on the video indicated that it was recorded one day before the woman was married to another man in New York.
Ex-wife's testimony
In April 2015, Binh Chung's then-wife, Brenda Wong, discovered video recordings of alleged rapes that occurred inside her husband's office, she testified as the prosecution's first witness.
Wong said she and others contacted authorities after she realized that one woman in the videos, a family friend, was unconscious.
Authorities launched an investigation in June 2015 after Wong became suspicious of her husband's infidelities and snooped through his text messages and computers.
While searching through Chung's computers and hard drives, police found 10 videos of child pornography, according to his arrest report.
Prosecutors have said Chung sedated patients with ketamine or midazolam, drugs typically used before surgery. Police found a jug of ketamine in a junk drawer during a raid of his office. Chung told jurors he did not know why ketamine would have been found in the drawer; he typically kept it in a separate locked room.
Two of the victims filed a lawsuit against him and his wife. The complaint, which alleges intentional infliction of emotional distress, battery, false imprisonment and negligence, states that Wong, a mandatory reporter as a pharmacist, "failed to report abuse to the authorities as soon as practicable."
The lawsuit also claims that Wong directed Chung to a source where he could buy ketamine for cash.
It is not the first time Chung has been accused of a sex-related crime.
He was arrested in 2006 in connection with a case of open and gross lewdness with a teenager, court records show. That charge was dismissed after Chung completed 100 hours of community service, along with impulse control classes.
The medical board filed a letter of concern against the doctor after the 2006 criminal case was opened. Chung's license was not suspended during that investigation.
Chung graduated from the University of Nevada School of Medicine in 2001 and completed his residency at the school's hospitals in Las Vegas, according to board records. He was first licensed by the Nevada medical board in 2005. He's been in custody since June 2015, and His medical license has been suspended indefinitely.
Attorneys are expected to give closing arguments in the trial Friday.
Related
Trial opens for Las Vegas doctor accused of drugging, raping patients
Doctor facing sex charges posts $1M bail
Judge lowers bail for Las Vegas doctor facing sex charges
Prosecutors accuse Vegas doctor of rape, reveal 11 new victims