Dog owner protests her citation after officer runs over animal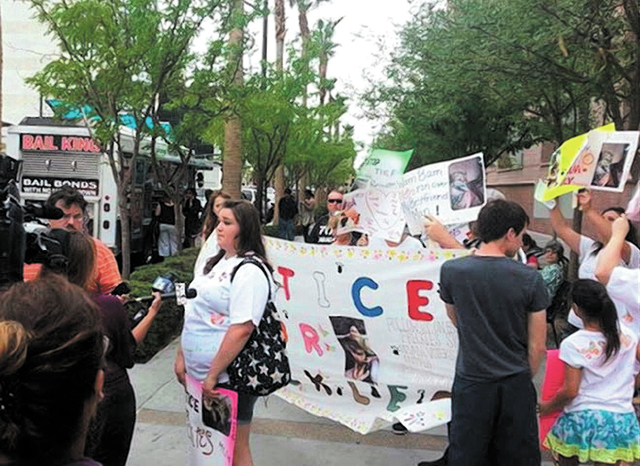 Shouting, "Justice for Freckles," about a dozen people at the Regional Justice Center on Thursday protested canine killings by Las Vegas police officers.
Led by Las Vegan Sarah Hecht, whose 45-pound Australian shepherd hybrid was run down by a two-ton police cruiser earlier this year, the protestors asked for better training for police officers dealing with animals.
A police spokeswoman declined to comment on the case because there was an ongoing internal affairs investigation into the incident. The investigation is expected to take several more months.
Hecht, 22, was overcome with emotion while speaking of her beloved pet who was a birthday present for getting straight As in high school.
An officer told Hecht he purposefully ran over the dog after it had escaped her backyard and was heading toward children playing on May 21.
Freckles was dragged by the police cruiser, but lived.
Hecht rushed the canine to a veterinarian. The dog licked his owner during the trip.
Once there, Hecht made the difficult decision to euthanize the animal.
Hecht believes Freckles escaped her backyard after he was taunted by neighborhood children.
She insisted her dog would never hurt anyone and had no history of biting humans.
While she was at the veterinarian's office, Hecht's father was cited with having an unrestrained dog.
Following the protest Thursday, Hecht wept before Las Vegas Justice of the Peace Karen Bennett-Haron as she explained what police had done to her dog and how she had no money left after paying $1,000 to try and save her "son's" life.
"I don't have children. He was my son," Hecht told the judge.
Bennett-Haron and prosecutors quickly agreed to dismiss the charges.
She has been cited twice for animal code violations, including not obtaining a permit or sterilizing her dogs.
Both matters were also dismissed, court records show.
Contact reporter Francis McCabe at fmccabe@reviewjournal.com or 702-380-1039.