Double slaying probed after Las Vegas boy, 9, says family members dead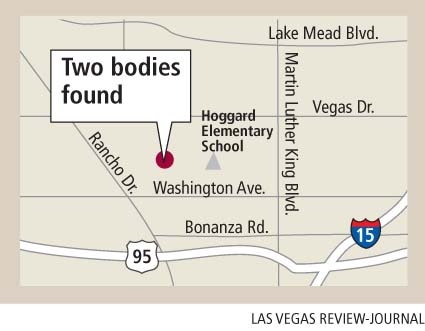 The 9-year-old boy arrived at Hoggard Elementary School on Monday with horrifying news.
His mother and sister had been killed, he told school officials.
Las Vegas police responded to the central valley house at 1016 Robin St. and confirmed the worst: An adult woman and a girl had been slain at the home, just a half-mile from the boy's school. A 4-year-old boy, distraught but alive, also was found inside, police spokesman Marcus Martin said.
Police said a man covered in blood was found at the house, too, and was hospitalized, but they would not say how the man was connected to the victims. Police also wouldn't say whether the man was a suspect but said no arrests had been made.
Officer Jacinto Rivera said the public shouldn't worry about a killer on the loose.
"We have no information that would indicate that," said Rivera, also a police spokesman.
Rivera would not disclose what happened to the 4-year-old boy at the house or the 9-year-old boy, who arrived at Hoggard Elementary School about
8:40 a.m. The campus is near Washington Avenue and Tonopah Drive.
Christine Skorupski, a spokeswoman for the Clark County Department of Family Services, said the two boys have been taken into custody by her agency.
A neighbor, Lucinda Jackson-Griffin, told reporters the adult man is named Arturo, a friendly husband and father with a steady job as an electrician. According to county records, Arturo Martinez is listed as the homeowner.
Martinez was not listed in hospital or jail records as of Monday afternoon.
Jackson-Griffin said there had been no disturbances at Martinez's house until Monday morning, when she was awakened by gunshots. She dismissed the noise at first as teenagers making a racket until a neighbor told her that "something had happened at Arturo's," she said.
A short time later, police cars arrived and "snatched" the 4-year-old boy, she said. Investigators told her it was a homicide, but Jackson-Griffin was reluctant to speak more about her neighbor.
"You never know how some people live or what goes on in someone's house," she said. "He (Martinez) was good people. He worked."
Juliana Maqueda-Perez, a neighbor who spoke only Spanish, said she heard a man screaming in English and a child crying in the early morning hours. She said she did not hear gunshots, and police haven't said whether a gun was used in the slayings.
After nearly five hours without updates, Rivera told reporters that police would not provide more information, and he backed off previous statements about the victims' genders and ages, saying only that two bodies had been found.
Rivera did not say his earlier statements were wrong. The information had been released prematurely, he said.
"It's important to maintain the integrity of the investigation," he said.
But the news was already spreading through the close-knit neighborhood with mostly owner-occupied houses. Several residents have lived in their homes for decades.
Pat Webb, who has lived with her husband in their house on Robin Street since 1957, said she was shocked when she saw the police cars and learned of the killings.
Some neighbors talked about the incident as they waited for police to let them back in their homes. Their speculation revolved around Martinez.
"I can't picture myself killing my little girl, man. And I got a baby girl. She's my heart," said a man who did not give his name.
When animal control officers arrived to remove a dog from the house, the man shook his head in disbelief.
"What, he killed the dog, too?" he said.
Rivera said the family's dog was not killed but was being removed from the house because nobody was there to care for it.
Review-Journal reporter Antonio Planas contributed to this report. Contact reporter Mike Blasky at mblasky@
reviewjournal.com or 702-383-0283.