Drunken driver sentenced to at least 51 years for killing 3 teens
Updated February 27, 2020 - 11:02 pm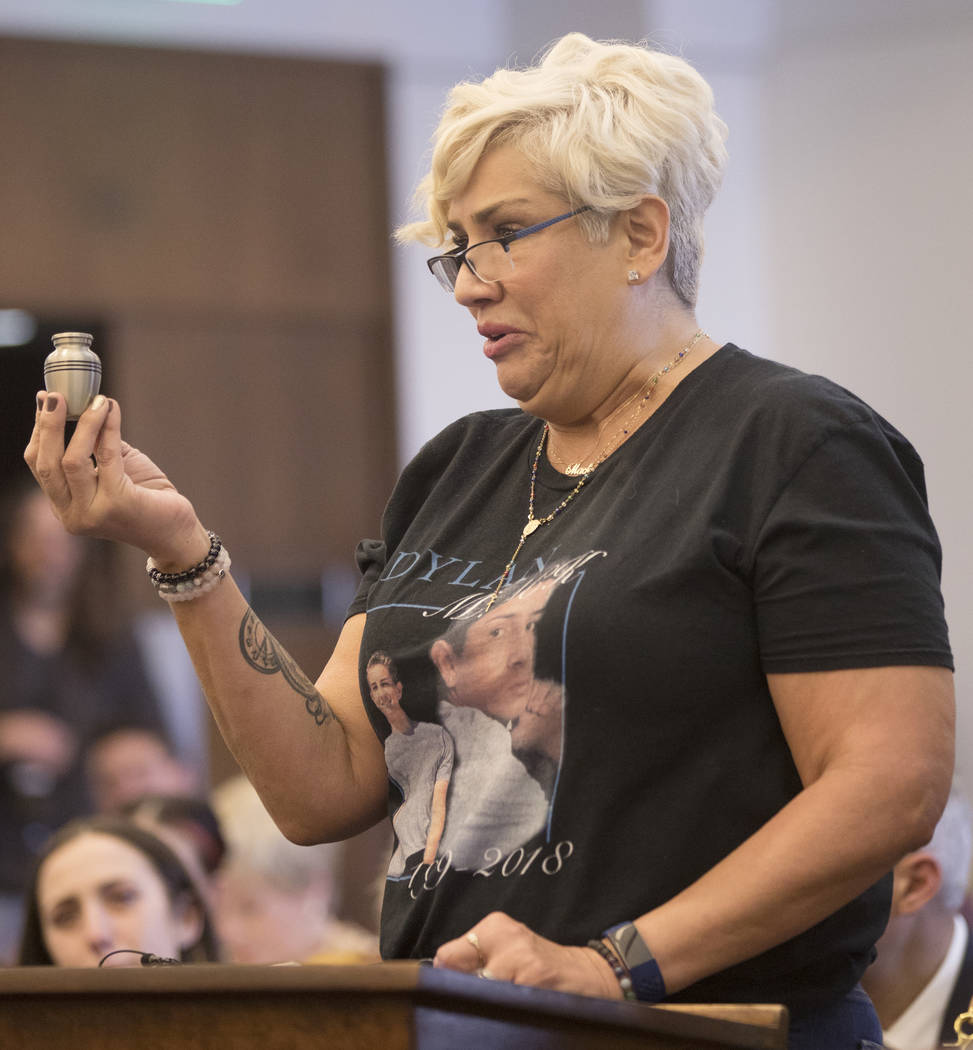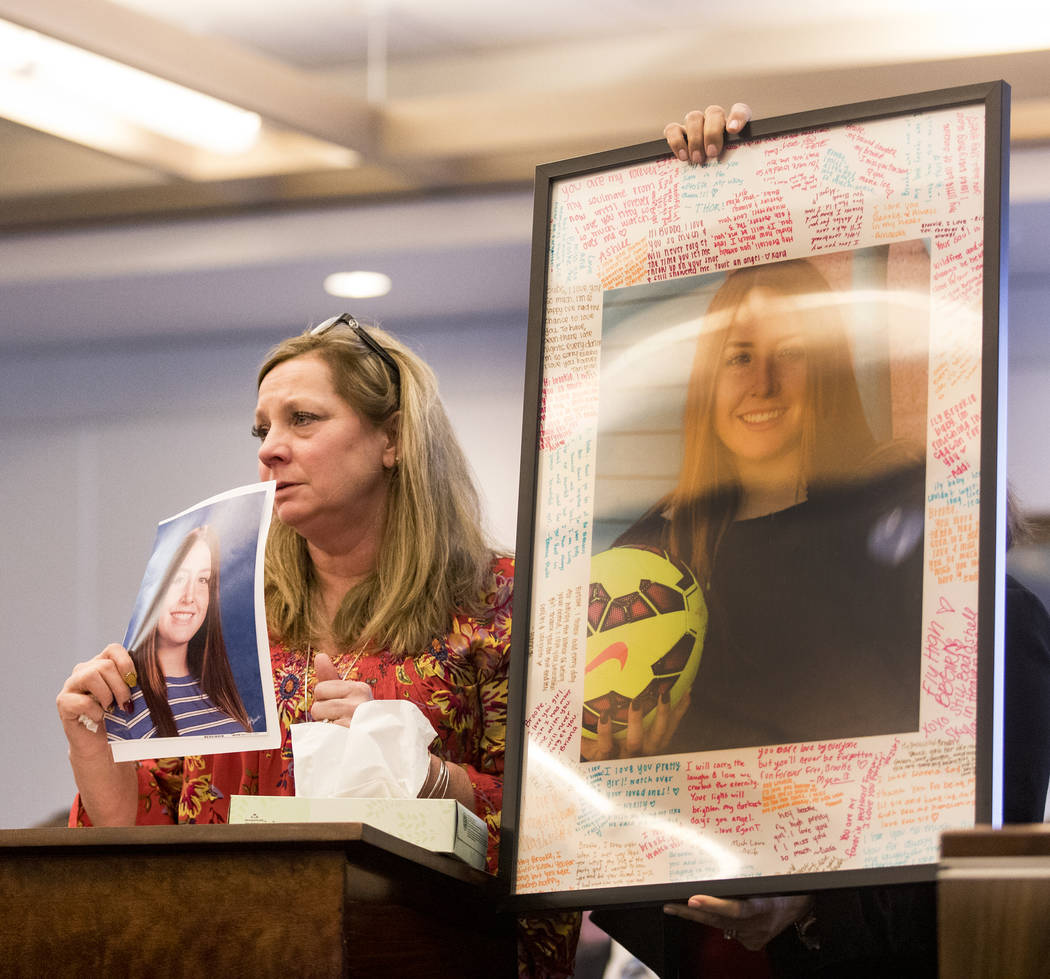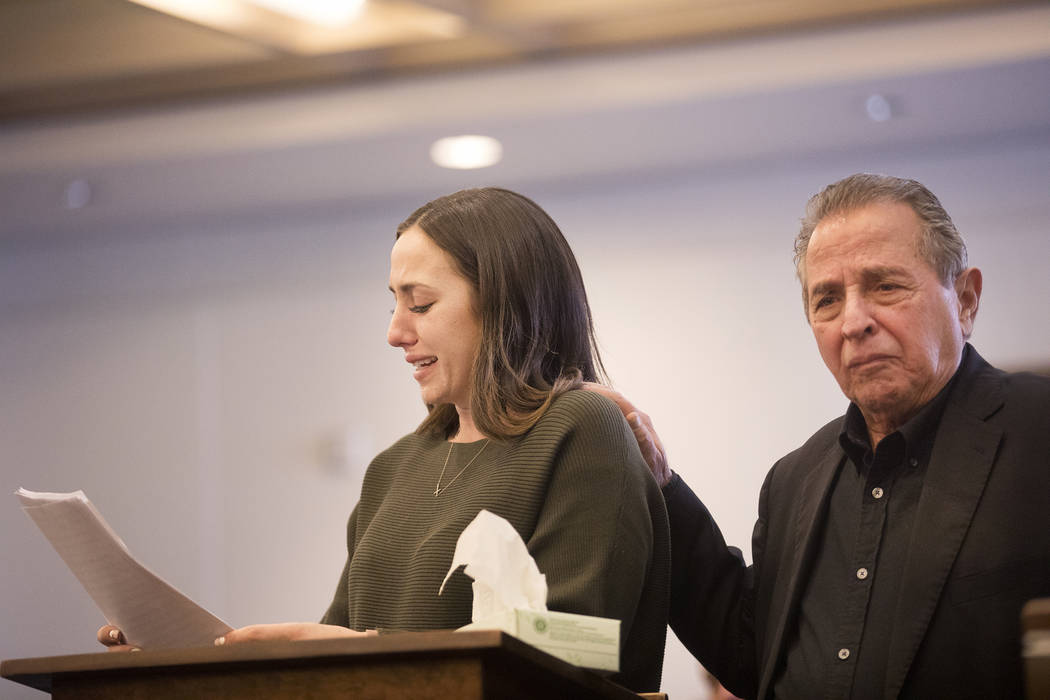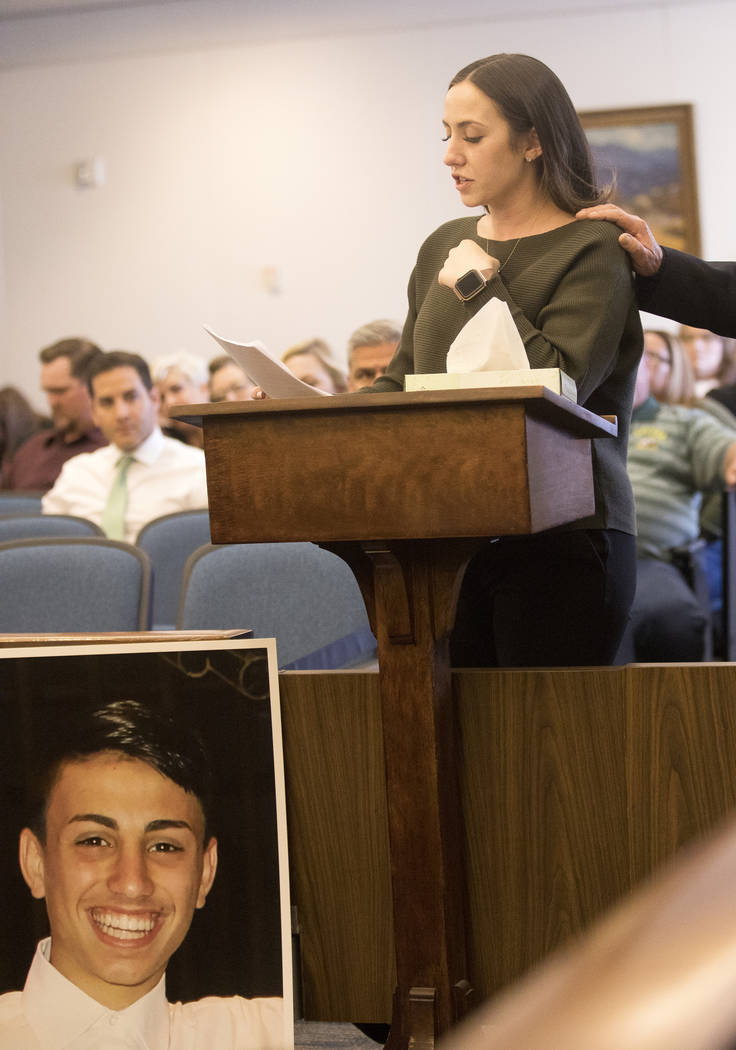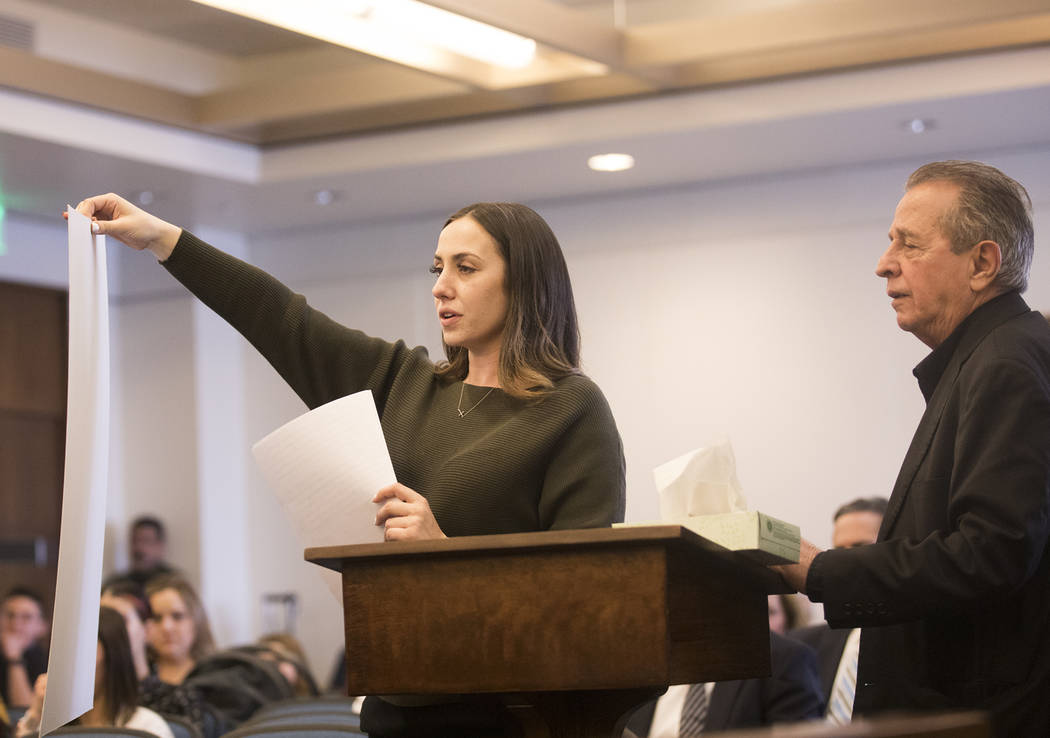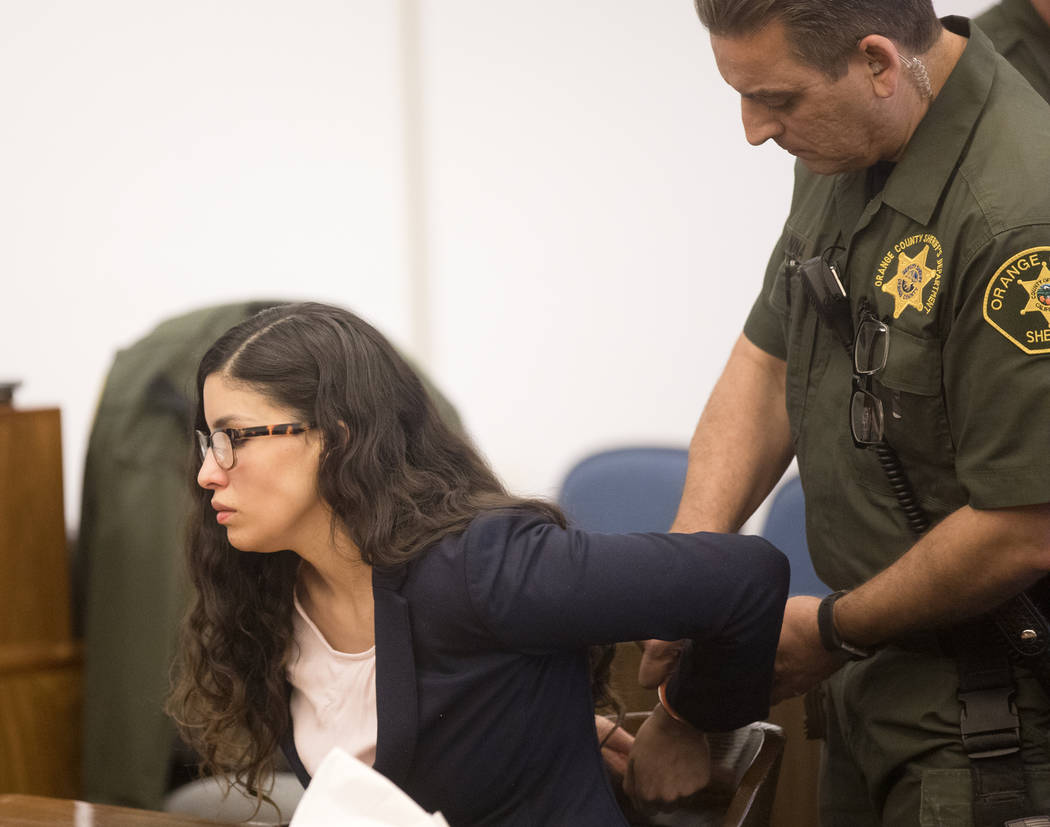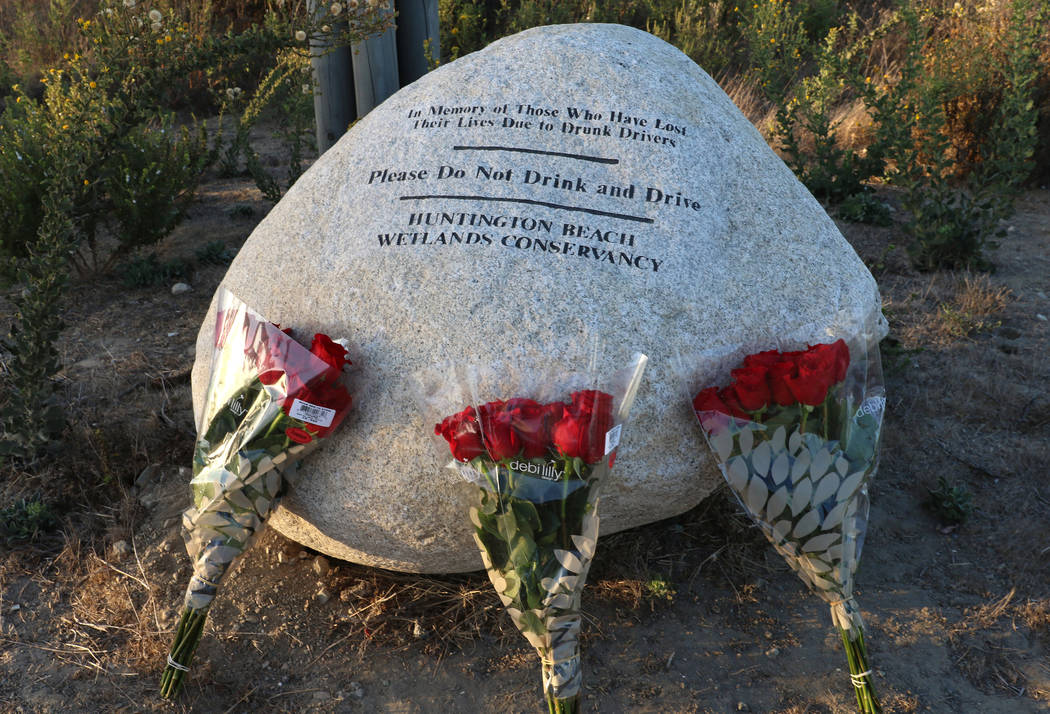 SANTA ANA, Calif. — A drunken driver convicted of second-degree murder was sentenced Thursday to at least 51 years in prison for causing a fiery crash in 2018 in Huntington Beach that killed three Las Vegas teens and seriously injured a fourth.
"To sum this up in one line, this is a tragedy of epic proportions," Orange County Superior Court Judge Gary Paer said. "The victims' families are suffering. The defendant's family is suffering. There are no words to adequately summarize this horrific event."
Bani Duarte, a 29-year-old mother of four from San Clemente, California, has been in custody since April 2018. Jurors deliberated for less than two hours on Oct. 1 before convicting her of three counts of second-degree murder and one count of driving under the influence of alcohol causing injury. Her trial had lasted just over a week.
"I understand you hate me, wish I was dead," Duarte said Thursday, turning back to look at the victims' families. "You want me to suffer. I just want to say that I'm truly sorry and maybe one day you will forgive me. What I'm saying is coming from my heart."
After a hearing that lasted about four hours, Paer imposed the maximum sentence of 51 years to life in prison. Ten relatives of the victims spoke, and by the end of the emotional hearing, even prosecutor Daniel Feldman was in tears.
Just before 1:10 a.m. on March 29, 2018, after a night of drinking, Duarte came speeding down the Pacific Coast Highway approaching the intersection with Magnolia Street, where four Centennial High School students sat in a red Toyota Corolla, waiting for the green light.
At nearly 80 mph, Duarte's Hyundai Sonata slammed into the back of the Toyota, forcing the car through the intersection and into a pole before it burst into flames. Authorities have estimated that Duarte had at least nine drinks in her system at the time of the crash.
Brooke Hawley and Albert "A.J." Rossi Jr., both 17, and Dylan Mack, 18, were killed. Alexis Vargas, the sole teen survivor, was hospitalized with burns and a concussion.
"This trial was not about the defendant," Brooke's father, Aaron Hawley, said Thursday as he addressed the courtroom and the woman who killed his youngest daughter. "It's about three young adults doing nothing wrong and paid the ultimate price because one irresponsible person decided they were more important than anybody else on the face of the Earth."
Duarte's blood alcohol level two hours after the crash was 0.28 percent, more than three times the legal limit for drivers in California. Data taken from her car by Huntington Beach police showed that at no time did she press the brake pedal before the wreck.
'Ashamed, remorseful'
"Brooke has been dead for 700 days today. I've missed my daughter 700 days," Aaron Hawley said, concluding his statement. "I hate you so much for what you did to my children, to my family."
Those 700 days also have taken a physical toll. Dylan's mother, Renee Mack, said she lost 40 pounds. And Albert Rossi Sr., A.J.'s father, suffered a heart attack following his only son's death.
The man was 50 when he had A.J. He said he kept trying until he had a son who would be "ripped away" just 17 years later.
"I am a Marine Vietnam combat veteran who fought for this country," he told Paer. "Vietnam was a living hell, but compared to this, it was a walk in the park."
It was evident Thursday that the lives of these families had long been intertwined, even before the crash. Dylan, Brooke and A.J. grew up together, spending much of their free time at each other's homes.
"Dylan, my boy, I watched him grow up over the years. He drove me crazy, but I sure loved that kid," A.J.'s older sister, Allie Rossi, said. "They had some crazy times together. Brooke, the cutest little redhead that I could remember. All three of you deserved so much more, and each of you had your own amount of potential beaming right through you. It really isn't fair."
Until Thursday afternoon, Duarte had avoided eye contact with the victims' families. Throughout the hourslong hearing and during the trial in September, Duarte often kept her head down, barely moving in her seat during court proceedings.
But when it was her turn to speak Thursday, she sobbed.
"I'm ashamed, remorseful, regretful for the actions I made on March 29, 2018," she said, crying. "This tragedy not only affected your family, but also mine, and it's something I have to live with for the rest of my life."
According to Feldman, the lead prosecutor in the case, one of Duarte's young children had written a letter to the judge ahead of the sentencing, writing that she was "being a good girl" so that her mom could come home.
'Crossing the finish line'
"I hope that your children find healing as they come to terms with the fact that their mother valued alcohol more than their lives on that night, too," the sole teen survivor's mother, Kitzia Andrade, told Duarte on Thursday.
Vargas, now 18 and a student at College of Southern Nevada, did not attend the sentencing hearing. Andrade said her son has not been the same since the crash, wondering every day why he survived.
Unlike the other parents, Morgan and Renee Mack were familiar with the Orange County courthouse on Civic Center Drive long before the crash. Nearly two decades ago now, the couple fought for and won custody of their son, Dylan, inside a third-floor courtroom.
"It is ironic that Dylan's story with me, and his early years, began here, in Santa Ana Superior Court, and has ended here," Morgan Mack said. "Dylan entered my life when he was about 2 years old."
After winning full custody, the family moved to Las Vegas for a fresh start — to leave the bitter memories behind in California.
Dylan was just months away from finishing high school when he died. The only gift he had asked for from his father was an adult adoption, but he died before it was finalized.
Still, Morgan Mack said, "I am Dylan's dad."
Later, on the way out of a courthouse that twice has changed his life, he told the Las Vegas Review-Journal, "It feels like we're finally crossing the finish line."
Contact Rio Lacanlale at rlacanlale@reviewjournal.com or 702-383-0381. Follow @riolacanlale on Twitter.