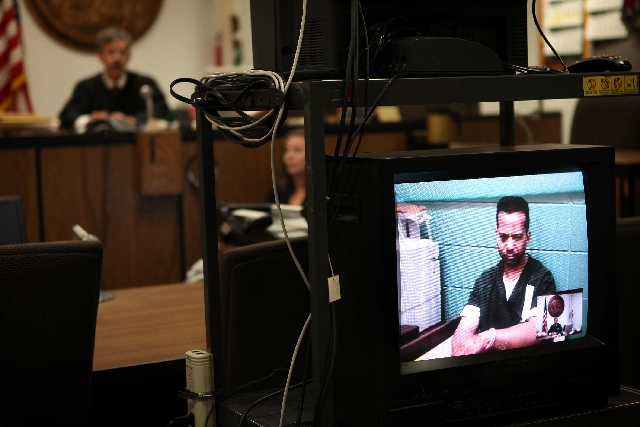 BARSTOW, Calif. — Ousted Nevada Assemblyman Steven Brooks pleaded not guilty Tuesday in San Bernardino County Superior Court to three felony charges and one misdemeanor in connection with a freeway chase Thursday night.
Wearing black jail clothes with a white undershirt, the 41-year-old from North Las Vegas shook his head back and forth while Judge John B. Gibson read the charges during a 2-minute videoconference that was aired in the Barstow Court and in the West Valley Detention Center in Rancho Cucamonga where Brooks is being held. His bail was set at $100,000.
He is charged with three felonies: evading police with disregard for the safety of others while operating a vehicle; resisting an officer by means of force or threats of violence; and throwing a substance at a vehicle with malicious intent to do great bodily injury.
He is also charged with a misdemeanor, assault on a police animal.
Brooks had wounds on his face and arms from the altercation with police, who sent a police dog into his sport utility vehicle after the chase on Interstate 15. The chase ended when his vehicle ran over a spike trap.
During the arraignment, Brooks asked for leniency on his bail.
"Your honor, I have a question,'' he asked. "What is my bail your honor?"
A West Valley bailiff answered that it was $100,000.
"Can we decrease that a bit?" Brooks said, making a reference to a "psychiatric" appointment he had "before all this happened."
Part of his conversation was inaudible because he spoke while a phone was ringing.
Gibson told him he ought to wait to request bail reduction until the court had appointed an attorney to represent him.
Brooks' next court appearance will be Tuesday followed by a preliminary hearing scheduled for April 11.
He was arrested by a Barstow police officer late Thursday — the same day the Assembly voted to expel him — after a chase on I-15. Police said he had refused to pay a tow truck driver after his SUV got a flat tire near the Lenwood Road exit.
It was his third arrest this year.
Police used a Taser stun gun to subdue Brooks during the arrest.
According to law enforcement officials, Brooks drove south on I-15 after refusing to pay the tow truck driver.
Officers from the California Highway Patrol and the San Bernardino County Sheriff's Office joined in the chase.
Police used a spike trap on the freeway to stop Brooks' maroon SUV.
He exited the vehicle but went back inside when a canine officer sent police dog Buck after him.
Buck jumped through the rear window and began biting him.
Brooks then choked Buck and hit him with a socket wrench, police said.
Brooks was pulled from the vehicle and arrested by Barstow police officer William Spiller after an altercation.
The Democrat from District 17 didn't attend the Assembly session Thursday in Carson City in which he was expelled in a voice vote in the aftermath of his previous run-ins with police and displays of erratic behavior.
His troubles began Jan. 19 when he was arrested on allegations he threatened Assembly Speaker Marilyn Kirkpatrick over committee assignments. The matter is under review by the Nevada attorney general's office.
He still faces criminal charges, including a felony, stemming from a domestic violence arrest Feb. 10 involving his wife.
He was arrested on suspicion of attacking his estranged wife and grabbing at an officer's gun when he was being taken into custody.
A few days after his Jan. 19 arrest, Brooks was hospitalized for a mental evaluation after a disturbance at his grandmother's house involving a sword.
Brooks' attorney Mitchell Posin will represent him today in Justice Court in Las Vegas to respond to a motion by prosecutors that he be put back in custody in Nevada because of the California freeway incident.
"Everything can affect everything else. It can affect his Nevada cases," Posin said Tuesday, reacting to the proceeding in Barstow court.
Review-Journal writer Mike Blasky contributed to this report. Contact reporter Keith Rogers at krogers@reviewjournal.com or 702-383-0308.
Related Story
County sets date to replace expelled lawmaker