Ex-cop gets probation in plan to help girlfriend kill herself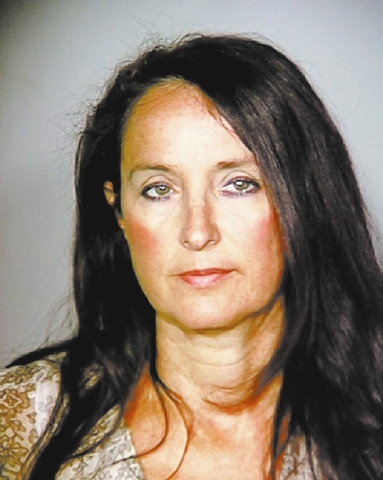 In an act of compassion, a prosecutor Thursday asked a judge to sentence the boyfriend of the late construction-defects attorney Nancy Quon to probation for his role in a failed suicide scheme involving the attorney.
And that's what District Judge Douglas Herndon did, though parole and probation officers recommended a prison term.
Herndon sentenced William Ronald Webb, a former Las Vegas police officer who had spent 10 months behind bars while facing charges, to four years of probation.
Chief Deputy District Attorney Sandra DiGiacomo, who led the two-year grand jury investigation into the 2010 suicide scheme, told Herndon that sending Webb to prison didn't serve the interest of justice.
"Ms. Quon's the one who kind of created this situation," DiGiacomo said.
And when Quon committed suicide in March 2012 without Webb's help, she left him "holding the bag" to fight the charges tied to the 2010 scheme, DiGiacomo said.
The prosecutor added that she got to see a different side of Webb during the investigation while dealing with his family members, several of whom had to testify before the grand jury.
"I respect this family, and I know he will get support from them," DiGiacomo said.
Herndon joked that DiGiacomo sounded like a defense lawyer but said he agreed with DiGiacomo's assessment.
"I always thought that (Quon) was bent on ending her life for whatever reason," he said.
Both Herndon and Webb's lawyer, Chris Oram, praised DiGiacomo for her recommendation.
Herndon, however, lectured Webb for trying to help Quon with "something that was an enormously bad decision."
Afterward, Webb's family members and friends hugged and thanked DiGiacomo as she left the courtroom.
Webb declined comment.
Quon, 51, took her life while facing criminal charges with Webb in the suicide scheme. At the time, she also was a key target in the sweeping federal investigation into fraud and corruption at Las Vegas Valley homeowners associations.
Webb, 43, pleaded guilty in October to two felony drug charges. He also entered an Alford plea of guilty to insurance fraud stemming from a suspicious October 2010 fire set at Quon's home in the complicated suicide plot.
The Alford plea means Webb didn't admit guilt but acknowledged prosecutors could prove the insurance fraud charge against him.
Quon and Web were first indicted by a county grand jury in April 2011 in connection with a bid to help Quon obtain drugs to kill herself.
Webb was charged with conspiracy to commit murder and unlawfully buying the club drug gamma-hydroxybutyric acid from undercover detectives in November 2010.
Las Vegas police contended Quon bankrolled the purchase of the drug, which the couple incorrectly thought would be undetectable in a suicide.
Authorities alleged that Quon wanted to kill herself to escape the pressure of the federal investigation, which has led to the convictions of 29 people.
The corruption scheme is alleged to have involved stacking homeowners association boards with friendly members who would hand out legal work and construction-defect contracts to the co-conspirators.
In August 2011, Quon and Webb were indicted again, this time in a Quon suicide attempt tied to the fire at her Rhodes Ranch home.
Arson and insurance fraud charges were included in that case, which accused Quon of setting the fire. Quon denied trying to burn down the home, but she acknowledged taking sleeping pills and a high-alcohol energy drink before settling in her bathroom tub before the fire.
She was rescued from the smoke-filled house by Webb's older brother, Daniel, who found her unconscious on a downstairs sofa.
Paramedics who revived Quon told a county grand jury that they thought she suffered a "narcotic overdose."
Herndon dismissed the arson indictment against the couple in January 2012, but prosecutors appealed to the Nevada Supreme Court.
As part of Webb's plea agreement, prosecutors agreed to drop the appeal and dismiss the murder conspiracy charge against Webb in the drug case.
Months after Quon and Webb were charged in the arson case, Quon killed herself. Her body was discovered in the bathtub of her Henderson condominium on March 20, 2012.
Clark County Coroner Michael Murphy concluded that Quon died of drug and alcohol intoxication. Anti-anxiety and sleep medications were found in her system.