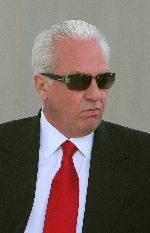 Former Crazy Horse Too owner Rick Rizzolo filed notice Thursday that he is appealing a federal judge's decision to send him back to prison.
Rizzolo is asking the 9th U.S. Circuit Court of Appeals in San Francisco to overturn the nine-month sentence handed out by U.S. District Judge Philip Pro last week.
Pro concluded that Rizzolo, who is to report to prison Sept. 14, had deceived his probation officers and violated the terms of his 2008 release. Rizzolo had served a one-year term for a tax conviction.
Federal prosecutors sought the extra prison time, alleging the ex-strip club operator had since been living a wealthy lifestyle off funds he hid from authorities while failing to pay restitution to a tourist crippled at the Crazy Horse Too.
Pro scolded Rizzolo for paying "very little" of the money he owes to Kirk Henry, a Kansas City-area man who suffered a broken neck in a 2001 fight over a bar tab at the now-shuttered Crazy Horse Too. With interest, Rizzolo owes Henry and his wife, Amy, more than
$14 million.
In a decision Thursday in the couple's lawsuit against Rizzolo, the judge suggested that Rizzolo structured his 2005 divorce from his wife, Lisa, to shield assets from the Henrys.
"Viewing the facts in the light most favorable to the plaintiffs, a reasonable jury could find the division of property in the divorce was done with actual intent to hinder, delay or defraud the Henrys," Pro wrote.
Rizzolo, the judge said, kept possession of the Crazy Horse Too, which he knew his creditors could claim in litigation, while promising to give most of his other assets to his wife.
According to the divorce agreement, Rizzolo was to give his wife homes in Las Vegas, Newport Beach and Chicago with three vehicles.
He also was to give her a $7.2 million investment fund and pay her $5 million in alimony over five years.
Pro also wrote that Rizzolo provided "deceptive answers" to the Henry attorneys when questioned under oath about other financial interests.
Pro criticized Rizzolo for failing to disclose that he had obtained $1 million from the sale of a strip club in Philadelphia and transferred it to a secret offshore account, where most of the money was dispersed to family members rather than the Henrys.
Contact reporter Jeff German at jgerman@reviewjournal.com or 702-380-8135.