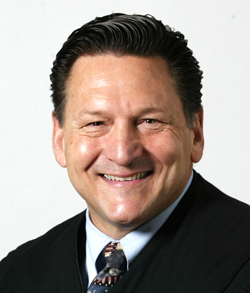 A budding romantic relationship between oft-scrutinized Family Court Judge Steven Jones and a female prosecutor who regularly appeared before him has sparked a rift between the judge and the district attorney's office.
The prosecutor, Lisa Willardson, was removed from handling child abuse and neglect cases before Jones after two of her fellow prosecutors exposed what had become a public relationship that invited a professional conflict of interest for both Willardson and the judge.
District Attorney David Roger said Tuesday that Jones sent him a message Dec. 6 threatening to ban prosecutors in the child welfare unit from his courtroom unless Roger backed away from reassigning Willardson. But Roger said he stood his ground.
The next day Jones issued an order barring the two whistle-blowing prosecutors, Deputy District Attorneys Michelle Edwards and Janne Hanrahan, from appearing before him, citing "inappropriate and unprofessional behavior" on their part. The two had provided supervisors with a clandestine photo taken of Willardson and Jones appearing cozy with each other at a public function.
On Tuesday, Roger struck back, filing a 19-page motion in Family Court seeking Jones' removal from a child welfare case because of the "personal bias" he has displayed against the deputies.
"It is clear that Judge Jones is being vindictive in attempting to ruin these prosecutors' careers," Roger said in an interview. "He's a bully, and I'm not going to stand back and let him do this without having other entities review his conduct."
Roger, who is retiring in January after a decade at the helm of the district attorney's office, also said the relationship between Willardson and Jones may have jeopardized dozens of child welfare cases.
"Litigants are entitled to a guarantee that judges and prosecutors aren't playing footsie after hours," he said.
Late Tuesday, Jones defended his actions, saying he is not a bully and merely is trying to maintain the integrity of his court.
He would not, however, discuss his relationship with Willardson, who could not be reached for comment.
"The relationship cited in the DA's motion is quite frankly irrelevant," the judge wrote in a statement. "It has unfortunately become an ostensible factor in the DA's office's attempts to deflect from and minimize the conduct of two of their deputies. It is the disturbing behavior of the two deputy district attorneys that precipitated the order filed by this court."
Jones, who plans to respond in writing to Roger's motion, said in an interview that he is troubled that the district attorney is "condoning" the "inappropriate and unprofessional behavior" of his deputies. The judge said "falsehoods" were spread about him.
Edwards and Hanrahan referred calls for comment to Roger.
The rift over the relationship between Jones and Willardson is the latest in a series of public controversies surrounding the judge, who was first elected to the Family Court bench in 1992. He was acquitted in 2006 of domestic battery stemming from a dispute with a former girlfriend and has faced scrutiny over his ties to felons and receipt of questionable campaign contributions.
Willardson, who until a couple of months ago was an unsalaried deputy in the district attorney's office, was honored in April for her volunteerism as part of National Crime Victims Week.
In his court motion, Roger laid out a series of events — starting with an Oct. 31 retirement party for a child welfare prosecutor attended by both Willardson and Jones — that led supervisors in the district attorney's office to conclude Willardson and Jones were carrying on an improper romantic relationship.
The motion was supported by sworn affidavits from Chief Deputy District Attorney Ron Cordes, the team chief over the child welfare unit, and his supervisor, Chief Deputy District Attorney Mary Brown.
At the retirement party, which occurred at a local restaurant, prosecutors observed Willardson and Jones sitting closely together engrossed in conversation, Roger wrote.
"Their attitude suggested a personal, rather than professional or merely social relationship," he said.
From her vantage point at the table, Edwards noticed that the judge's hand appeared to be on Willardson's leg, so she casually snapped a photo of the couple under the table, Roger said.
In the photo, which was submitted with Roger's court papers on Tuesday, the judge's hand appears to have just been removed from the leg of Willardson, who was wearing jeans, or moving toward it. That was enough to confirm Edwards' suspicions.
Edwards and Hanrahan showed Cordes the photo and expressed their concerns about the relationship, and Cordes discussed the matter with Brown, Roger wrote. The two supervisors then discussed the relationship with both Willardson and Jones.
"Ms. Willardson and Judge Jones indicated their relationship was purely social and platonic but acknowledged they were interested in pursuing a dating relationship," Roger said.
Jones indicated he did not see a conflict of interest in allowing Willardson to continue handling cases in his court and asked that she be allowed to stay on the child welfare team, Roger said. Willardson was kept in the unit, but Cordes took over her cases before Jones and assigned Willardson to handle cases before another Family Court judge.
In the weeks after the reassignment, however, Brown received several reports of "professionally questionable behavior" between Willardson and Jones, Roger wrote. Brown saw Jones in Willardson's office with the door closed on three occasions. Other employees also saw the pair together once in Willardson's office with the door locked. The employees knocked on the door but got no response.
Gloria Sanchez, the presiding Family Court judge, told Brown that she had received a complaint that Willardson and Jones were seen "embracing and kissing" in the public area of the family courthouse.
Eventually, Willardson was transferred out of the child welfare unit to another Juvenile Division team that did not have cases before Jones, Roger said.
Both Willardson and Jones voiced unhappiness about the decision, Roger said, and Jones offered to step away from hearing child abuse and neglect cases if Willardson could remain on the child welfare team.
But on Dec. 5, the district attorney's office learned that Jones had decided not to give up those cases but instead planned to order several prosecutors to stay out of his courtroom.
Then, on the evening of Dec. 6, Roger wrote, Family Court Administrator Leonard Cash delivered a message to Roger on behalf of Jones: If Roger held off reassigning Willardson and allowed his successor in January to make that call, Jones would not ban any deputies from his courtroom.
Roger said he declined the offer, and the next day Jones issued his order barring Edwards and Hanrahan and suggested that he might ban additional prosecutors.
Contact Jeff German at jgerman@reviewjournal.com or 702-380-8135.