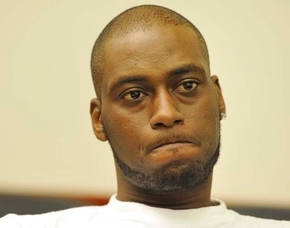 No amount of money is ever going to bring his 7-year-old son back to life.
Not $10,000. Not $75,000. Not $100,000. Roderick Arrington Sr., a father still in mourning, knows that.
Roderick Arrington Jr., known as RJ, was beaten to death in late November. Police said his mother and stepfather attacked him for not reading the Bible.
"Money ain't no matter to me," said Arrington Sr., 28, in an exclusive interview last week with the Review-Journal. "If I can just somehow change the system so that it saves a life, everything will be worth it."
And while there's no help for RJ, there is still a chance the people involved — or the people who should have been involved to protect him — are held responsible for his death, the father said.
Arrington Sr. hopes to change the system to avoid deaths like RJ's. He contends it's as simple as making sure school officials not only call Child Protective Services but also police when they suspect abuse.
No one from Child Protective Services responded to a call from school officials the day before RJ died.
The breakdown in communication, from the school district to Child Protective Services, is now at the center of a civil lawsuit filed by Arrington Sr.'s attorney Feb. 14.
On Friday, Brooke A. Bohlke, the father's attorney, said she plans to prove "willful negligence" by the government entities — as well as mother Dina Palmer, 27, and her newlywed husband, Markiece Palmer, 34, both of whom remain behind bars on murder charges in Clark County Detention Center.
According to the lawsuit, the boy was beaten by the Palmers because he failed to read a Psalm assigned to him by his stepfather. But Arrington Sr. thinks it may have gone even deeper than that.
"I also think that he might have thought my son was homosexual and he might have been trying to whip it out of him," said the father, shortly after he visited Dina Palmer in jail.
"I asked her why she didn't call me when all of this was going on," the father said. "And she cried and said she was too 'embarrassed and ashamed' of herself."
RJ's beating was carried out with a cord, a broomstick, a spatula, wooden paddle and a belt, according to the lawsuit. The beatings were so severe that the open wound in his buttocks caused teachers at Roundy Elementary to notice he couldn't sit down, police said.
No one at Child Protective Services responded to the school's call Nov. 28. He died Nov. 29.
In the fallout from his death, a Child Protective Services hotline employee was terminated in connection with the incident.
Lisa Ruiz-Lee, director of the Clark County Department of Family Services, said in a statement, "It will take all partners to come to the table to discuss what happened and how we can work together to best ensure the safety of our community's children."
The father hopes that happens soon.
He allowed his son to move to Las Vegas from his home in Bloomington, Ill., in August, and he died three months later. While in Las Vegas, RJ would talk to his dad on the phone and he would send his father pictures.
The last picture he sent was of his new puppy, a chow. That's all the father has left of his son.
"I'll never understand why this took place and how people could be so cruel," he said.