FBI investigating Whittemore activities, '07 campaign contributions
February 10, 2012 - 1:38 pm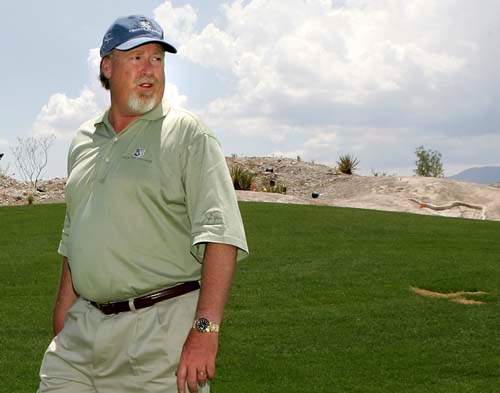 FBI agents are investigating whether power broker Harvey Whittemore funneled tens of thousands of dollars in illegal campaign contributions through his employees and family members to Nevada federal candidates as far back as 2007, the Las Vegas Review-Journal has learned.
Allegations have surfaced in the investigation that employees of Whittemore's former company, Wingfield Nevada Group Holding Co., and its subsidiaries contributed to the campaigns and were reimbursed by Whittemore with company money the same or next day, sources said.
Contributions made on one date — March 31, 2007 — to the re-election campaign of Sen. Harry Reid, the Democratic majority leader, have attracted the interest of FBI agents, sources said.
On that day, Reid's campaign received $115,000 from about two dozen Whittemore employees and their family members, most of whom each contributed the maximum allowed $4,600, according to federal campaign reports. The employees also included Whittemore family members.
The $115,000 makes up the bulk of at least $166,350 — or 69 percent — of the contributions that Whittemore and those tied to him through the Wingfield Nevada Group gave the Reid campaign between 1985 and 2010, the campaign reports show.
Some of the contributors were among those subpoenaed by FBI agents Thursday in a sweeping statewide investigation into Whittemore's campaign spending, sources said.
In 2007, Whittemore, a close friend of Reid's, was in the midst of orchestrating the development of Coyote Springs, his master-planned community in Southern Nevada.
Coyote Springs was to feature 160,000 homes on 43,000 acres and a Jack Nicklaus Signature-designed golf course about 60 miles northeast of Las Vegas, straddling Clark and Lincoln counties on U.S. Highway 93.
The development had to overcome several governmental hurdles because of county water issues and federal land issues.
In 2004, for instance, Reid and other members of Nevada's congressional delegation successfully advocated for a lands bill that included provisions such as moving a utility corridor off of Whittemore's land.
Reid's son Leif, an attorney, represented Whittemore on the Coyote Springs project.
Development of the community, however, stalled in 2008 because of the housing crash and economic recession.
The Review-Journal first reported Thursday that about two dozen FBI agents had served subpoenas on Whittemore business associates and employees in some 30 locations in Northern and Southern Nevada.
Federal prosecutors expect to present evidence to a federal grand jury in Reno at the end of the month, sources said.
The FBI has declined to confirm or deny the existence of the investigation.
Reid on Friday appeared to be distancing himself from Whittemore.
"Senator Reid has already donated the contributions made by Mr. Whittemore and his spouse to charity," spokeswoman Kristen Orthman said. "His office will continue to review other contributions associated with Mr. Whittemore and treat them appropriately."
Orthman declined to say how much money has been donated or where the money went.
Whittemore, once a high-powered lobbyist with many influential friends in Nevada politics, is being represented in the investigation by longtime criminal defense lawyer Dominic Gentile of the Las Vegas law firm Gordon Silver.
Whittemore issued a statement late Thursday through a spokeswoman for the firm.
"Understandably, based on the reckless accusations made in the civil lawsuit filed two weeks ago, law enforcement is requesting information from knowledgeable parties," Elizabeth Trosper wrote.
Trosper was referring to a multimillion-dollar lawsuit filed against Whittemore by former business partners alleging embezzlement.
Over the years, campaign finance reports show, Whittemore and those tied to him through Wingfield Nevada Group have contributed tens of thousands of dollars to Democratic and Republican candidates seeking federal office.
Since 1998, for example, Rep. Shelley Berkley, D-Nev., received at least $39,200. Sen. Dean Heller, R-Nev., received at least $38,100 since 2006.
"The campaign will be disposing of contributions from Mr. Whittemore and his family," Berkley campaign spokesman Eric Koch said Friday.
Heller spokesman Stewart Bybee said the senator's campaign was "looking into the contributions" from the Whittemores.
The FBI investigation focuses on "conduit contributions," sources said.
The FBI views conduit contributions as a way to skirt federal campaign finance laws that put ceilings on how much individuals can contribute to candidates.
In such cases, the individual asks a family member, friend or employee to contribute to a candidate's campaign and then reimburses that person with either personal or corporate money.
The Federal Election Commission allows for an individual to contribute $2,500 per election to a candidate; $30,800 annually to a national party committee; $10,000 annually to a state, district and local party committee; and $5,000 to any other political committee per year.
In 2007, the limit for an individual contribution was $2,300. An individual could give that amount once for the primary election and once for the general election for a total of $4,600.
Under federal law, concealing the true source of a campaign contribution above the limit is a felony, for both the person asking for the contribution and the person being reimbursed.
Paul Padda, a former federal prosecutor who oversaw the integrity of elections for the Nevada U.S. attorney's office, cautioned people not to rush to judgment in the Whittemore investigation.
"These are difficult cases to prove," said Padda, now a defense attorney. "Like any criminal case, where a crime is committed, it will depend upon the facts and the intent of the individuals involved."
Often times in conduit contribution cases, Padda said, there are a number of "innocent reasons" that might explain conduct the government characterizes as suspicious.
In recent weeks, Whittemore has been embroiled in a legal fight with his former business partners over accusations he embezzled more than $40 million from the Wingfield Nevada Group.
The company is controlled by Thomas Seeno and Albert Seeno Jr., two brothers who partnered with Whittemore in his master-planned communities in Northern and Southern Nevada, including the languishing Coyote Springs community.
The Seenos last month sued Whittemore in Clark County District Court, accusing him of embezzling and misappropriating $44 million to, among other things, support his lavish lifestyle and make political contributions to myriad candidates.
Whittemore last week filed his own $60 million lawsuit in federal court against the Seenos, accusing them of racketeering, extortion and defrauding him through their partnership.
Stephens Media Washington reporter Peter Urban contributed to this report. Contact Jeff German at jgerman@reviewjournal.com or 702-380-8135. Francis McCabe can be reached at fmccabe@review journal.com or 702-380-1039.