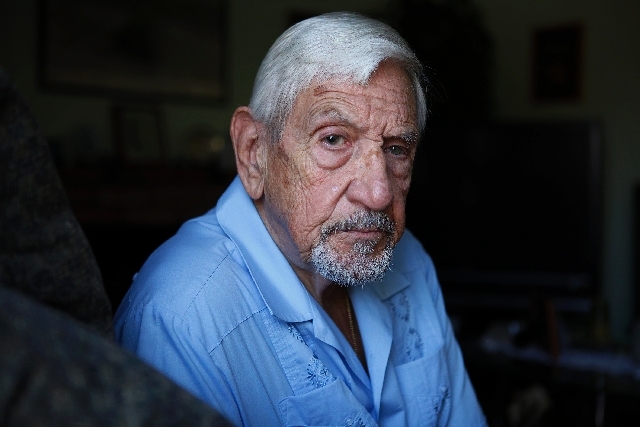 When Alex Pomar arrived at a lab in 2008 to get tested for hepatitis C and HIV, he saw people just as scared as he was.
Men and women of all ages, many of them literally shaking, talking to each other about how they prayed they would not test positive for the diseases.
Don't underestimate, the 80-year-old Pomar said, the state of panic in Las Vegas when the Southern Nevada Health District notified more than 64,000 people that they were potentially exposed in 2007 to HIV and hepatitis C at two Dr. Dipak Desai-owned clinics, where investigators said doctors and nurse anesthetists reused vials and syringes on colonoscopy patients.
"When I got that letter about being tested, I said, 'Oh, my God,' " he recalled Tuesday. "When I got to the lab, the place was packed and everybody was talking about what could happen. You could feel the fear. I was in my 70s then, kind of a young man, and I was afraid if I had something I could have passed it to my wife. I thought I was going to die. I had to wait a week for the test results. I was going nuts."
Memories. Reactions. So many of them from people in all walks of life in the wake of the Monday jury verdict that saw Desai convicted of second-degree murder and 26 other criminal counts in connection with the 2007 hepatitis C outbreak in Las Vegas, which resulted in the largest public health notification of its kind in U.S. history.
No one, other than Desai's family, appears sad that he'll probably spend the rest of his life in prison.
"He's a bad man," said Pomar, who did not contract the disease. "That's where he belongs."
Nurse anesthetist Ronald Lakeman, who was tried along with Desai, was convicted on 16 charges, but not the murder of infected patient Rodolfo Meana, who died last year in his native Philippines at the age of 77.
Experts now believe more than 100 people contracted hepatitis C at Desai's clinics, with seven cases genetically linked.
Las Vegas resident Frances Heimann was in Massachusetts when she received word she should be tested. Initial results showed she may have HIV, the virus that causes AIDS.
"It was quite upsetting," said her husband, Robert Heimann. "It's not an easy thing to deal with. Fortunately, another test showed she didn't have it."
The Heimanns also are upset that Medicare wouldn't pay for the testing.
"Here my wife was told to get tested by a public health agency and Medicare says that is something that is not covered," he said. "Even on appeal they refused it. It makes no sense."
What continues to make no sense to Josephine Washington is that her husband, Michael, 72, is near death from hepatitis C damage to his liver after receiving a colonoscopy, which was only done to ensure he didn't have disease.
"I'm still shocked that someone would put lives at risk when needles and syringes are so cheap," the retired registered nurse said. "It was just greed. Entirely uncalled for. I'm so glad the jury did the right thing."
Unable to find doctors in either Nevada or California who believe they can treat her husband, who has lost more than 75 pounds and is often in excruciating pain, she found one in Texas, Dr. James Trotter, who is treating her husband at a Dallas hospital. "Even if his treatment doesn't work, at least someone tried, gave him encouragement," she said during a phone call from Texas.
The Washingtons received a $25.4 million settlement in connection with a lawsuit against Desai.
"I've been using that money traveling all over trying to find a specialist for my husband," she said. "But I'll tell you this: I wouldn't want a penny of that money if I could just have my husband back the way he was. "
That Las Vegas had to undergo such a tragedy continues to haunt Dr. Charles Cohan who tried to warn state agencies, including the Nevada State Board of Medical Examiners, about Desai's behavior.
"I just wish the board hadn't been corrupt," said Cohan, who now lives in Pennsylvania. "It was really hard for me to do anything when Desai was head of the investigative committee. At least he's now where he belongs."
Brian Labus, the health district's senior epidemiologist who uncovered what was happening at Desai's clinics, wishes the Las Vegas case could prevent other outbreaks. But he can't.
"They keep happening around the country," he said, and not just in cases of greed.
"Sometimes it's ignorance," he added. "And one outbreak in Colorado was caused by somebody with a drug problem."
Contact reporter Paul Harasim at pharasim@reviewjournal.com or 702-387-2908.
Dr. Dipak Desai, above, was convicted of second-degree murder and a list of other charges related to the hepatitis C outbreak in 2007.
The foreman of the jury that convicted Desai said he found the experience "grueling," but added, "I'm glad I got to be a part of it, and I think we did the right thing."
More on reaction to the verdict.