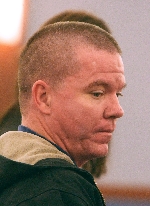 Robert Justice said Thursday that he "was an idiot" for landing himself in the middle of two high-profile Las Vegas criminal cases.
"I met the wrong people at the wrong time," the two-time felon said after pleading not guilty in District Court to conspiring to murder attorney Nancy Quon. "I'm licking my wounds for making a bad decision."
One of the wrong people Justice met was an undercover detective who watched as Justice tied himself to allegations of a murder conspiracy involving Quon's live-in boyfriend, former Las Vegas police officer William Ronald Webb.
Based on his undercover dealings with Justice, the detective was able to build a weapons case against Thomas Mendiola, one of the Las Vegas police officers who shot and killed medical device salesman Erik Scott outside the Summerlin Costco last year.
Mendiola, 23, who has been relieved of his duties as a patrol officer, was charged last week with unlawfully giving Justice a handgun. By law, felons can't possess handguns.
Justice, 45, is cooperating with police. In court Thursday, he told District Judge Jackie Glass that he is unemployed and cannot afford a lawyer.
Glass appointed the Clark County public defender's office to represent him in the Quon case.
Afterward, Justice chatted with the Las Vegas Review-Journal about his predicament, which he described as "crazy" and "an unfortunate situation."
Justice, convicted of felony theft charges in Arizona, said he still cannot believe he ended up befriending the undercover detective and is amazed as he learns more each day about the two big cases he unwittingly made for police.
"I'm just floored by all of this stuff," he said.
Justice was reluctant to discuss both criminal cases. But he talked briefly about the Quon case, giving credence to police suspicions that Quon wanted to kill herself because of a federal fraud investigation into valley homeowners associations. Quon, a wealthy construction defect lawyer, is a key target of the investigation.
Both Webb, 42, and Justice are charged with unlawfully obtaining 51.4 grams of the club drug gamma-hydroxybutyric acid from the undercover detective to give to Quon.
Quon, 50, has told police that she never planned suicide, and she has not been charged in the death plot.
But Justice told police the couple talked openly about their plan and wanted to arrange Quon's death so that Webb could get her estate in order and collect life insurance money for her children.
"I felt that I was doing the right thing," Justice said. "I did it for the children."
Justice said he thought Quon wanted to end her life partly because of health problems at the time.
He did not elaborate, but Quon has previously said she had a colon cancer scare last year.
On Thursday, Glass allowed Justice to remain free on his own recognizance after being booked at the Clark County Detention Center.
She set a June 13 trial date. He will be tried with Webb, who is in custody on $400,000 bail.
Contact Jeff German at jgerman@review
journal.com or 702-380-8135 or read more courts coverage at lvlegalnews.com.