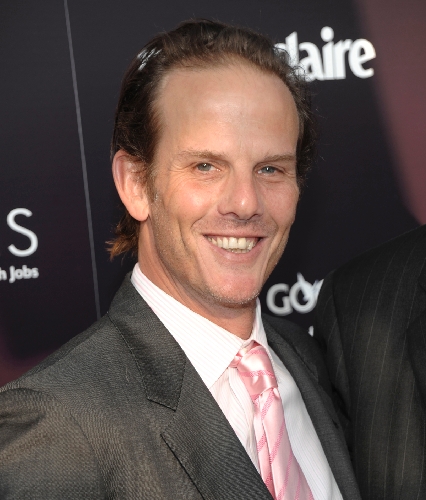 Filmmaker Peter Berg testified Thursday in Las Vegas and said Navy SEAL Nicholas Bickle gave him an AK-47 as a "trophy weapon" in 2009 after the pair developed a friendship in Iraq.
"It was probably the greatest honor I could think of," Berg told the jury. "I had an extraordinary time when I was in Iraq."
The filmmaker's testimony came during the fourth day of Bickle's trial in an arms smuggling case. Federal prosecutors allege Bickle, a San Diego-based SEAL, smuggled machine guns and other weapons into the country from Iraq for his own profit.
Berg directed such films as "Friday Night Lights," "The Kingdom" and "Hancock." He also developed the "Friday Night Lights" television series. As an actor, he played Dr. Billy Kronk on the television drama "Chicago Hope."
Although Berg testified for the prosecution, he said he still considers Bickle a friend. He also credits Bickle, a petty officer 1st class, with saving his life and the lives of others in Iraq.
"Nick's done a lot of things right in his life, and I'm very sorry for the entire situation," Berg said after testifying.
On the witness stand, Berg said he was embedded with SEAL Team Five for nearly a month in March 2009 while preparing to make his upcoming movie "Lone Survivor," based on the book by Marcus Luttrell.
Embedded journalists typically live with military units while covering armed conflicts. Berg described his time in Iraq as the "experience of a lifetime."
Berg, who lives in Los Angeles, said Bickle had written a screenplay and wanted him to read it after they returned to the United States.
"He told me that he had a trophy weapon for me from Iraq," the witness said.
Berg said he was shooting a commercial in San Diego in June 2009 and made arrangements to meet with Bickle and receive the gun.
"I was very proud to have it," Berg testified.
He said the pair met at a hotel in San Diego. He recalled Bickle entering the room with a small duffel bag and opening it.
Berg said he then saw the AK-47 inside with Bickle's screenplay.
"I said, 'Thank you,' and I was very touched and excited to have received it," the witness said.
Berg said he took the weapon to his house and kept it in a safe in his garage until December 2009, when prop master Doug Fox destroyed it for him.
The filmmaker said he previously described the weapon for Fox, an armorer who finds firearms for movies, and Fox told him, "You've got to get rid of it."
Berg said he was reluctant to give up his prized possession but did more research and realized he could be risking jail time by keeping it.
Fox took the weapon to destroy it but later presented Berg with a piece from the end of the barrel, which Berg displayed on his desk. Fox also testified Thursday and said he kept pieces of the AK-47 to use in future filming.
Two other Navy SEALs who spent time with Bickle in Iraq testified Thursday and said members of the military are not permitted to keep "war souvenirs" or "war trophies." They said Bickle worked as an ordnance representative in Iraq.
Bickle, who had a role in the 2011 movie "Transformers: Dark of the Moon," was arrested in November in San Diego. Three other defendants in the case, including two Las Vegas men, have accepted plea bargains.
A federal indictment charges Bickle, 33, with conspiracy to deal unlawfully in firearms. Prosecutors have described him as the conspiracy's leader. Prosecutors have said more than 70 firearms, including 30 machine guns, were smuggled and sold in the conspiracy.
Bickle also faces charges of dealing in firearms without a license, possession and transfer of machine guns, possession and sale of stolen firearms, receiving and concealing property of the United States, and distributing explosives to a non-licensee. He is the only military member charged in the case.
Contact reporter Carri Geer Thevenot at cgeer@review journal.com or 702-384-8710.