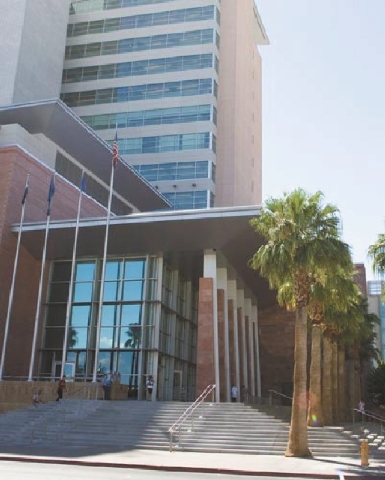 Victoria Villegas, a fired veteran Clark County prosecutor under federal scrutiny, has won an arbitrator's ruling to get her job back.
Arbitrator Philip Tamoush issued a 14-page decision late last week, concluding there was "no just cause" for District Attorney Steve Wolfson to fire her in February 2012. The decision to fire Villegas was put in motion by Wolfson's predecessor, David Roger.
Tamoush ordered county management to return Villegas to her job with back pay and benefits.
"Victoria Villegas is grateful that when the evidence was finally examined, it showed no wrongdoing on her part," her attorney Adam Levine said Tuesday.
Wolfson said his office has received the arbitrator's decision and is "in the process of evaluating the appropriate next steps." He has the option of challenging the decision in District Court.
Villegas, 53, was fired for allegedly abusing weeks of family leave she took after her embattled late husband, attorney David Amesbury, was badly beaten in November 2011, Tamoush said in his decision. She also was accused of lying to FBI agents and Las Vegas police about her knowledge of a bank fraud scheme involving Amesbury.
Villegas, once in the running to become Nevada's U.S. attorney, told the district attorney's office she needed time off to help her husband recover from the beating, according to Tamoush. But after getting Amesbury's brother to care for him in Northern California, she flew to France in fear for her lif. There, she sought psychiatric help for stress.
Tamoush concluded that Villegas' concerns about her well-being and her explanation for the trip to France were credible and there was not sufficient evidence to fire her.
The arbitrator also concluded that she did not lie to authorities about her knowledge of the bank fraud scheme.
The same Justice Department prosecutors overseeing the bank fraud case also were spearheading a massive investigation into fraud and corruption at Las Vegas Valley homeowners associations.
Amesbury, 57, pleaded guilty in both cases and agreed to cooperate. Prosecutors eyed Villegas in the bank fraud investigation but did not charge her.
Three weeks after his October 2011 guilty plea, Amesbury was discovered badly beaten on the streets of a gated Henderson community. Authorities determined the beating was not related to the long running HOA investigation, but Tamoush said in his decision that "it seems apparent" the assault was tied to Amesbury's illegal activities.
On March 25, 2012, Amesbury's body was found hanging from a rafter with a noose around his neck in a workshop on his brother's property in Northern California. The coroner there later ruled his death a suicide.
Amesbury killed himself five days after a key target of the HOA investigation, construction defects lawyer Nancy Quon, committed suicide at her Henderson condominium.
Quon and former construction company boss Leon Benzer are alleged to have been pulling the strings in the scheme to take control of 11 homeowners associations. Their goal was to stack HOA boards and win lucrative legal and construction defect contracts.
So far, 29 defendants have pleaded guilty in the sweeping federal investigation into the scheme, which occurred between 2003 and 2009. Quon was not charged, but Benzer and 10 others were indicted by a federal grand jury in January on conspiracy and fraud charges.
The bank fraud scheme involved refinancing for the old Courthouse Cafe, which Amesbury operated in the Regional Justice Center under a county contract with Benzer and another partner, ex-Las Vegas police Lt. Benjamin Kim.
FBI agents and Las Vegas police believe Villegas, who joined the district attorney's office in May 1989, misled them about the extent of her knowledge of the refinancing scheme. But Tamoush concluded in his decision that Villegas did not lie to investigators.
The scheme involved striking a secret deal to let an unidentified businessman to handle the daily operations of the cafe without informing the county or the banks, according to court documents in Amesbury's case.
Villegas has not been charged in the conspiracy and the partners in the Courthouse Cafe turned over the restaurant to the Capriotti's sandwich chain.
Contact reporter Jeff German at jgerman@reviewjournal.com or 702-380-8135. Follow @JGermanRJ on Twitter.