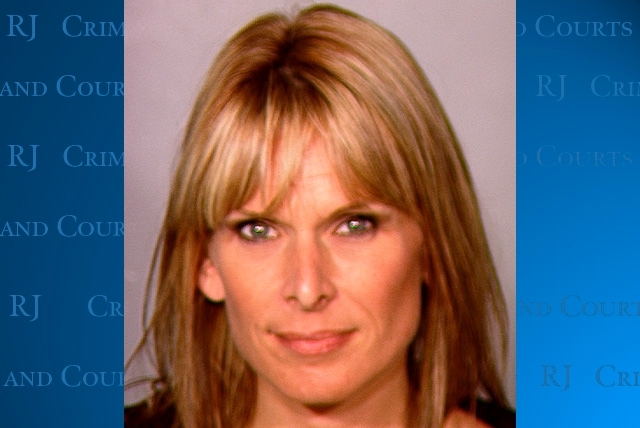 Allison Lear, granddaughter of Learjet inventor William "Bill" Lear, lost her boyfriend in a violent car race crash near Virginia City in 2010.
Rather than mourning Alexander Djordjevic's death with his family, she is alleged to have forged a marriage certificate listing him as her husband that was dated before the crash, Las Vegas police said.
"I wouldn't say there was a big love there," said Slobodan Djordjevic, Alexander Djordjevic's father. "I think she was just looking for material things."
Alexander Djordjevic died on June 26, 2010, when his silver Porsche went down an embankment and crashed during the Speed by Spectre 341 Challenge.
Djordjevic was a well-known car race driver, his father said, and his death made national racing news.
On Saturday, Allison Lear, a Las Vegas Township constable's deputy, was arrested on outstanding warrants at Hakkasan nightclub in the MGM Grand by Las Vegas police about 4:30 a.m., police booking reports indicate.
She faces charges of forgery and perjury.
The relationship between the granddaughter of an aviation legend and the speed-loving racer started out like any other. According to Djordjevic's father, they had been dating for a couple of months.
But he said his son never talked about plans to marry Lear, who had published a profile in 2009 on a match-making website looking to pair millionaires with prospective companions.
Police allege that Lear forged documents showing she married Djordjevic just days before his fatal wreck.
According to police reports, the wedding supposedly took place five days before the fatal crash at the east Las Vegas home of Lear's parents, John and Marilee.
According to probate court documents on Djordjevic's property, John Lear found this odd and told attorneys that no marriage had occurred and he "would have known if his daughter had been married at 4 a.m. on June 21, 2010, in his home."
Estates such as Djordjevic's property often go into probate so that a deceased person's property can be distributed.
In court, Lear provided a marriage certificate dated June 21, 2010, stating that she and Djordjevic were wed. Minister Cory Matteucci of Boise, Idaho, supposedly performed the ceremony, and Shawn Miles was listed as a witness.
Police found two problems with the marriage certificate.
Matteucci never applied for or obtained a Temporary Marriage Service Application in Nevada, meaning that he would not be able to authorize any marriage in the state, police reports said.
And even if the couple before the crash had obtained a marriage license in the state of Nevada, there is no legally binding marriage if there is no marriage ceremony.
Matteucci told police that a friend told him of Djordjevic's death and then asked him to sign the marriage certificate dated before accident. He refused, the report said.
Also, the person named as witness to the marriage, Miles, could not be located by police, further fueling their suspicion that the marriage certificate was a fake.
Court records show Lear said she was unsure of the legal procedure for marriage.
In the months after Djordjevic's death, instead of grieving for her boyfriend with Djordjevic's family members, Lear made it impossible for them to receive closure.
Slobodan and Julia Linton, Djordjevic's mother, were barred from seeing their son's body in the Washoe County medical examiner's office for three months because Lear was listed as Djordjevic's wife. His family fought for months in probate court before finally being allowed to bury him at the end of August.
"Losing him was hard," Djordjevic's father said. "But what happened after was very, very hard. We didn't have time to emotionally go over what you have to go through."
Not only did Lear delay Djordjevic's burial, but as his widow, she held on to his property, which included two cars, a 1991 Corvette Z and a 1994 Toyota Supra racing car, a gun collection and several other personal items.
The court documents showed that Djordjevic's estate was valued between $100,000 and $200,000.
"This is wrong in every sense of the word and the only reason they pulled this crap" was for personal monetary gain, said an unnamed family source, according to 2010 court reports. "They still think they are going to find Alex's pot of gold."
Lear was hired by the constable's office on Sept. 29, 2012, and underwent three separate background checks, the last one in March, according to the constable's Chief Operating Officer Jason Watkins, who was working with Lear at the time of her arrest.
Watkins said she rarely spoke of her past but had said that her fiance died in a car crash years before. She never referred to Djordjevic as her late husband, he said.
The constable's office received Lear's resignation Tuesday morning, spokesman Lou Toomin said.
Felony arrest warrants were filed on Dec. 17 against Lear. According to the constable's office, the warrants never showed up in any of Lear's background checks.
Djordjevic's family members never thought they would see the arrest.
"We lost all belief in anything, that anybody would ever be charged," Slobodan Djordjevic said.
"I'm just going to have peace with myself. Until this was done, I just couldn't," he added. "I hope that no one ever has another case like this."
Contact reporter Colton Lochhead at clochhead@reviewjournal.com or 702-383-4638. Follow him on twitter @clochhead44.