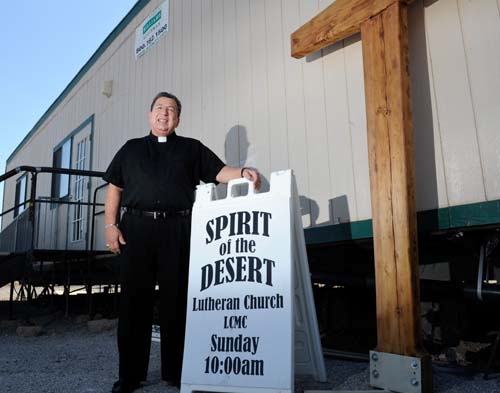 The former treasurer of a Las Vegas church has been indicted by a federal grand jury in a scheme to defraud the church out of $1.75 million.
Gregory J. Olson, 48, who also served as the Calvary Lutheran Church's property chairman, was charged late Wednesday with one count of wire fraud and four counts of filing false tax returns.
The church had to give up its property under foreclosure proceedings in 2009 in the aftermath of the scheme and has since changed its name to Amazing Grace Lutheran Church.
Church President Alan Clark said Thursday the congregation lost about two-thirds of its 170 members and now is housed in a triple-wide mobile building at 4398 W. Cactus Ave.
"It was just a nightmare," Clark said. "Every time we turned around, another shoe would drop."
Clark and said church officials are "very happy" that Olson was indicted, and he praised the Internal Revenue Service agents who pursued the investigation.
The Rev. Randy Foos, the church's pastor, also praised congregation members who stood by the church.
"This congregation has been absolutely fantastic for holding together," Foos said. "We could have ended up falling apart, but they were determined."
Foos said he and the congregation had "lots of meetings and lots of prayer to get through this" and are looking forward to putting up a permanent building on the new church site.
Olson, who now lives in North Dakota, has been summoned to appear Oct. 5 for arraignment on the felony charges before U.S. Magistrate Judge George Foley Jr.
According to the indictment, Olson carried out the scheme after persuading the congregation that money was needed for remodeling
From September 2006 to March 2008, Olson is alleged to have taken out six mortgages in the name of the church on its property totaling $1.75 million. According to court papers, the money was wired to a bank account owned by his company, Ascent Holdings, which was doing business as Ascent Financial Corporation.
Olson did not disclose to church officials that he owned the company, and he paid himself $442,500 from the loan proceeds, the indictment alleges.
Clark said the congregation learned that Olson used the money to buy a pickup, make a down payment on a house and pay off civil judgments against him, among other things.
"Stay away from him," Clark said. "He's a liar and a fraud."
Olson falsely claimed he had personally paid for remodeling expenses and, as church treasurer, wrote checks on the church's account to himself without approval, the indictment alleges.
As part of the scheme, according to the indictment, Olson also persuaded church members to "enter into note agreements to loan money to the church" during the remodeling.
Clark said church leaders confronted Olson one Sunday morning before church in August 2009, and he ended up storming away.
The congregation has seen very little of him since then, but Clark said he believes Olson still owns property in Las Vegas and maintains ties here.
Olson is also charged in the indictment with underestimating his income on false tax returns he filed for the years 2006 through 2009.
Contact Jeff German at jgerman@reviewjournal.com or 702-380-8135.