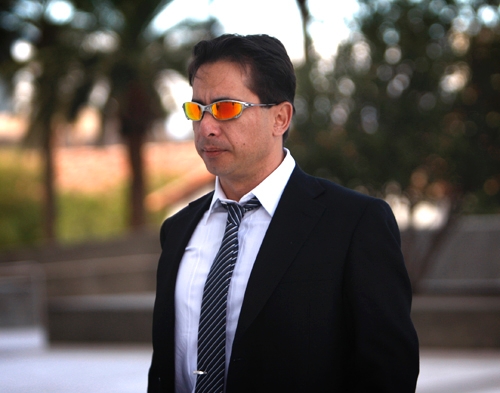 Medical marijuana activist Pierre Werner remained defiant to the end Monday, calling his federal prosecution "stupid."
"It's time for someone else to pick up the fight," Werner said after receiving a stiff prison term in court. "I was the one they got their pound of flesh from. But they will never win. Marijuana will be legalized."
U.S. District Judge Philip Pro sentenced Werner to 41 months in prison for his participation in a family-run marijuana dispensary.
The time behind bars was recommended in a plea agreement Werner had struck with the government.
Pro also ordered Werner, 39, to pay $27,438 in restitution and placed him on three years of supervised release after he gets out of prison.
Pro told Werner that he also must undergo substance abuse and mental health treatment and stay away from businesses that sell medical marijuana.
Werner, a three-time felon who is free on his own recognizance, has until Jan. 9 to surrender to federal prison officials.
At his sentencing, Werner insisted that he no longer intended to participate in pro-marijuana campaigns, saying it wasn't "worth it."
But he also told Pro that he's still a "believer" in medical marijuana, which helped him overcome mental health episodes in his life when traditional prescription drugs failed.
Assistant U.S. Attorney Bradley Giles called Werner one of the more active medical marijuana advocates and described the dispensary run by his family as a "highly organized" criminal operation.
Giles said the business, which operated under the name of Dr. Reefer, was essentially a "for-profit, drug-trafficking" enterprise that blatantly did billboard advertising.
Last week, Pro sentenced Werner's mother, Reynalda Barnett, 60, to four months in prison and four months of home detention for her role in running Dr. Reefer. Earlier, Pro placed Werner's younger brother, Clyde Barnett, 22, on three years of supervised release.
Werner and his brother and mother each pleaded guilty on June 30 to one count of conspiracy to distribute less than 50 kilograms of marijuana.
Werner also pleaded guilty to one count of failure to disclose information affecting Social Security benefits.
The three family members were among 14 people arrested Jan. 6 in a federal investigation into marijuana sales at local dispensaries.
The arrests followed the September 2010 raids of several dispensaries, including Dr. Reefer, which was at 8975 S. Pecos Road.
Clark County suspended Dr. Reefer's business license last November.
Storefront marijuana dispensaries are not recognized under Nevada's Medical Marijuana Act, the U.S. attorney's office has said, and it is illegal to sell medical marijuana in Nevada.
Medical marijuana patients and caregivers in the state must grow their own.
Werner has served two stints in prison for possession of marijuana with intent to sell.
After he finished his second sentence in 2008, he launched a medical marijuana dispensary in Colorado, where it is legal to sell the drug to patients with chronic ailments. But after Colorado passed a law forbidding felons from owning a dispensary, Werner returned to Las Vegas, where his involvement with marijuana has made headlines since 2004.
Werner testified about medical marijuana in March 2009 during a legislative hearing in Carson City.
"It is ridiculous to expect people on chemotherapy to grow their own medicine," he said at the hearing. "We need a system where they can buy it."
Contact Jeff German at jgerman@reviewjournal.com or 702-380-8135.