Former Metro officers sentenced in child abuse case
Updated February 2, 2023 - 6:48 pm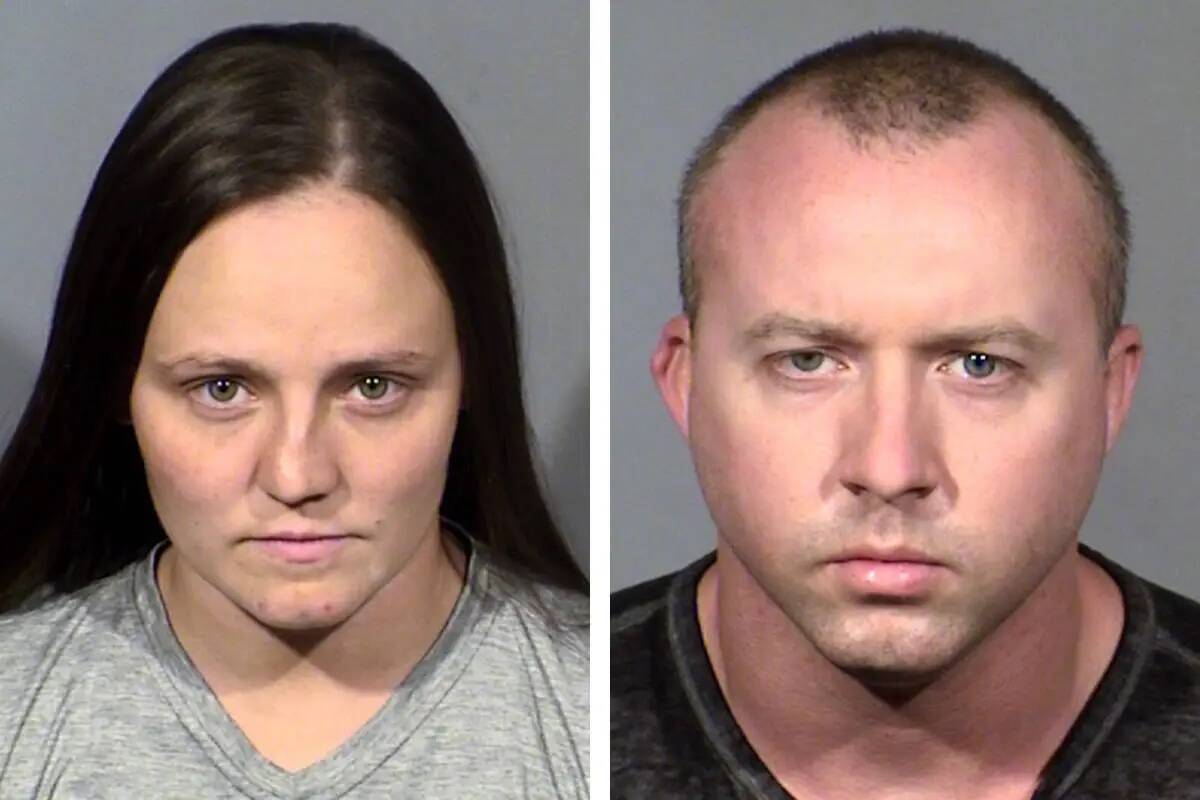 Two former Metropolitan Police Department officers were sentenced this week on child abuse charges.
John Woodruff and Destini Hover, who is also identified in court records as Destini Woodruff, were arrested in 2020 on child abuse charges after Hover's 6-year-old son accused Woodruff of hitting him with a belt and picking him up by his neck, according to an arrest report. The boy's father reported the abuse to police in May 2020, and Child Protective Services found bruises on the boy's lower back, buttocks, legs and neck.
Both had pleaded guilty to a felony count of child abuse, neglect or endangerment, and John Woodruff pleaded guilty to an additional gross misdemeanor child abuse count, court records show.
During a court hearing Tuesday, Hover was sentenced to probation not to exceed three years, court records show. Woodruff was sentenced to one year in the Clark County Detention Center.
Hover's defense attorney, Robert Draskovich, said Wednesday that Hover and her family are "looking forward to putting this dark chapter behind them and working towards reunification."
Woodruff and Hover were both employed by Metro in 2016. Hover resigned from the department last month, and Woodruff was fired from Metro in May 2020 after a "separate internal investigation," officials said. Metro spokesman Luis Vidal declined to comment Wednesday on the specifics of the investigation.
Woodruff's defense attorney, Louis Schneider, declined to comment on the case.
According to the police report, Hover admitted to police that she spanked her son but claimed it was she, not Woodruff, who hit the boy with a belt.
Woodruff previously had been investigated by the Henderson Police Department in January 2018 after his 3-year-old, nonverbal autistic son "had bruising to the right upper thigh and right buttocks." Police determined the boy's injuries were caused by eczema and "did not appear to rise to the level of child abuse."
The couple had also been investigated by Child Protective Services twice in April 2019 after they disciplined a 5-year-old boy in their care by hitting his bare buttocks with a belt and "making him wear girls' clothing and shaming him," the report said.
According to the report, Child Protective Services closed both cases because there was "no known information that the parenting tactics had affected (the boy's) daily functioning and that maltreatment was not identified."
In April, the Metropolitan Police Committee on Fiscal Affairs approved a $275,000 settlement for Douglas Seymour, who had filed a federal lawsuit against the department and Woodruff in May 2020. The lawsuit accused Woodruff of arresting Seymour for failing to identify himself, although body camera footage showed that he never asked Seymour to do so.
Seymour, who is Black, was detained after Woodruff knocked on his apartment door in November 2019 and said there had been a complaint of animal abuse.
Seymour asked why he had to go outside with Woodruff, who then handcuffed him and put him in a police car while Woodruff "made disparaging comments against African Americans," according to the lawsuit.
When Seymour asked to speak with a supervisor, Woodruff arrested him for failing to identify himself. Later that day, a police supervisor told Seymour he "shouldn't have been arrested," the lawsuit said.
Contact Katelyn Newberg at knewberg@reviewjournal.com or 702-383-0240. Follow @k_newberg on Twitter.