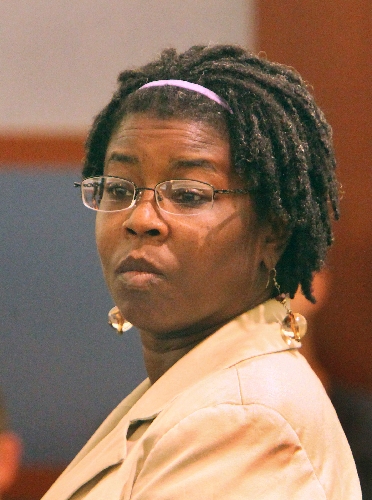 The former office manager of an unlicensed process serving company at the center of a courthouse affidavit scheme was given a two- to seven-year suspended sentence Monday and placed on three years of probation.
Vilisia Coleman, a 47-year-old felon now cooperating with prosecutors, also was ordered to pay $20,945 in restitution and do 16 hours of community service.
In handing down the sentence, District Judge Elissa Cadish said that Coleman's actions undermined the integrity of the court system but that probation was warranted in her case because she has demonstrated she can be a productive member of the community.
Coleman's lawyer, Dan Winder, told Cadish that Coleman is attending the College of Southern Nevada full time and working for a company that helps the addicted.
"I am really, truly sorry," Coleman said afterward, adding she appreciated the opportunity to remain free.
Coleman pleaded guilty in December to one count of filing a false court document and two counts of perjury. The charges are all felonies.
Chief Deputy District Attorney Mike Staudaher had sought prison time for Coleman, arguing her actions seriously disrupted the lives of her victims. But state parole officials recommended probation.
Staudaher, who declined to comment afterward, said he expected to call Coleman as a witness against her former boss, Maurice Carroll, the owner of the process serving company, On Scene Mediations.
A jury convicted Carroll in October of 35 felony charges: 17 counts of perjury, 17 counts of filing false documents and one count of obtaining money under false pretenses. Cadish in January ordered a new trial on the perjury counts, and prosecutors later filed 17 felony forgery counts against Carroll related to those charges. The perjury trial is set for July 11.
Authorities alleged that Carroll, 42, a former Las Vegas police officer, and Coleman filed false affidavits in Las Vegas Justice Court in civil cases involving debt collector Richland Holdings. Both were accused of not serving court documents in those cases but certifying that they had.
In Coleman's case, Richland Holdings was able to obtain default judgments against the defendants they were suing after the phony affidavits were filed.
Winder told Cadish on Monday that his client was "just a pawn" in the scheme.
"She was just following instructions," Winder said. "She wasn't the most culpable person in this."
Coleman insisted in court and afterward that she didn't know at first that what she was doing for Carroll was unlawful.
She said she left the company after she "figured it out."
Justice Court officials think the actions of On Scene Mediations, which is no longer serving documents, might have harmed the court system over a period of years.
The company, which had operated without a license for nearly seven years, was involved in some 25,000 civil cases in Justice Court, officials have said.
The Legal Aid Center of Southern Nevada has filed a class action lawsuit against On Scene Mediations and one of its other clients, payday loan company Rapid Cash, on behalf defendants who were never served court papers.
Contact reporter Jeff German at jgerman@reviewjournal.com or 702-380-8135.