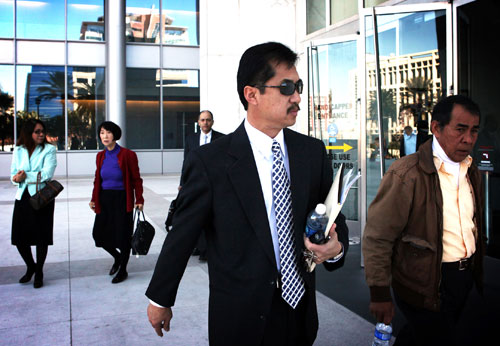 Former Las Vegas police Lt. Ben Kim was sentenced to three years of probation Monday for failing to report a $1 million bank fraud scheme to authorities.
The scheme involved the struggling Courthouse Cafe, a restaurant Kim co-owned at the Regional Justice Center with former construction company boss Leon Benzer, the central figure in the long-running federal investigation into fraud and corruption at homeowners associations. Benzer was indicted in the homeowners association scheme last month.
Another partner in the restaurant, attorney David Amesbury, pleaded guilty in the bank fraud scheme and the conspiracy to take over 11 homeowners associations around the Las Vegas Valley, but he committed suicide before sentencing.
Kim's ex-wife, Lisa Kim, who once ran a community management company involved in the takeover scheme, has pleaded guilty in both cases and is awaiting sentencing.
Both cases are being prosecuted by the Justice Department's Fraud Section in Washington.
Prosecutors had sought a six-month prison term for Kim, who pleaded guilty to misprision of a felony in the bank fraud scheme, which occurred between 2008 and 2009.
"This is a serious crime," U.S. District Judge James Mahan said before handing out the sentence. "That's something you're going to carry the rest of your life, Mr. Kim. This is a sad day."
But, Mahan said, it "wouldn't serve any purpose" to put Kim behind bars.
Kim, 51, accepted responsibility for his actions and apologized to his family and the judge, saying he has "pretty much lost everything," including his professional reputation.
He said he had let his family down, adding, "I am truly sorry for that."
Kim, who retired in 2010, said he was proud of what he accomplished during his 24 years on the Metropolitan Police Department and is not the person being portrayed in the media, which he criticized for tying him to the homeowners association investigation.
Despite his connections to several key players in the high-profile investigation, which took place between 2003 and 2009, Kim was not charged in the case.
Family members speaking on Kim's behalf urged Mahan to keep him out of prison, suggesting Amesbury was more responsible for the bank fraud at the Courthouse Cafe.
That drew an angry response from the lead prosecutor, Charles La Bella, a deputy chief with the Justice Department's Fraud Section.
"What we heard was let's blame it on the dead lawyer," La Bella said, referring to Amesbury, who had cooperated in the investigation.
La Bella said secret recordings showed that Kim was a "player" in the bank fraud scheme.
"He was all in," the prosecutor added.
In court papers last week, another prosecutor in the case, Thomas B.W. Hall, said the six-month prison term was needed to "promote respect for the law."
"Police officers have a duty to investigate criminal activity, not participate in fraudulent schemes for personal financial gain," Hall wrote.
Hall said Kim submitted false financial documents and concealed information from bank officials in a failed bid to obtain a $1 million loan to keep afloat the Courthouse Cafe, which has since become a Capriotti's sandwich shop. The partners were leasing the restaurant space from Clark County.
Kim failed to disclose the partners had struck a financial arrangement with another businessman to take over the daily operations of the Courthouse Cafe, prosecutors have alleged.
Contact Jeff German at jgerman@reviewjournal.com or 702-380-8135.