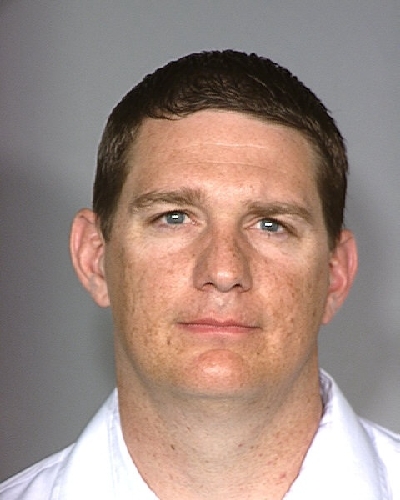 A former Las Vegas police officer accused of stopping female drivers while on duty and coercing them into exposing their breasts was slapped with a maximum two-year jail sentence Thursday.
John Norman, who resigned from the Metropolitan Police Department five months after his arrest, pleaded guilty in June to oppression under the color of office and open or gross lewdness, both gross misdemeanors.
On Thursday, Norman said he was "truly and humbly sorry" if he made the victims feel threatened, which was never his intent.
He added, "The media has painted me as a monster out there lurking in the dark and violating women's rights and other people's rights."
Judge Abbi Silver stared at the 34-year-old as he spoke.
Later, before handing down the harshest sentence she could, the judge told Norman, "You are nothing short of a sexual predator with a badge."
The father of six, who was dressed in a suit and appeared in court with his wife and about a dozen supporters, was then handcuffed, taken from the courtroom and jailed at the Clark County Detention Center.
Outside Silver's courtroom, Norman's two victims rejoiced at his sentence. The Review-Journal does not name victims of sexual crimes.
"He has to be treated like any other individual who did something wrong," one victim said.
The other victim added, "I was scared. I'm not scared anymore."
The women said they were worried Norman was going to be sentenced to probation.
Both women testified at the hearing that Norman's actions caused them to fear uniformed police officers.
"He ridiculed me. He humiliated me. He abused his authority. He knew what he was doing," one victim tearfully testified.
Both asked that Norman have to register as a sex offender, and Silver obliged.
They added later there are good police officers, including the ones who handled their case.
After the hearing, Norman's defense lawyer, David Roger, declined to comment.
Authorities said Norman in 2011 pulled over two women in separate traffic stops and compelled them to show their breasts. He also was accused of fondling one of the women.
Allegations of misconduct were made against Norman by two other women. Those allegations were investigated but did not rise to the level of crimes, police said.
He was originally charged with eight counts, but prosecutors dropped six charges as part of the guilty plea agreement.
Contact reporter Francis McCabe at fmccabe@reviewjournal.com or 702-380-1039.