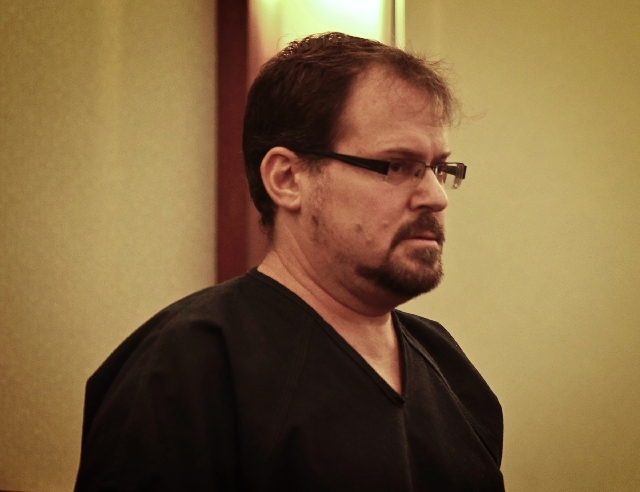 The death of former prosecutor David Schubert was ruled a suicide on Thursday.
"He died as a result of his own actions," Clark County Coroner Mike Murphy told the Las Vegas Review-Journal.
Murphy said toxicology results showed Schubert died from taking a combination of five drugs, including Valium, Ibuprofen, an anti-depressant and a couple of over-the-counter cold medicines.
His badly decomposed body was found July 17 stretched out on the sofa of his living room at his home in the Mountain's Edge development in southwest Las Vegas.
Schubert, 49, a veteran chief deputy district attorney who fell from grace following his own drug conviction, appeared to have been dead for weeks. His face was so unrecognizable that he had to be identified through dental records.
A suicide note similar to his last Facebook post on June 27 was left near his body. The Facebook post simply said, "Its peaceful."
Murphy and Homicide Lt. Ray Steiber declined to reveal what the note said.
But Steiber said, "It helps clarify that this was a suicide."
Schubert's lawyer, Louis Schneider, said the former prosecutor's death could have been avoided.
"I think it's sad," Schneider said. "Dave needed help and he got punished to the point where he took his own life. The courts are there not only to punish people but to help people, and it appears that some very important people lost sight of that fact."
In the months before his death, Schubert developed a hatred for District Judge Carolyn Ellsworth after she sentenced him to nine months in prison for his cocaine possession conviction, court documents show.
Two celebrities Schubert had prosecuted on similar drug charges, Paris Hilton and Bruno Mars, received probation from other judges.
Schubert fled to Mexico briefly in September to avoid serving prison time.
In a jailhouse interview with the Review-Journal after his return in October, Schubert said that while in Mexico he recognized he had made a mistake.
"I realized that this wasn't the solution," he said. "I didn't want to be on the run. I missed everyone."
But Schubert also said he felt mistreated by the court system.
In November, several weeks after his return, Ellsworth revoked his probation and ordered him sent to prison. He was released on parole April 29.
"I wish I had a good feeling that you will go out and seek help," Ellsworth told Schubert in court. "I think you really need to do that if you want to be a productive lawyer again."
Schubert's overwhelming desire to get back at Ellsworth took a toll on his relationship with former girlfriend, attorney Marian Kamalani, who weeks before his release obtained a protection order to keep him away from her.
In court documents, Kamalani said the obsession turned the relationship "toxic," as Schubert appeared "angry at the world because of the outcome of his case."
Schubert lost his prosecutor's job after he was arrested for buying cocaine in 2011. He later pleaded guilty, and the day before he fled to Mexico on Sept. 21, the Nevada Supreme Court temporarily suspended him from practicing law.
Schneider said he has asked the State Bar of Nevada to seek the reinstatement of Schubert's license posthumously.
"I think it would have meant a lot to Dave," Schneider said. "Of all the things that happened to him, that was the biggest blow."
Friends of Schubert are getting together at 5:30 p.m. Friday at the Triple George restaurant downtown to celebrate his life, Schneider said.
Contact Jeff German at jgerman@reviewjournal.com or 702-380-8135. Follow @JGermanRJ on Twitter.