Friday shooting victim dies; Las Vegas police seek assailants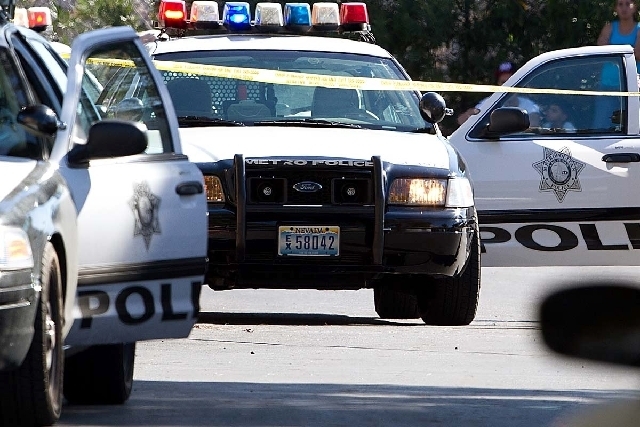 A man shot in the head Friday night in the central valley has died, and Las Vegas police are seeking the public's help identifying suspects.
Police were looking into reports of a person shot near Valley View Boulevard and Pennwood Avenue just before 11 p.m.
They found a man lying between two vehicles suffering from a gunshot wound to the head, a Metro supervisor said Saturday morning.
The man was taken to University Medical Center, where he later died.
Police believe the man was waiting for a family member in an apartment complex in the 3100 block of Chadford Place when he was shot. Two men were seen fleeing the scene afterward.
Police described one of the men as a Hispanic teenager with a thin build. He was wearing blue jeans and a black hoodie.
The other man was short, stocky Hispanic man — also in his late teens — wearing a white polo shirt.
The identity of the man, as well as the cause of death, will be released by the Clark County coroner's office once his family has been notified.
This was the 51st homicide in Metro's jurisdiction this year.
Anyone with information about this incident can call homicide detectives at 702-828-3521. To remain anonymous, contact Crime Stoppers at 702-385-5555 or www.crimestoppersofnv.com.
Review-Journal writer Kimber Laux contributed to this report. Contact Wesley Juhl at wjuhl@reviewjournal.com and 702-383-0381. Find him on Twitter: @WesJuhl.