Friend of Tony Hsieh sues estate over 'Delivering Happiness' brand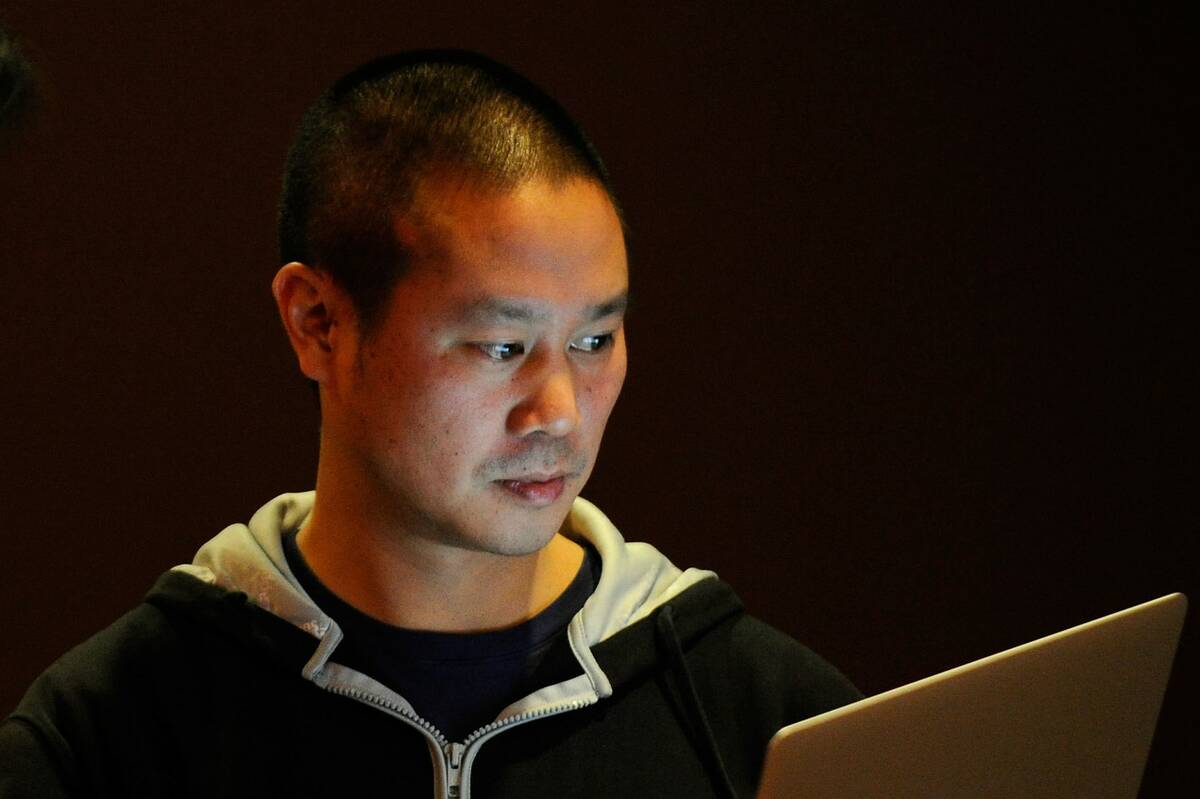 One of Tony Hsieh's longtime friends and business partners has sued the former Zappos CEO's estate over ownership of the "Delivering Happiness" brand, which promotes Hsieh's vision of workplace culture.
Hsieh's estate, controlled by his father, Richard Hsieh, has been locked in yearslong legal battles with his son's friends and business associates, with each side accusing the other of taking advantage of Hsieh financially before his death. The tech mogul was 46 when he died without a will on Nov. 27, 2020, from injuries he suffered in a Connecticut house fire, following months of erratic behavior that have been alleged in court documents.
The latest lawsuit was filed Wednesday by Jennifer Lim, who knew Hsieh for more than 20 years and was credited with helping him create and develop his 2010 book "Delivering Happiness: a Path to Profit, Passion, and Purpose," according to the lawsuit.
The two then created Winkey, LLC and Delivering Happiness, LLC, which has since been dissolved, to help promote the book.
Lim was primarily in charge of operating the companies, according to the lawsuit.
The book promoted Hsieh's vision of creating a company culture where "employees wanted to provide great service because they're happy," the lawsuit said.
According to the lawsuit, Hsieh's estate did not take an active interest in the Winkey company immediately following Hsieh's death, but has since demanded exclusive ownership of its intellectual property rights and a book Lim authored after Hsieh's death.
In Wednesday's lawsuit, Lim asked a judge to protect her ownership in the company and prevent the estate from dissolving it.
"Like so many of those in Tony's most trusted inner circle, Jenn soon found herself in the crosshairs of Tony's estate and their lawyers hurling baseless accusations of self-dealing, among other things — none of which is true," the lawsuit said.
Lim's attorneys and attorneys for Hsieh's estate did not immediately respond to request for comment.
According to the lawsuit, Winkey was owned 50 percent by Pickled Happiness, one of Hsieh's LLC companies, and 50 percent by Lim. In 2021, Lim set up an agreement to borrow up to $517,000 from Winkey in order to promote her new book, "Beyond Happiness."
'Shared visions'
Lim's book was not meant to be a continuation of the Delivering Happiness brand, the suit stated, but did include details about her experience as CEO and development of the Delivering Happiness company, which operated as a consulting program that promoted the principles of Hsieh's book.
She also intended her book to "act as a conduit" to drive business back to Winkey following revenue loss during the coronavirus pandemic, the lawsuit said. Lim had also began repaying Winkey back in two $50,000 payments made earlier this year, according to the lawsuit.
Hsieh's estate has alleged that Lim "engaged in improper conduct" while borrowing money from the Winkey company, according to the lawsuit.
Lim's attorneys wrote that her actions have been to further Hsieh's legacy and their "shared visions."
The lawsuit also alleged that Lim had turned down a $500,000 offer from Hsieh in the months before his death for a new idea that didn't align with the Delivering Happiness brand's "values," and that she had "directly communicated" with Hsieh's father about her concerns over Hsieh's health in August 2020.
Hsieh's family has claimed that while Hsieh was living in Park City, Utah, in the months before his death, he was "drug addled" and emaciated from nitrous oxide use. He had also funnelled hundreds of millions of dollars into elaborate projects to develop Park City before his death.
While the estate has alleged that others in Hsieh's inner circle should have known he was not able to engage in business deals before his death, his business associates have also alleged that Hsieh's family members, including his brother, Andrew Hsieh, gave no indication that Tony Hsieh was unable to approve contracts.
Wednesday's lawsuit also alleged that when Lim and Hsieh met, he told his friend that he was not close with his family, "and this carried on to be true and consistent over time."
"While there is immense filial respect to Tony's family and their tragic loss, as demonstrated by Jenn's actions, she now seeks to honor her relationship with Tony, his legacy, and core beliefs of what is fair and right in the world," the lawsuit said.
Contact Katelyn Newberg at knewberg@reviewjournal.com or 702-383-0240. Follow @k_newberg on Twitter.