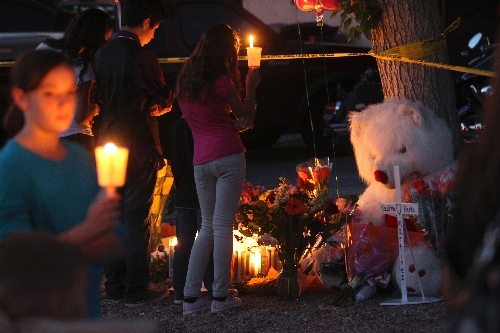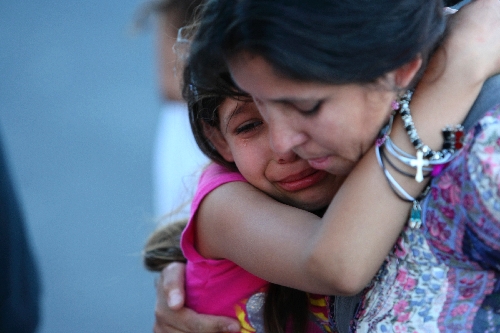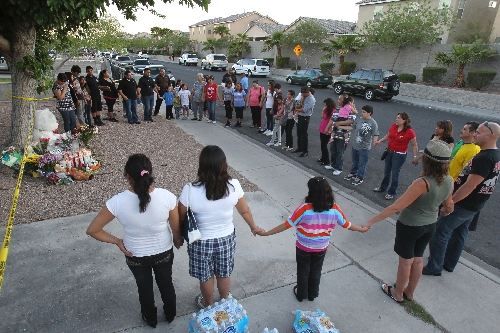 The two girls became friends as third-graders.
They lived just down the street from each other. They were classmates at Hoggard Elementary School, just a few blocks from their central valley neighborhood.
Karla Martinez, 10, was great at her multiplication tables. She was a happy girl, too.
"She always hugged people," said Alexandra Nevarez, 11, standing with her mother at a vigil in front of a house that's now a crime scene.
"She always hugged me when we said goodbye."
On a quiet street of single-story, 1950s-era homes, Alexandra on Friday stared at her friend's front door, now covered in gray police fingerprint dust. The windows are tagged with orange stickers warning intruders to stay out. The front yard is criss-crossed with yellow police tape.
Las Vegas police have been investigating Karla's death - with the death of her mother, Ignacia "Yadira" Martinez, 38, and the critical assault on her father, Arturo Martinez - since Monday, when Karla's 9-year-old brother went to Hoggard and said his sister and mother were dead inside their home.
Police say they're expending every available resource on finding the killer - they had two officers watching over the home around the clock on Friday.
The investigation extended to Hoggard, where police prevented students from talking to crisis counselors for two days after the killings were reported.
The children were part of the investigation, and their testimonies needed to be fresh and untainted, said Rosemary Virtuoso, a leader of the Clark County School District's Crisis Intervention Team.
The team helped Hoggard teachers prepare to tell students that their classmate had died and wasn't coming back. Teachers didn't tell students much more than that. The details would only confuse.
"Younger kids don't know how to grasp death," she said Friday, noting how talks go much differently with high school students. Her team deals with them most often after teen suicides.
But adults do understand the tragedy that has shattered the Martinez family, and many of the more than two-dozen people who gathered in front of the family's home on Robin Street, near Washington Avenue and Rancho Drive, were neighbors outraged by the killings.
"I have to pass this to get to my house," said Regina Davis, 45. "They seemed like nice people. Very nice people.
"They didn't deserve this. Period."
Relatives of the Martinez family gathered with them and prayed. One woman poured holy water over a collection of pictures, candles and stuffed bears in the front yard.
One law enforcement source described the scene inside the home as "one of the most horrific crime scenes we've seen in the past decade." Sources said the suspect probably used a claw hammer to wound Arturo Martinez and kill Ignacia Martinez and her daughter. The weapon hasn't been found, and no one had been arrested as of late Friday.
Arturo Martinez, an electrician who coached at a boxing gym in the evening, has been hospitalized at University Medical Center.
Authorities haven't said when the attack happened, although a source said the 9-year-old boy who reported the slayings and his 4-year-old brother might have been in the home with their dead family members for more than 24 hours.
Pat Webb, 78, has lived on the street 55 years. She said she couldn't imagine what the boy saw.
"That poor child," she said.
For Davis, the assault touched many who didn't know the family.
"It's devastating to our neighborhood," she said.
Contact reporter Lawrence Mower at lmower@reviewjournal.com or 702-383-0440. Contact reporter Trevon Milliard at tmilliard@reviewjournal.com or 702-383-0279.