Grand jury indicts ousted Las Vegas constable
February 8, 2017 - 7:04 pm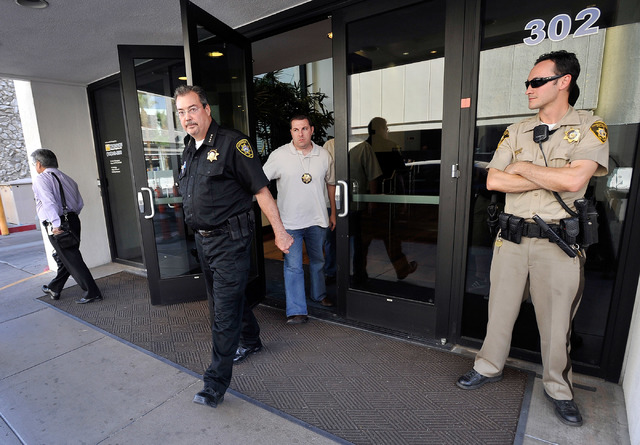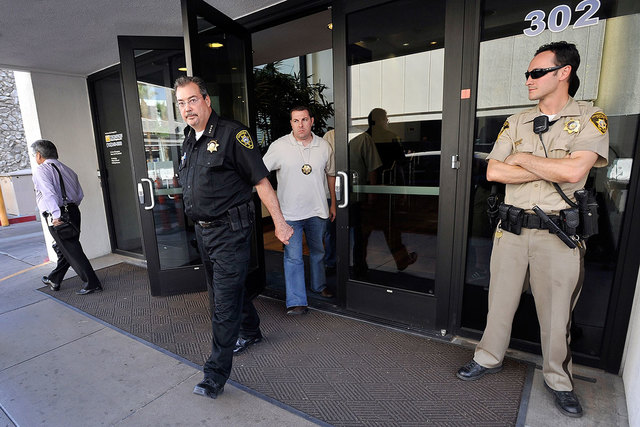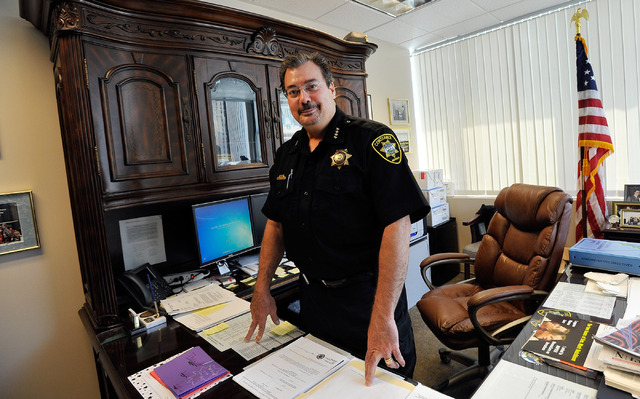 An arrest warrant was issued Wednesday for former Las Vegas Township Constable John Bonaventura after a grand jury indicted him on theft and wiretapping charges.
The indictment alleges Bonaventura, 54, wrongfully increased an employee's salary to repay a personal debt. It also alleges he secretly recorded phone calls from newspaper reporters, lawyers, a judge and at least one Clark County commissioner.
"His actions eroded the trust of the community, not only in his office, but in law enforcement," Chief Deputy District Attorney Jonathan Cooper said.
With one count of theft, Bonaventura faces one count of misconduct of a public officer and four counts of unlawful interception of wire communications, all felonies. The crimes occurred between January 2013 and January 2015, the indictment alleges.
Chief District Judge Elizabeth Gonzalez issued a $25,000 warrant for Bonaventura's arrest. The former constable, who was at the center of several controversies during his time in office, could not be reached for comment Wednesday.
In January 2013, Las Vegas Review-Journal political columnist Steve Sebelius made a 16-minute call to Bonaventura's spokesman, Louis Toomin, to inquire about reports that the constable wanted to provide bodyguards for then-Assemblyman Steven Brooks after lawmakers told police Brooks had threatened to harm then-Assembly Speaker Marilyn Kirkpatrick.
Former Review-Journal reporter Lawrence Mower, who now works in Florida, called Toomin the same month as part of his county beat coverage. Mower said a couple minutes of the call were recorded.
Bonaventura would call Toomin into his office to "witness" calls with reporters without saying he was recording, Toomin said Wednesday.
Neither Sebelius nor Mower knew the calls had been recorded until police contacted them.
Nevada law requires the consent of all involved parties to record a phone conversation, but exceptions are allowed for law enforcement officers who obtain a court order to intercept communications.
In March 2013, the Clark County Commission unanimously voted to abolish the Las Vegas constable's office.
Toomin, who served with Bonaventura in the Nevada Assembly in the 1990s, also invested in real estate while he worked for the constable's office.
Between November 2013 and January 2015, Bonaventura lived in a house Toomin had purchased for about $150,000. Bonaventura wanted to buy it but lacked the cash, so he gave Toomin a new title, chief operating officer, and a biweekly raise of $2,099.
In early 2014, Bonaventura recorded a conference call with District Judge Rob Bare, who was presiding over a lawsuit between Bonaventura and the county, and two county lawyers, according to the indictment.
Bonaventura told others that he wanted to bleed the office dry of all its assets before it was abolished in January 2015. Duties of the constable's office — such as handling evictions and serving court papers — were absorbed by the Metropolitan Police Department.
Bare declined to comment when contacted last week after Clark County grand jury proceedings.
Sometime between March and December 2014, former county Commissioner Tom Collins was overheard in a recording using profane language aimed at other commissioners, including Mary Beth Scow and Steve Sisolak.
Collins, who later said he did not give permission to record the telephone conversation with Bonaventura, declined to comment when contacted last week outside the grand jury room at the Regional Justice Center.
Contact David Ferrara at dferrara@reviewjournal.com or 702-380-1039. Follow @randompoker on Twitter.
Indictment against John Bonaventura by Las Vegas Review-Journal on Scribd
RELATED
Warrant issued for ex-Vegas Constable John Bonaventura
Constable Bonaventura fails to report campaign contribution
Constable's office gets loan relief from county
Secret tape: Constable Bonaventura plots $4M revenge fantasy
Former employees allege Las Vegas constable required kickbacks