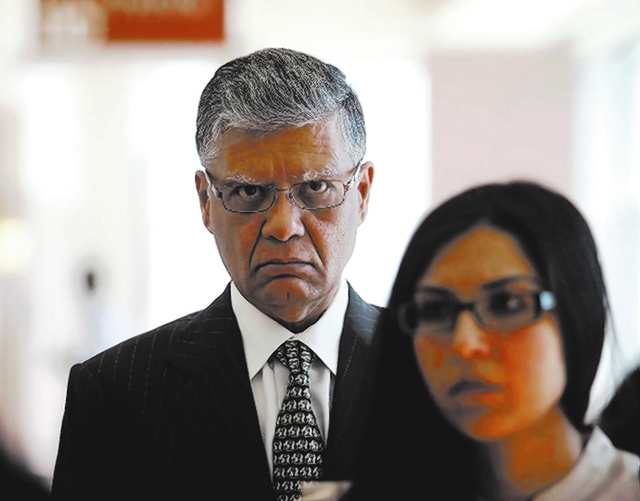 A jury Monday convicted Dr. Dipak Desai and nurse anesthetist Ronald Lakeman of criminal charges stemming from the 2007 hepatitis C outbreak, one of Southern Nevada's biggest medical calamities.
Desai was found guilty of second-degree murder and 26 other counts related to the outbreak. Lakeman was found guilty of 16 counts, but not guilty on 11 other counts, including the murder charge involving the 2012 death of infected patient Rodolfo Meana.
District Judge Valerie Adair ordered both Desai and Lakeman jailed while they await their Sept. 5 sentencing.
Marshals handcuffed the two defendants and led them out of the courtroom. Dr. Kusum Desai, Desai's wife, and their two daughters hugged each other and wept in the first row behind the defense table.
"I love you, Daddy," said one of the sobbing daughters as Desai walked by. "God is with you. He's always with you."
Desai's family members rarely missed a moment of the high-profile trial, often escorting him in and out of the courtroom and sometimes assisting his defense lawyers from the sidelines.
Desai, as he did throughout the trial, showed no emotion when the verdict was read. He faces a prison term of 10 years to life on the second-degree murder count alone.
Jurors, who endured nearly two months of testimony, primarily from 70 prosecution witnesses, had been deliberating since Friday. They returned the verdict about 4:30 p.m. after earlier reporting being deadlocked on some of the charges.
The verdict closed the book on one of the largest and most complicated investigations undertaken by Las Vegas police.
The investigation was launched in March 2008 after health officials disclosed the outbreak and urged some 64,000 patients to get tested for blood-borne viruses.
"This was an important case for the community," said former District Attorney David Roger, who pushed hard for the criminal investigation. "A lot of people had sleepless nights wondering if they were infected with the hepatitis C virus when all the notices went out.
"But more importantly, this is a verdict that will be heard in medical communities throughout the country. The message is you can't choose money over patient care."
His successor, District Attorney Steve Wolfson, added, "The verdict speaks volumes that this kind of behavior by a doctor is intolerable.
"I'm extremely proud of my prosecutors, Michael Staudaher and Pamela Weckerly. This was probably the most sophisticated murder prosecution in the history of the Clark County district attorney's office."
Jurors left the Regional Justice Center without commenting on their two days of deliberations.
Richard Wright, the lead defense lawyer for Desai, declined comment. Lakeman's lawyer, Rick Santacroce, said he would appeal.
Desai, 63, and Lakeman, 66, were indicted with another nurse anesthetist, Keith Mathahs, in June 2010. Mathahs, 77, pleaded guilty and testified for the prosecution.
The charges, which also included criminal neglect of patients and insurance fraud, focused on the cases of Meana and six other patients infected with hepatitis C at Desai's Endoscopy Center of Southern Nevada on Shadow Lane in 2007. Meana, 77, died last year in his native Philippines.
Prosecutors argued that the virus caused Meana's death. But defense lawyers presented a medical expert who testified Meana had other underlying medical issues, including bad kidneys, that could have cost him his life.
Jurors found Lakeman not guilty of all charges related to Meana's death. Prosecutors had alleged that Lakeman was part of the conspiracy that led to Meana's hepatitis C infection. Lakeman was working at the endoscopy center on Sept. 21, 2007, when Meana underwent a colonoscopy, but he did not participate in the procedure.
Throughout the trial, prosecutors contended that unsafe injection practices involving the sedative propofol led to the outbreak. The combination of double-dipping syringes into propofol bottles used on multiple patients spread the virus from source patients infected with hepatitis C on two different dates in 2007, prosecutors contended.
Defense lawyers argued that the theory was not rock solid and that other means of transmission, including dirty scopes and biopsy instruments, were possible.
In closing arguments, prosecutors portrayed Desai as a penny-pincher who ran his clinic like an assembly line, recklessly churning out procedures at the expense of patient care.
Defense lawyers attempted to create reasonable doubt about the district attorney's case, arguing the defendants followed injection practices accepted throughout the community and did not know they were risking the health of their patients.
Wright acknowledged that Desai was a "cheapskate," but he told the jury the former gastroenterologist did not deliberately set out to infect his patients with the deadly virus.
Santacroce argued that Lakeman had become a "sacrificial lamb" to a public that was "clamoring" for someone to punish for the hepatitis infections.
Santacroce urged the jury to "have courage" and "ignore the public outcry."
Desai, who surrendered his Nevada medical license after health officials disclosed the outbreak in 2008, rarely looked at the witnesses
Despite suffering several strokes, he was declared competent to stand trial. Wright, however, maintained during the trial that Desai was not able to properly assist in his own defense.
Prosecutors contended Desai was exaggerating his physical impairments in a ploy to escape a stiff prison term.
Adrienne Packer, special to the Review-Journal, contributed to this report.
Contact Jeff German at jgerman@reviewjournal.com or 702-380-8135. Follow @JGermanRJ on Twitter.
HEPATITIS C VERDICTS
On Monday, a District Court jury convicted Dr. Dipak Desai of:
■ One count of second-degree murder
■ Seven counts of criminal neglect of patients resulting in substantial bodily harm
■ Seven counts of performance of an act in reckless disregard of persons or property resulting in substantial bodily harm
■ Nine counts of insurance fraud
■ One count of theft
■ Two counts of obtaining money under false pretenses
Nurse anesthetist Ronald Lakeman was convicted of:
■ Four counts of criminal neglect of patients resulting in substantial bodily harm
■ Four counts of performance of an act in reckless disregard of persons or property resulting in substantial bodily harm
■ Six counts of insurance fraud
■ One count of theft
■ One count of obtaining money under false pretenses