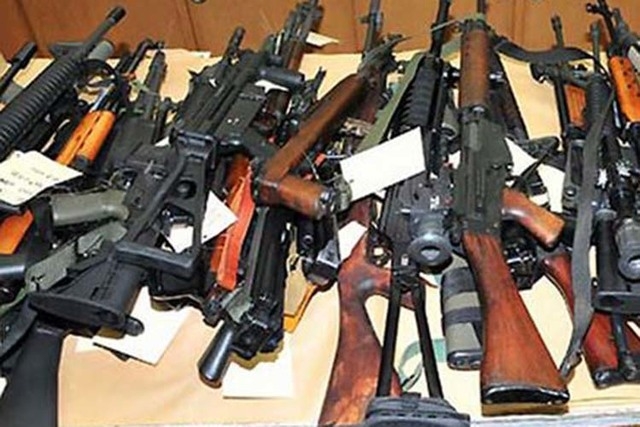 OLYMPIA, Wash. — Washington voters decisively backed expanded background checks for guns, a victory for advocates of stricter gun laws who say they will use the momentum from this win to pursue similar measures in other states, including Nevada.
With the passage of Initiative 594, Washington joins six other states and the District of Columbia with laws that require universal background checks for all sales and transfers of firearms, though it is the first to pass such a law through a citizen-driven initiative on the ballot.
Other states have varying laws on expansion beyond what federal law requires, including Oregon, which requires a background check for purchases at gun shows. An anti-expansion measure on Tuesday's ballot failed in Washington state.
"If legislative bodies won't act, the people will," said Zach Silk, the campaign manager for Washington's expansion measure. "We proved that. I think that should give a lot of inspiration to these other states where they've tried legislative efforts and have run into reluctant officials."
Signatures are being gathered in Nevada in support of an initiative petition seeking to mandate background checks for nearly all gun purchases. Supporters must collect 101,667 valid signatures from registered voters by Tuesday.
The initiative, filed by Nevadans for Background Checks, would expand background checks to all gun purchases with some exceptions, including law enforcement and antique firearms sales or transfers.
If the group is successful, the petition would first be considered by the Legislature in 2015. If it did not pass, it would go to voters in 2016.
The Washington state measure received significant support from Everytown for Gun Safety, a group funded by former New York Mayor Michael Bloomberg that already is looking to replicate the initiative's success.
John Feinblatt, the president of Everytown, said Wednesday that Washington state "is going to be a model for other states."
Feinblatt said that Everytown is part of a coalition that is gathering signatures due this week for a measure, which, like with Washington's "Initiative to the Legislature," will start with Nevada's Legislature and head to the 2016 ballot if lawmakers don't act.
Arizona and Maine are among the states the group is eyeing for similar campaigns.
"We'll continue to take these issues straight to the people where we can because we know they will side on public safety," he said.
Andrew Arulanandam, a spokesman for the National Rifle Association, said that his organization will fight these efforts.
The NRA and other opponents took the most issue with Washington state's expansion language that requires checks for many gifts and loans that they say goes too far. The measure has exceptions for emergency gun transfers concerning personal safety, gifts between family members, antiques and loans for hunting.
"What they perceive as a victory today will end up being a liability to them," Arulanandam said of the expansion initiative. "People will realize that it does not make them safer. What they will find out is that innocent people are being prosecuted and punished for simple and legal acts. When voters in other states see what's happening in Washington state, that's going to spur them to oppose those measures."
Local opponents of the measure said they are looking into a possible legal challenge and an online petition to overturn it has more than 15,000 signatures. The NRA is also considering its options, Arulanandam said.
Polling for the expansion initiative was strong throughout the year, and it's unclear what, if any, impact a deadly shooting at a Marysville high school had just weeks before the election.
"There's no way to connect it," said Silk, who noted that I-594 wouldn't have prevented that tragedy because the gun legally was owned by one of the teen shooter's relatives. "On the other hand, it helped elevate conversation about gun violence in the final stage of the campaign."
Tackling gun control makes some lawmakers uneasy because of the potential political consequences.
Washington first considered expanding background checks last year, but bills didn't gain traction with lawmakers. Proponents then went the ballot route, seeking an initiative to the Legislature. Lawmakers held hearings on that measure but again didn't take action. Under state law, the initiative was guaranteed a place on the statewide ballot.
In Colorado, Democrats were emboldened by their majorities in the House and Senate when they took on the issue in 2013. The state has been the scene of horrific mass shootings, including the Columbine High School attack in 1999 and the Aurora movie theater massacre in 2012.
Against that backdrop, lawmakers and gun-control advocates expanded background check requirements to private sales and online purchases and limited the size of ammunition magazines to 15 rounds. There was intense lobbying from both sides of the issue, with Vice President Joe Biden calling Democrats to urge them to pass the legislation.
The bills' passage came at a cost. In the first legislative recalls in Colorado history, two Democratic senators were booted from office for supporting the measures, and a third lawmaker resigned while facing a recall effort.
While Democrats regained the two recall seats Tuesday, Republicans have criticized lawmakers who supported the gun bills. In trying to unseat Democratic Gov. John Hickenlooper, who narrowly won, Republicans used his support for gun control against him.
Silk, the spokesman for the Washington effort, noted the differing dynamics that occurred this past week.
"At the same time that voters elected Republicans in control of the state Senate, they also overwhelmingly passed these background checks," he said. "I think the conversation has changed."
Silk said proponents will explore other options to further strengthen gun laws in Washington state.
"I think we'll be able to find common ground," he said. "Nothing we've ever worked on has anything to do with taking guns away from law-abiding citizens. Our work is focused on reducing gun violence."
Review-Journal Capital Bureau reporter Sean Whaley contributed to this report.