'He took away a piece of my heart': Man gets 100-year sentence for bar killing
Updated September 8, 2023 - 7:15 pm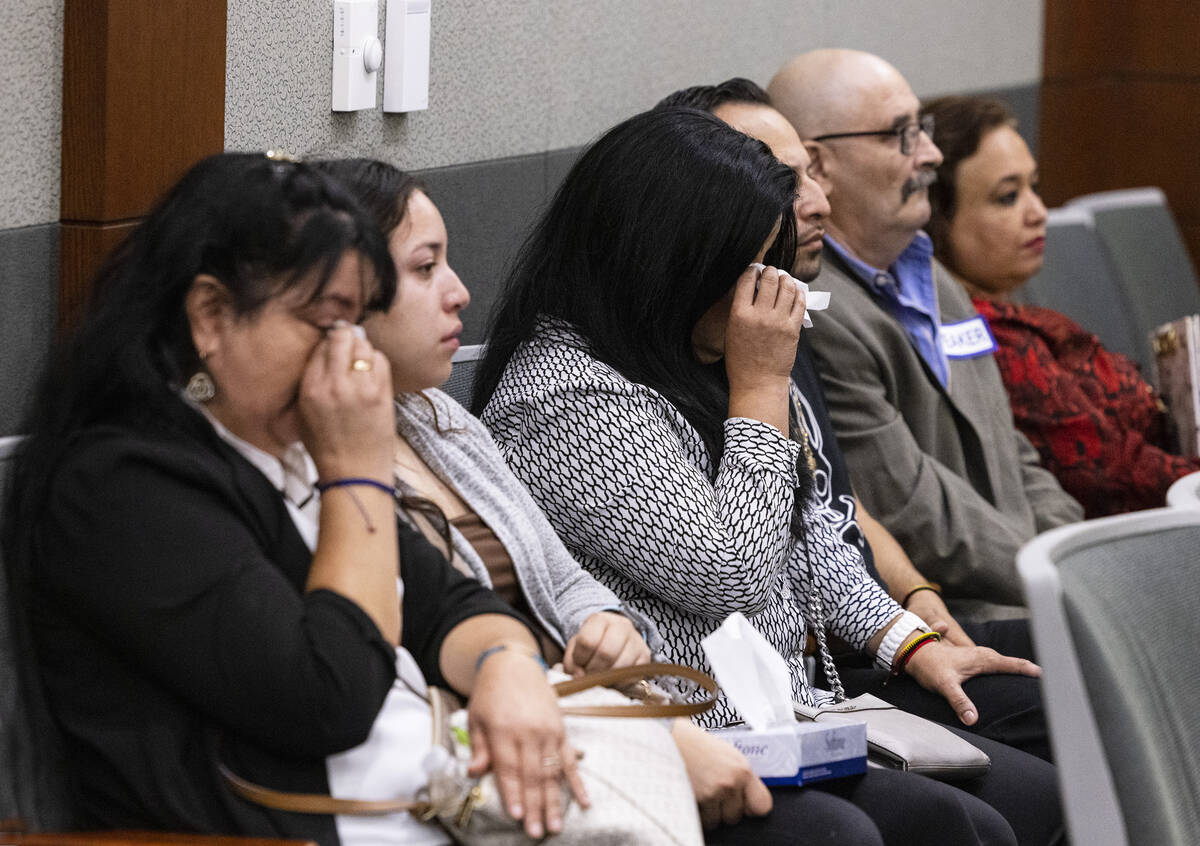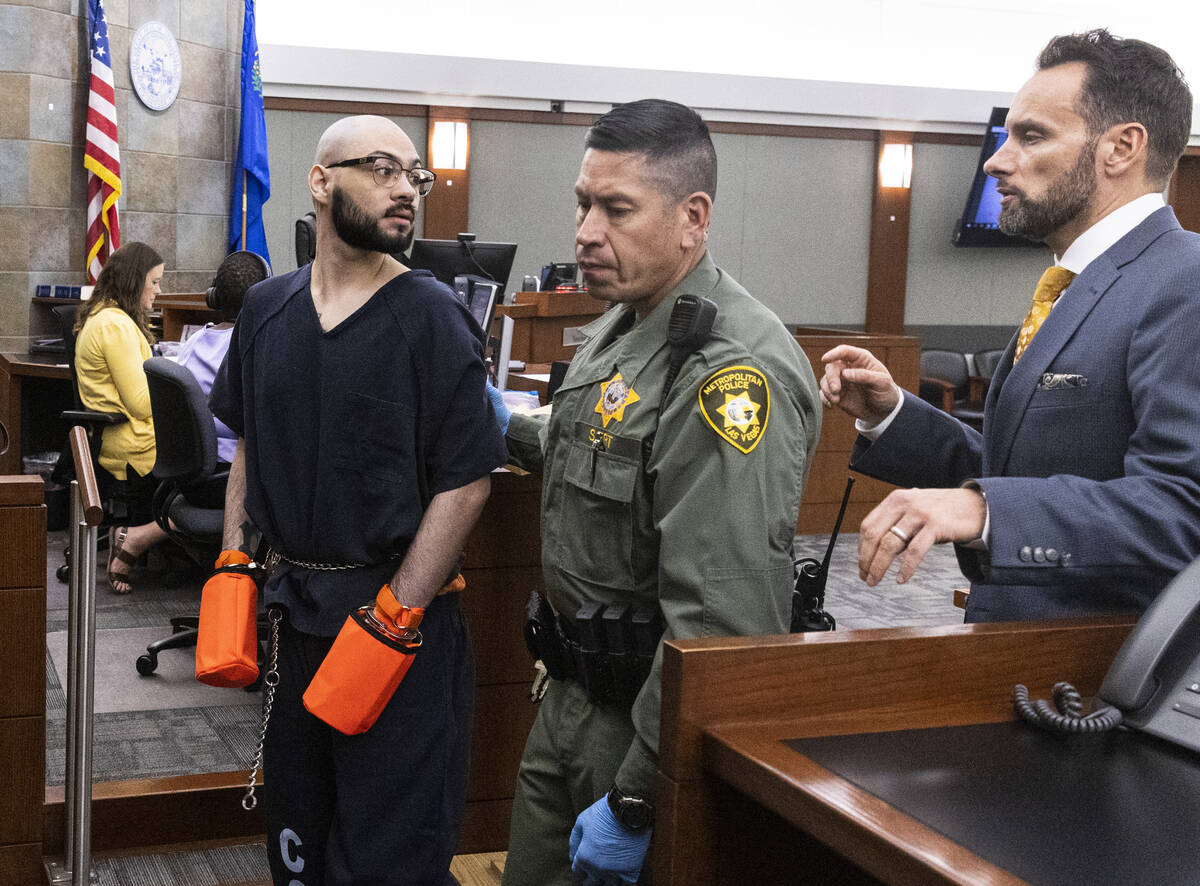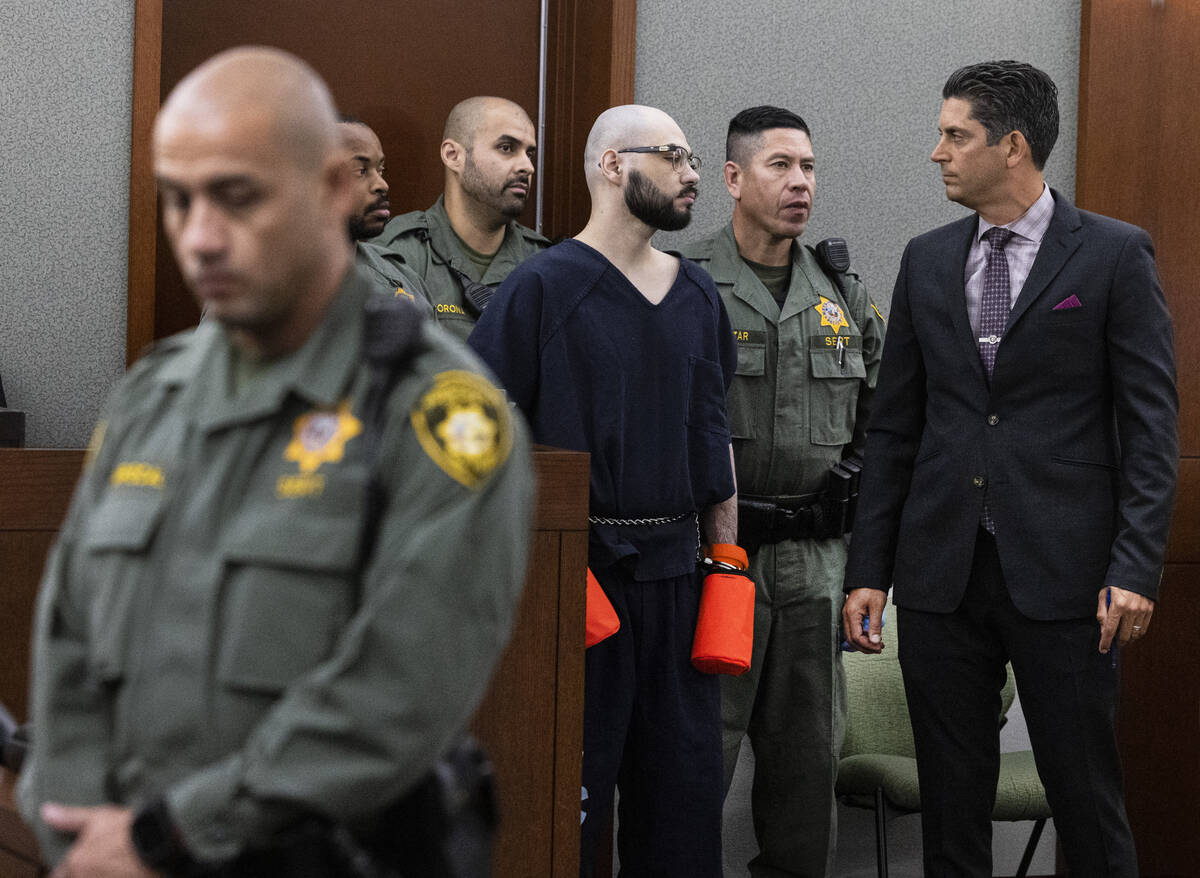 A man convicted in the murder of a bar patron, kidnapping and a dozen other violent felonies during a 2017 crime spree in Las Vegas was sentenced to up to 100 years in a Nevada prison Thursday.
Joel Nunez-Cruz, 31, must serve at least 40 years of his sentence before he can be considered for parole as part of his agreement to plead guilty, said Michael Dickerson, chief deputy district attorney.
District Court Judge Tierra Jones handed down the sentence as Nunez-Cruz stood, with padded mitts covering his hands, after six armed jail correction officers guards accompanied him into the hearing room.
Nunez-Cruz was convicted of one count of murder with a deadly weapon, eight counts of armed robbery, three counts of attempted murder with a deadly weapon and two counts of second-degree kidnapping with a deadly weapon.
Jones sentenced him to 20 to 50 years in the slaying of Alberto Sanchez-Delatorre, plus eight to 20 years as a deadly weapon enhancement, and 12 to 30 years on the remaining counts.
The district attorney's office had considered arguing for the death penalty but settled on the decadeslong sentence after a settlement conference that included Nunez-Cruz's victims such as Sanchez-Delatorre's father and one of the people Nunez-Cruz kidnapped, Dickerson said.
The 14 felony counts were the result of a series of crimes committed by Nunez-Cruz in January 2017, based on court documents.
On Jan. 21, 2017, Sanchez-Delatorre was sitting at a bar on Nellis Boulevard beside Nunez-Cruz and Nunez-Cruz's female companion when Nunez-Cruz, feeling that Sanchez-Delatorre had disrespected them, left the business, returned with a gun, shot the bar patron dead and fled the scene, prosecutors said.
That same day, he attempted to kill a woman with a gun, and five days later, he used a firearm to kidnap two people, according to prosecutors.
During the hearing, the murder victim's father, Alberto Sanchez, addressed the judge through a Spanish interpreter.
"He destroyed my life when he killed my son," Sanchez said. "Since then my life is not the same because he took away a piece of my heart."
After the hearing, Sanchez expressed satisfaction with the prison stretch Nunez-Cruz received.
"I'm happy, I'm calm and I'm glad that justice was done," he said through the interpreter. "So I can go home calmly to rest and just go on with life as always."
He said his son was born in California, "was a very easy going person, very humble, very respectful. He never hurt anybody. And like every young man, having fun when he could.
"He was a good dancer," he said with a laugh. "And they took him away from me."
Contact Jeff Burbank at jburbank@reviewjournal.com or 702-383-0382. Follow him @JeffBurbank2 on X.