Hearing in Henry Ruggs' fatal crash case postponed
Updated January 25, 2023 - 7:12 pm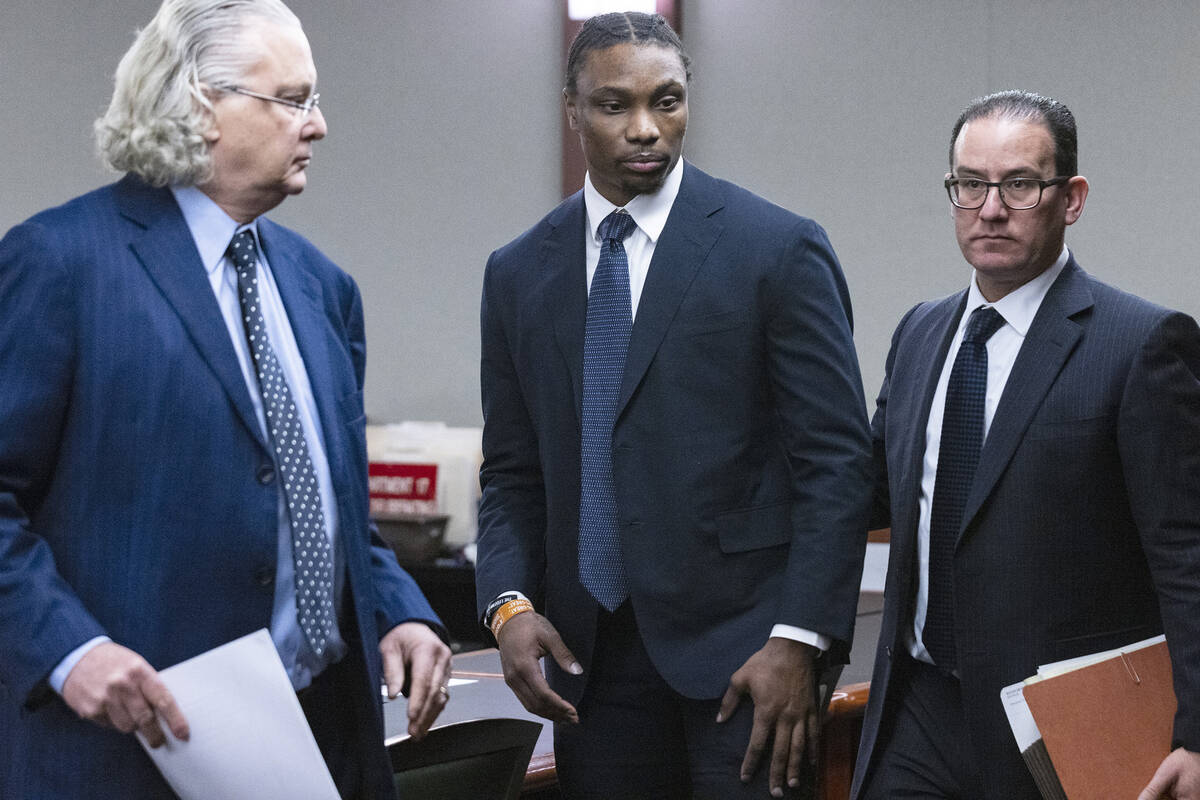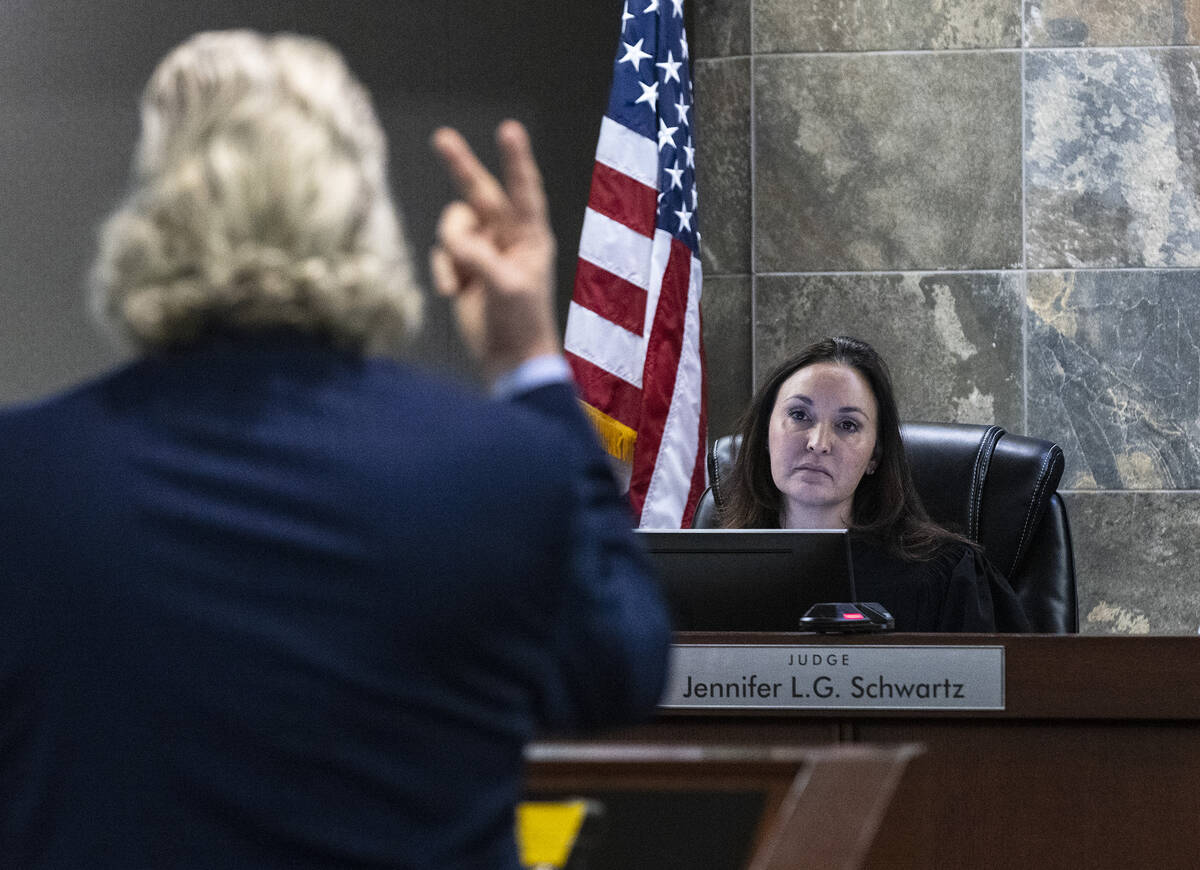 A Las Vegas judge on Wednesday granted a stay that postponed a preliminary hearing in the case of former Raiders player Henry Ruggs, accused of felony DUI in a 2021 crash that resulted in the death of a Las Vegas woman.
District Judge Jennifer Schwartz agreed with Ruggs' attorneys who objected to an attempt by Justice of the Peace Ann Zimmerman to preside over his case even though a new judge was appointed to take over the DUI specialty court Zimmerman has overseen since January 2022.
Schwartz's decision postponed a preliminary hearing that had been set for Feb. 1.
Schwartz said she wanted to give the Clark County district attorney's office, representing the Las Vegas Justice Court, an opportunity to explain Zimmerman's effort to retain the Ruggs case, rather than Justice of the Peace Joe Bonaventure after he was assigned this month to take over the DUI specialty court.
"So what I'm going to do is to grant the stay," the judge said. "Again, I have way too many questions so there is no way that I can rule on an issue when I don't even understand what happened."
Chief Deputy District Attorney Kim Buchanan was in court Wednesday to represent Justice Court, where Zimmerman works.
"I still don't know how you can represent both the district attorney's office and the Las Vegas Justice Court," the judge said to Buchanan.
Schwartz, who said she wanted a swift resolution to the conflict, gave the district attorney's office the chance to file court papers and present its case at a hearing on Feb. 24.
She set a second proceeding for March 10 so that Ruggs' lawyers, David Chesnoff and Richard Schonfeld, may offer a reply and a third hearing on March 22 when the judge might render a decision.
Ruggs stood at the defendant's table for Wednesday's hearing but said nothing before leaving the room.
As a condition for his release on bail, Zimmerman ordered him to retain a hand-held device to monitor his intake of alcohol several times a day.
During the hearing, Chesnoff told Schwartz that he had never heard of a circumstance where a judge, after a valid transfer of a case to another judge, was able to have it shifted back to them without a hearing, which he said was a violation of his client's constitutional rights.
Chesnoff also claimed that it amounted to a conflict of interest for the district attorney's office to serve as both prosecutor against Ruggs and represent the Justice Court in the Zimmerman matter.
"This whole situation, your honor, I feel like I'm in the Twilight Zone," Chesnoff said. "It's like Alice in Wonderland here."
The stay means that the criminal case remains in limbo without a preliminary hearing on the felony and misdemeanor charges against Ruggs.
Ruggs, a former Raiders wide receiver, is charged with felony DUI resulting in death, DUI with substantial bodily harm, two counts of reckless driving resulting in death or substantial bodily injury and misdemeanor possessing a firearm while under the influence.
On Nov. 2, 2021, Ruggs' Chevrolet Corvette slammed into a Toyota RAV-4 driven by 23-year-old Tina Tintor, who, along with her dog, was killed in the fiery crash.
Ruggs girlfriend, Kiara Jenai Kilgo-Washington, a passenger in his Corvette, was injured in the wreck.
He was reportedly driving 156 mph seconds before the crash, and his blood alcohol level was twice the legal limit for drivers in Nevada, prosecutors have said.
Ruggs, who played the 2020 season for the Raiders, appeared in the first seven games of the 2021 season before being released almost immediately by the team in the wake of the 2021 fatal crash.
On Monday, Ruggs' attorneys filed court documents alleging that their client was not being treated by the court the same as other defendants charged with DUI.
Zimmerman presided over DUI cases in Justice Court for a year before Bonaventure was tapped to replace her on the specialty court.
Chesnoff and Schonfeld filed a writ in opposition to the move by Zimmerman to continue presiding over Ruggs' case despite Bonaventure's appointment.
The filing alleges that Zimmerman "singled out" Ruggs' case by treating him differently from other defendants and that she violated an administrative order assigning all DUI cases not involving domestic violence to a single judge.
The attorneys asked that a district judge rescind the order assigning the case to Zimmerman and again assign it to Bonaventure.
Contact Jeff Burbank at jburbank@reviewjournal.com or 702-383-0382. Follow him @JeffBurbank2 on Twitter. Review-Journal staff writer Katelyn Newberg contributed to this report.