Hearing set for 17-year-old suspect in North Las Vegas deadly shooting
Updated November 7, 2018 - 5:32 pm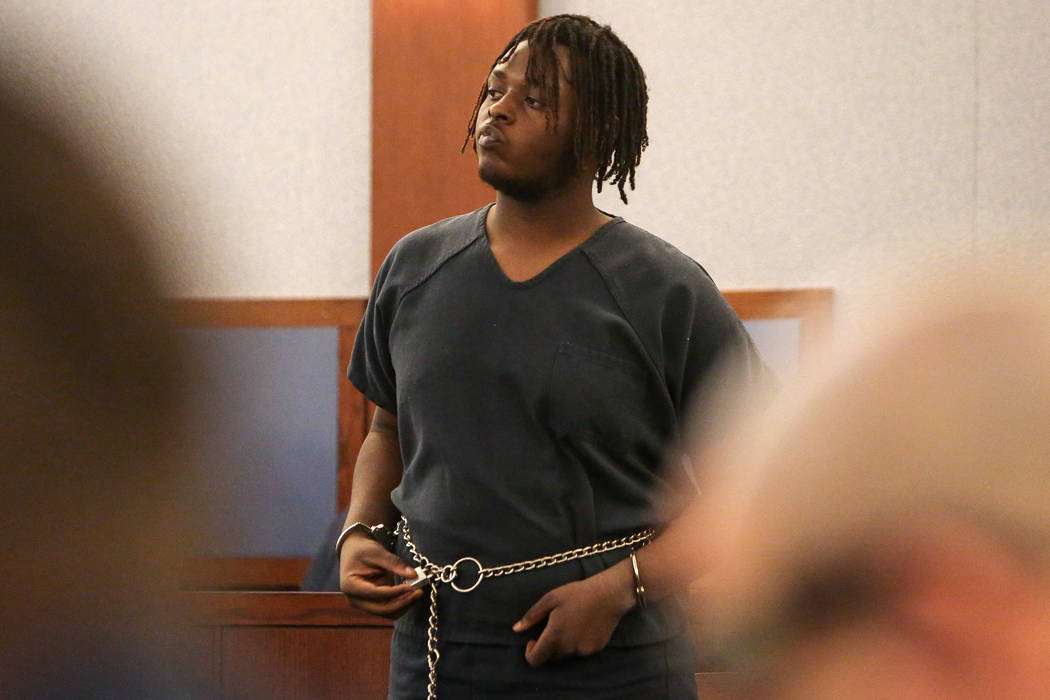 A North Las Vegas judge on Wednesday scheduled a preliminary hearing for a 17-year-old suspect in a deadly gang-related shooting that investigators believe targeted the wrong house.
Erin Deshawn Lynn Hines, shackled in handcuffs, was in and out of Judge Natalie Tyrrell's courtroom in about a minute Wednesday morning. He did not speak and, through his attorney, waived the reading of his charges.
Hines faces one count of murder, three counts of attempted murder and one count of conspiracy to commit murder, all with deadly weapon enhancements, court records show.
Tyrrell set the hearing for Nov. 21. Hines' attorney declined to comment Wednesday.
The wrong-house shooting on Thursday night ended the life of 11-year-old Angelina Erives, who was sitting at her kitchen table helping paint her 14-year-old sister's science project with her mom and 6-year-old sister. At least a dozen bullets pierced the front of their home, 6705 Courtney Michelle St., Angelina's mom, Anabel Sarabia, said Wednesday.
Anabel Sarabia, 30, said her husband, 33-year-old Alberto Sarabia, was also in the home, though Angelina was the only one hit.
Hines was arrested Thursday night shortly after the shooting, when a silver 2007 Nissan Altima seen fleeing the scene broke down a few blocks away, according to North Las Vegas police spokesman Aaron Patty.
According to Hines' arrest report, released Wednesday afternoon, five people were in the car before the shooting, and Hines intentionally asked to drive the car because "he didn't want to shoot anyone."
Hines told police three men left the car and fired 20 to 30 rounds during the shooting, which was supposed to be in retaliation to a recent gang shooting, the report said. Three people fled the car before Hines drove to a different area with Guy Lee Banks III, 19, who was shot by a neighbor who witnessed the shooting.
Hines flagged down a woman and asked her to call 911 for Banks before police arrived and arrested Hines, the report said.
Banks died Saturday from a head wound. It was unclear Wednesday if Banks was one of the three people who shot at the house.
The neighbor who fired at the fleeing Nissan was a retired member of the U.S. Air Force Security Forces and legally owned the gun.
Patty said Wednesday that police were still searching for multiple suspects in the shooting.
'She was good to us'
Anabel Sarabia said she does not hold animosity toward the shooters and that "God's going to take care of them."
"I don't hate them," she said. "I forgive them for what they did. I feel bad for them because they're so young."
Sarabia said watching Banks' mother during TV interviews broke her heart.
"No parent should have to bury their child or put their child in prison," she said. "I feel for them; I really do."
Angelina, known as Angie, loved her life and everyone in it, her mom said. She prayed every night for her family, friends and strangers. Her mom said Angie would wake by 6 a.m., not wanting to "waste any second" of the day.
"She was good to us," Sarabia said.
For Angelina's sisters, the reality of last week's shooting is still sinking in, she said.
Angelina's older sister, Dayanara, was next to her sister when the shooting happened. She doesn't understand why her family was attacked.
The sister's youngest sibling, Bella, is still expecting Angelina to come home, her mom said.
"It's not even a roller coaster; it's a nightmare that no parents should have to live," Sarabia said.
Contact Rio Lacanlale at rlacanlale@reviewjournal.com or 702-383-0381. Follow @riolacanlale on Twitter. Contact Katelyn Newberg at knewberg@reviewjournal.com or 702-383-0240. Follow @k_newberg on Twitter.
Family fundraiser
A GoFundMe page had raised $50,528 for Angelina's family by Wednesday afternoon.
Anabel Sarabia said her extended family and friends organized the fundraiser.
"I appreciate every single person that has donated," Sarabia said. "I appreciate all of them. Even a prayer for me is more than enough."