Henderson lawsuit links developer Milam, ex-BLM chief Abbey
February 26, 2013 - 8:04 am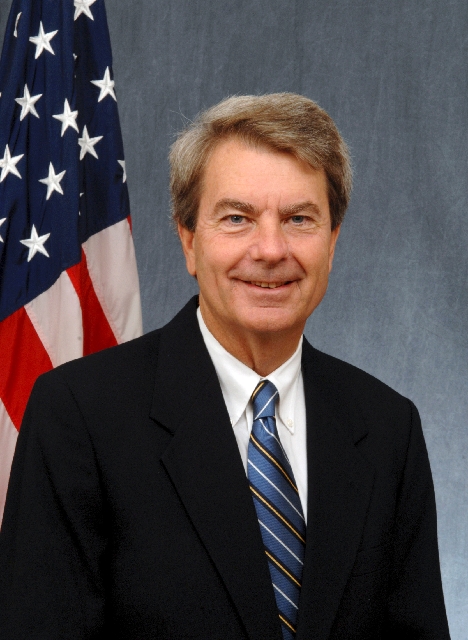 Former Bureau of Land Management head Bob Abbey's consulting firm has been named as a defendant in the city of Henderson's lawsuit over allegations of fraud by embattled developer Chris Milam.
The firm, Abbey, Stubbs & Ford, of Henderson, was listed among four new defendants in court papers filed Friday by lawyers representing the city. Abbey and longtime friend and fellow ex-BLM official Mike Ford are partners in the firm. Ford is already a defendant in the Milam case.
In naming Abbey, Stubbs & Ford as a defendant, the city for the first time directly links Milam to Abbey, who was BLM director when Ford helped Milam buy 480 acres of federal land in Henderson at a bargain price.
Ford and Abbey were partners before Abbey was tapped by the Obama administration to run the BLM in 2010. He retired from the agency in May 2012 and rejoined the firm on Aug. 1. The firm stands to gain a $528,000 "success fee" when the land deal culminates.
"It has become apparent that the scope of the Defendants' plot is broader than originally believed," the court papers said.
Henderson endorsed Milam's bid for the land, helping him buy it for a below-market price of $10.56 million — or $22,000 an acre — because he promised to build a professional sports complex there. In court papers, the city accuses Milam of planning all along to flip the land for commercial and residential development.
In addition to Henderson's lawsuit, the land deal is under investigation by the U.S. Department of Interior's inspector general. Federal officials have declined to characterize the scope of that investigation.
The city also identified as defendants the Las Vegas land consulting firm Robycn, as Ford and Abbey's firm was called while Abbey was running the BLM, and Milam creditors Rockafellow Investments, LLC and II C.B., LLC.
The new court papers were filed by the city's law firm, Bailey Kennedy, in response to dismissal motions from Milam's lawyer, Terry Coffing.
In an attempt to link Abbey's firm to Milam, Henderson's lawyers included emails among Milam, Ford and Abbey. The city alleges that Ford used his connection with Abbey to ensure clear sailing for the land deal with the BLM. In a previous court filing, the city cited a 2011 email in which Ford describes a conversation with then-BLM director Abbey at a wedding reception and assures Milam "we can expect full support and cooperation at the local, regional and national level."
In the recent filing, city lawyers include an Aug. 28 email from Ford to one of Milam's lawyers, John Marchiano, that was copied to Abbey, who was then back with the consulting firm.
"We will have control and nothing can or will happen over the top of our direct interest," Ford wrote.
The city's lawyers noted that "only three months after leaving the BLM, Abbey is claiming a share of the success fee and assisting with the transaction."
Abbey denies he influenced the BLM.
"Just because the city of Henderson makes allegations do not mean they are true. We are looking forward to our day in court where the facts will speak for themselves," Abbey wrote in an email Monday.
Abbey noted in a previous interview that he will seek legal guidance from the Department of the Interior on whether he can accept a share of the fee Milam will pay.
Milam's lawyer, Coffing, said Henderson is "crying fraud" without any evidence.
"They continue to add people who have no business being added," Coffing said Monday.
The recent court filings also allege the modified competitive bidding procedure, which allowed Milam to match any other bid submitted, "allowed (the developer) to obtain the land at a significant discount."
The city's new court papers cited a June 7 email from Ford to Milam that reads, "We were extraordinarily fortunate to have been able to obtain the land at $.50/ft, or $22K/acre. Call it a mixture of good luck and good work by your friendly BLM consultant.
"As you have learned, current land values in the surrounding area (south valley and Henderson) are generally 2 to 5 times higher, and as much as $100K-$125k per acre in nearby areas. We were pleased to get through the BLM process without any substantive challenge."
John Ritter, the master plan developer of the Inspirada development adjoining the BLM site, described Ford's email as a "smoking gun" because "it shows Ford's opinion that they were getting the land for far less than fair market value."
Ritter said Henderson's endorsement of Milam "chilled other bidders."
The published call for bids said that a development agreement limits the site for stadium and arena development, and that Milam's Silver State Land LLC "proposes to build enclosed, covered stadiums to create a distinctive sports venue and mixed-use facilities."
Milam's bid at exactly the BLM's appraised value was the only one.
"If other bidders felt they could have legitimately canceled the development agreement and would not be required to build the arena project, they would have been standing in line to bid."
Ford's email to Milam describing the great price on the BLM land also runs counter to his statement under oath, the city's lawsuit alleged.
"If the Land — as Ford boasted to Milam — was obtained for one-half to one-fifth of the price of the 'current land values in the surrounding area,' then … Ford's statement, under oath, that he did not 'assist in obtaining (the) property for a sale price at less than fair market value' is stunningly false," the court papers said.
Ford's lawyer, Bill Maupin, could not be reached Monday.
Lawyers for both the city and Milam are busy in deposition sessions as part of this case. On Monday, Henderson Mayor Andy Hafen gave statements for a deposition for six hours at Coffing's law office. Coffing said Hafen's comments did not reveal " a shred of evidence" of a land fraud.
Contact reporter Alan Snel at asnel@reviewjournal.com or 702-387-5273.
Related Information
Notice of Realty Action for the BLM-Christopher Milam land deal