Henderson, North Las Vegas constable offices' budgeting scrutinized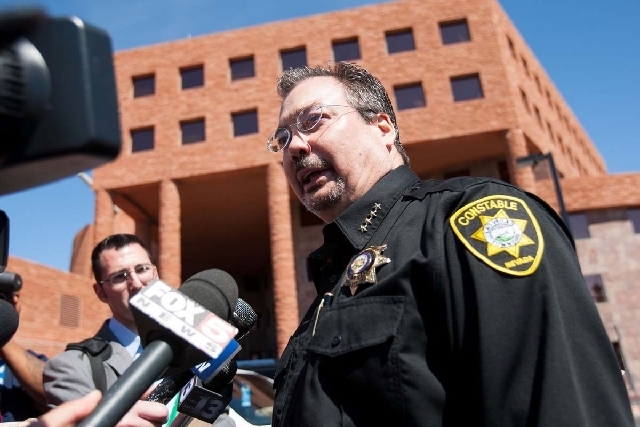 Clark County commissioners are considering changing the budgeting and salary systems that the constable offices in North Las Vegas and Henderson use to run their operations.
The potential changes to the two offices come as county officials have had public differences with a different constable: Las Vegas Township Constable John Bonaventura.
Commissioners discussed the potential changes on Tuesday, stressing that the intent is simply to further professionalize and add transparency to the offices. The potential changes aren't intended to bring more money to the county or because of any problems with the constables in Henderson and North Las Vegas, they said.
The constable offices combine resources and funding to make up their budgets. The county provides support staffing and services, and the constables are responsible for hiring deputies and collecting fees for services, which also go toward their budget.
The Las Vegas township constable operates with an enterprise fund intended to have more county oversight. That has been a point of contention with Bonaventura, who deputized attorneys when the county wouldn't pay expenses for a lawsuit he filed.
Bonaventura also gets a set salary.
The other constables spend their fees on their operations without an enterprise fund and are required to report how much they collect. They don't have a guaranteed, set annual salary either.
The county is interested in giving the two constables a set salary of about $103,000 annually. That would follow the same system used for Bonaventura.
Henderson Constable Earl Mitchell said he was open to discussing the idea more with commissioners, who plan to have a meeting to discuss it in-depth.
"I've never been in an enterprise system, so I don't know all the nuances," he said.
Mitchell said he likes the existing flexibility, which, for example, allows him to do such things as cover the pay for a deputy who missed work because of a death in the family.
At the meeting, Mitchell's deputy director, Steve Kilgore, said the existing flexibility allows the office to spent a small portion on charitable causes to help the community.
"We keep a small slush fund," he said, describing the money used to help people.
"You have a slush fund?" Sisolak asked.
"Correct," Kilgore responded, adding that it's for benevolence.
"We certainly don't have any slush funds," Sisolak said.
Commissioner Tom Collins said using the word "programs" might be a better way to describe the benevolent uses of the money instead of slush fund.
"I don't blame you because I use the wrong terminology every once in a while, too," Collins said.
Constables are elected officials, with sworn deputies who carry a badge and gun. They serve court paperwork, handle evictions and cite residents with out-of-state motor vehicle license plates.
Commissioners in March 2013 voted unanimously to abolish the Las Vegas constable's office, effective when Bonaventura's term ends in January. That came after a variety of high-profile controversies and disputes Bonaventura had after his 2010 election.
Bonaventura's troubles also gave neighboring constables in other townships a stronger foothold for doing business in Las Vegas, as the public looked for other options.
Mitchell said there has been a tremendous spike in revenue in the past several years, which he attributes to the problems in Bonaventura's office. Mitchell's office collected about $812,000 in fees last year. Mitchell has eight deputies in his office, up from about four several years ago.
However, when Bonaventura is gone and the office's functions turned over to the Metropolitan Police Department, he expects his revenues to drop back down.
Contact Ben Botkin at bbotkin@reviewjournal.com or 702-405-9781. Find him on Twitter: @BenBotkin1.