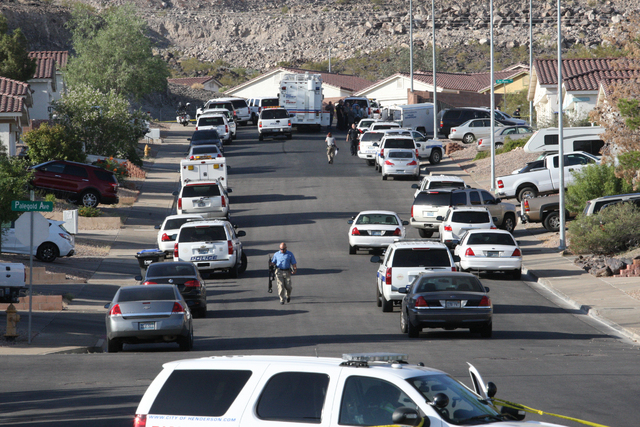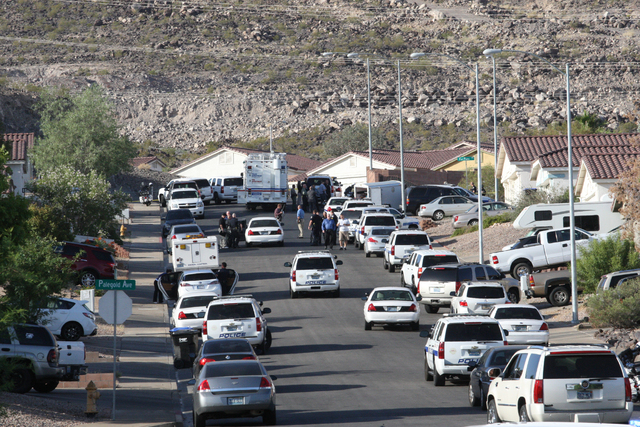 A Henderson police officer was hospitalized Wednesday morning after he was shot or struck by shrapnel during a fatal shooting.
Police spokeswoman Kathleen Richards said the officer, who was in good condition, was involved in a shootout with a man near Horizon Ridge Parkway and Gibson Road about 4:30 a.m.
It's unclear whether the officer was wounded by a bullet or struck by shrapnel, she said.
Officers initially responded to reports of shots fired in the area. When they arrived, they found the front door of 489 Flat Plains Ave. wide open and heard shots being fired inside, police said. SWAT was called, and neighbors were told to stay in their homes.
According to police, a man came out of the house with a gun, then went back inside and began firing again. He came back out and fired at police.
Police said officers fired on the shooter, who was pronounced dead at the scene. The names of the officers who fired their weapons were not released Wednesday.
The wounded officer was taken to Sunrise Hospital and Medical Center. Richards said he would be held overnight for observation but was in good condition.
Neighbors in the Eagle Crest neighborhood, at the base of Black Mountain, said the commotion jolted their quiet community awake in the early morning hours.
Ed Szudera, who lives near the house where the shooting occurred, said his daughter was awakened by a loud "boom" about 4 a.m.
Szudera said he had no idea what was happening. He looked out his window and saw a Henderson police vehicle with its lights on and engine running but no one inside.
It was the first officer-involved shooting Henderson has had since August, when Edward Scheboth Jr. ambushed a police officer who was helping directing traffic at the scene of a fatal pedestrian car crash.
Scheboth had four guns and shattered a window of officer Patricia Longworth's patrol car with one of them. After a brief chase and shootout with police, Scheboth died at Sunrise Hospital.
Wednesday's Henderson shooting comes on the heels of Sunday's ambush of Las Vegas police officers Alyn Beck and Igor Soldo. The officers, with bystander Joseph Wilcox, 31, died before police shot and killed shooters Jerad and Amanda Miller.
Las Vegas police think that the Millers acted alone and that Sunday's shooting was an isolated incident.
Reporter Annalise Porter contributed to this report. Contact reporter Mike Blasky at mblasky@reviewjournal.com. Follow @blasky on Twitter. Contact Colton Lochhead at clochhead@reviewjournal.com or 702-383-4638. Find him on Twitter: @coltonlochhead.