Henderson suspends cop who totaled SWAT vehicle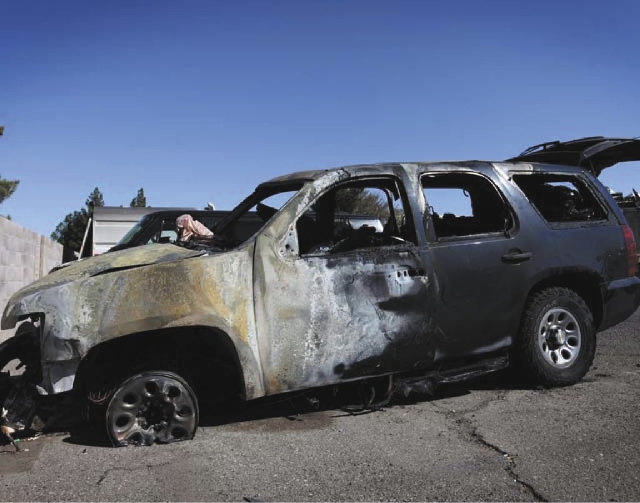 A Henderson officer who drove a damaged SWAT vehicle until it burst into flames won't be driving another police car for a while.
Officer Justin Simo was suspended with pay Tuesday afternoon as an internal investigation continues into the loss of his $50,000 police Chevrolet Tahoe almost a week ago.
Simo, 36, drove for several miles on the Tahoe's rim after a tire on the vehicle blew out late last Wednesday. The vehicle began smoking and caught fire as he was turning into a gated Southern Highlands neighborhood about 11:15 p.m.
The 2008 Tahoe — purchased and outfitted for policing for $49,449 — was a total loss, although Henderson police spokesman Keith Paul said Simo was able to save several firearms from the burning SUV.
In addition to the vehicle, expensive police equipment — including a computer, tactical equipment and other firearms — was also lost. The value of the equipment has not been released.
Henderson is self-insured, City Manager Jacob Snow said Tuesday. He did not know whether the vehicle would be replaced.
"We have a number of concerns. We have a number of questions. And we need to get answers to those questions," Snow said.
It was still unclear why a SWAT officer with almost a decade of experience with Henderson police would have driven on a damaged vehicle instead of changing the tire or waiting for a tow truck.
Las Vegas police went to the scene, determined no crime had been committed, and did not take an incident report. Both Las Vegas and Henderson police said there was no indication Simo had been drinking before the incident.
It's typical for SWAT officers to take agency vehicles home to be able to respond to emergencies in their off-hours, Paul said.
Police haven't said where Simo was coming from on his drive home. Although Henderson opened an internal investigation into the incident last week, it's unclear whether its details will be made public.
Simo, who lived in the gated community on Somerset Hills Avenue, was not suspended until after a Review-Journal story about the incident was published Monday evening.
His neighbors complained Tuesday about being left to pick up the pieces in the wake of the fire.
Scorched bullet fragments, shell casings and live cartridges that had been inside the burning police vehicle were found scattered on the streets a day later, neighbors said.
One man found six bullets — which he apparently discarded — and a woman found two live .45-caliber hollow-point cartridges, one resident said.
"A lot of us have kids," said the resident, Mike. "There are safety concerns here."
Mike said he didn't want his last name used because of potential retribution for speaking out against his neighbor.
But he was frustrated that Henderson showed little initiative to clean up the mess. He called Henderson police on Sunday but was told to call Las Vegas police instead.
"I know it's Metro's jurisdiction, but you'd think Henderson would take a little onus to come out and see what's going on," he said. "When you have neighbors going around picking up glass and ammo, that's not right."
There were reports of ammunition in the Tahoe exploding as Clark County firefighters put out the blaze, but no injuries were reported.
Henderson officials, including Snow, Paul and city spokesman Bud Cranor, had not heard about live ammunition being found on the street until Tuesday.
And Henderson elected officials were not taking questions.
Mayor Andy Hafen did not return a call seeking comment, nor did four members of the City Council.
Only Councilman John Marz answered his phone Tuesday but declined to comment because he hadn't been briefed.
Staff writer Carri Geer Thevenot contributed to this report.