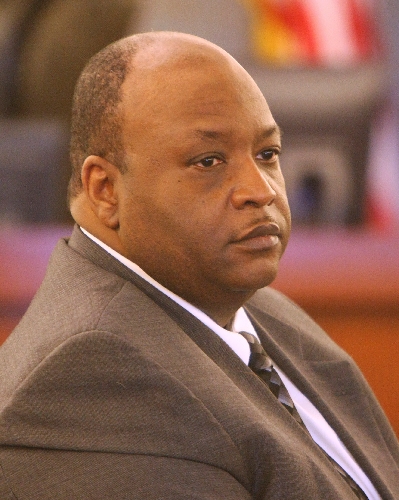 The Nevada Supreme Court could soon rule on an appeal by Clark County prosecutors that questions whether a district judge correctly dismissed the case against former University Medical Center chief Lacy Thomas last year.
A grand jury indicted Thomas in February 2008 on 10 counts after prosecutors alleged he steered $10 million in no-work hospital contracts to his Chicago friends.
Prosecutors' first crack at Thomas ended in a mistrial because investigators did not give evidence to defense lawyers, and Judge Michael Villani dismissed the case, stating the indictment was "un­constitutionally vague."
Villani said the indictment implied that any contract UMC or the county entered into that was more beneficial to a vendor should be considered criminal, something the judge would not allow.
The district attorney's office could not re-indict Thomas under Villani's ruling and had to appeal to the state Supreme Court.
Recently, the final appeal briefs were filed as prosecutors made a last-ditch stand to save their case against Thomas.
Thomas' lawyers were quick to agree with Villani's decision in their brief to the high court. The prosecutors' case "cannot be saved by history, judicial interpretations or definitions, other statutes, administrative rules or bylaws," Thomas' lawyers said.
Prosecutors took aim at the dismissal, saying the judge erred based on an invalid motion by the defense.
Prosecutors said the judge's ruling should be overturned because the argument should have been filed as a writ of habeas corpus within 21 days of Thomas' arraignment, which happened three years before Villani's 2011 ruling.
"Rather than attempt to establish good cause to waive the 21-day rule as required by (state law), Thomas simply titled his document motion to dismiss," chief deputy district attorney Steve Owens wrote.
Defense lawyers Daniel Albregts and Franny Forsman argued that filing a motion to dismiss was proper because the indictment doesn't show evidence a crime was committed.
"The prosecutor brought what appears to be the first prosecution of a public official for ill-conceived contracting in the country," the attorneys said.
Villani had ruled more than a year ago that the indictment "does nothing more than put Thomas on notice that he/UMC may have entered into an ill-conceived contract and that by entering into such a contract, his conduct is now deemed criminal in nature."
In his decision, Villani asked why the vendors weren't also charged if Thomas' actions were criminal.
The judge said Thomas did not personally receive a private benefit from the contracts and that each original contract had to be vetted by UMC staff, a Clark County district attorney and county staff before being approved by Clark County commissioners.
Villani noted as "interesting" in his dismissal of the case that the county never sued any of the five companies that benefited from the contracts, including ACS Consultant Co., Frasier Systems Group, Premier Alliance Management, Crystal Communications and Las Vegas-based TBL Construction.
Rather, it was ACS that sued the county, which resulted in a settlement and the county forking over $595,000 to the company.
It was the hospital contract with ACS that triggered the criminal investigation against Thomas.
Prosecutors contended that the contracts went to Thomas' friends and associates from Chicago and were unnecessary and duplicated services that already were available using county or hospital resources.
Thomas was charged with five counts each of theft and misconduct by a public officer stemming from the contracts awarded to the five companies during his three-year tenure at the county's only public hospital.
The first trial ended in a mistrial, because Las Vegas police failed to give 577 pages of documents to Albregts.
During the trial, Albregts argued that his client brought in his Chicago contacts because he had worked with them before and trusted that they could help solve the major problems at UMC.
Albregts said most of the people involved in the contracts were business associates, not friends, of Thomas.
Thomas, who ran Chicago's John H. Stroger Jr. Hospital of Cook County, formerly Cook County Hospital, for 10 years, was hired in 2003 after he was recruited by a national search firm selected by the county to find a new hospital administrator.
Then-county manager Virginia Valentine fired Thomas in January 2007 when an independent audit discovered the hospital had lost $34 million the previous fiscal year, almost double the $18.8 million loss that Thomas had reported two months earlier.
In the meantime, the state Supreme Court is still vetting legal arguments from both sides and will decide soon whether more briefs are needed or whether to hold oral arguments in the case, a spokesman said.
But with oral arguments only being requested in about 100 – or 5 percent – of the 2,000 appeals filed annually, it's unclear whether the justices will want to question the lawyers directly or simply rule in the case.
If successful, prosecutors would be able to move forward and seek a criminal conviction of Thomas at a new trial. If not, the case would remain dismissed.
Contact reporter Francis McCabe at
fmccabe@reviewjournal.com or 702-380-1039.