Hitman gets life without parole in karaoke bar stabbing
December 3, 2012 - 2:32 pm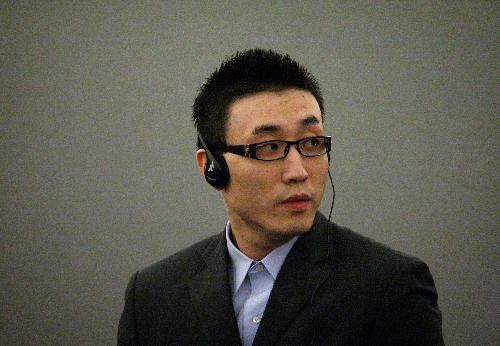 A Clark County jury on Monday spared the life of Xiao Ye Bai, a hitman for an Asian gang, sentencing the 25-year-old to life in prison without the possibility of parole.
The same jury last week convicted Bai of fatally stabbing Wen Jun "James" Li 32 times in the middle of a crowded karaoke bar on Jones Boulevard, near Spring Mountain Road in July 2009.
Bai, an immigrant from China, was convicted of multiple felonies, including first-degree murder, extortion, kidnapping, conspiracy to commit murder, and burglary.
Prosecutors were seeking the death penalty.
During a four-day penalty hearing, jurors heard several aggravating and mitigating circumstances in the case, highlighted by a tearful plea by Bai's mother, who begged the jury from her knees to spare her son's life.
Working as muscle for the Asian gang United Bamboo collecting a $10,000 gambling debt, he stabbed Li at the Forbes KTV club on July 6, 2009.
After the verdict was read, Bai bowed to the jury with his hands together in a prayerlike fashion. Then he was handcuffed and taken from the courtroom.
Last week, his mother, Chen Ying, told the jury she beat him as a child, once with a baseball bat.
She said she abandoned her family for several years, and Bai begged her to return because of the brutal corporal punishment his father imposed.
After Monday's verdict, she sat outside the Judge Michael Villani's courtroom crying and declined comment.
Defense lawyer Robert Draskovich said, "This whole case has been what the penalty was going to be, and we're very happy with this outcome."
He said there were several issues to be brought up on appeal.
During the closing arguments of the penalty phase, prosecutor Marc DiGiacomo told the jury that he would respect whatever decision they came to but that Bai was the "worst of the worst" and deserving of capital punishment.
He "is why we have the penalty," the prosecutor said.
DiGiacomo described him as a sociopath with no remorse for his actions or empathy for others.
He said Bai had forged comments by corrections officers that were presented to the jury in an effort to show that he was a respectful inmate.
Bai also faces murder charges in San Gabriel, Calif., in the December 2008 shooting of two Asian men as they left a restaurant, killing one and wounding the other, over another debt.
It is unclear when he will be extradited to California to face those charges.
Contact reporter Francis McCabe at fmccabe@reviewjournal.com or 702-380-1039